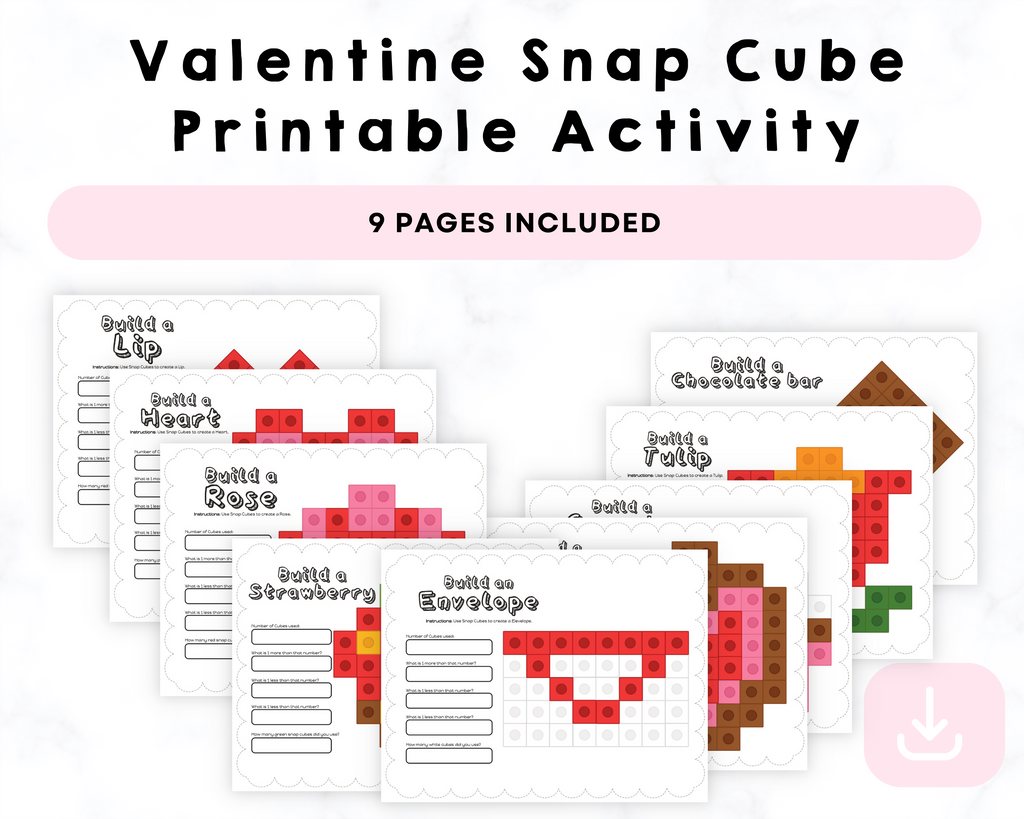 Valentine Snap Cube Printable Activity
Valentine Snap Cube Printable Activity
description
Introducing our captivating Valentine Snap Cube Printable Activity for preschoolers! This 9-page digital download is a perfect blend of fun and learning, designed to ignite creativity and fine motor skills in your little ones. Let's explore the delightful features of this activity:

Page 1: **Build a Heart**
Watch your child's eyes light up as they snap together colorful cubes to create charming heart shapes. This engaging activity fosters creativity while teaching basic geometry and spatial concepts.

Page 2: **Build a Lip**
Pout, giggle, and have a blast while assembling these playful lip designs using snap cubes. It's a lighthearted way to enhance hand-eye coordination and stimulate imaginative play.

Page 3: **Build a Chocolate**
Indulge in some educational sweetness with our chocolate-themed snap cube creations. Your little chocolatier will have a blast constructing different variations of this favorite treat while learning about patterns and symmetry.

Page 4: **Build a Tulip**
Let creativity bloom as your child arranges snap cubes to form vibrant tulip flowers. This page not only introduces botanical shapes but also encourages color recognition and sequencing.


and more!

Our Valentine Snap Cube Printable Activity is designed to spark joy and learning in preschoolers. Each page is thoughtfully crafted to ensure an enjoyable, hands-on experience while stimulating fundamental developmental skills. Don't miss out on this educational and entertaining activity that will keep your little ones engaged for hours!
Please note: This is a digital product. No physical items will be shipped. After purchase, you will receive a link to download your printable pack.
Contact us
Crystal & Co.
P O Box 55263
Hurst, Texas 76054
crystalandcomp@yahoo.com
Sign up to our mailing list