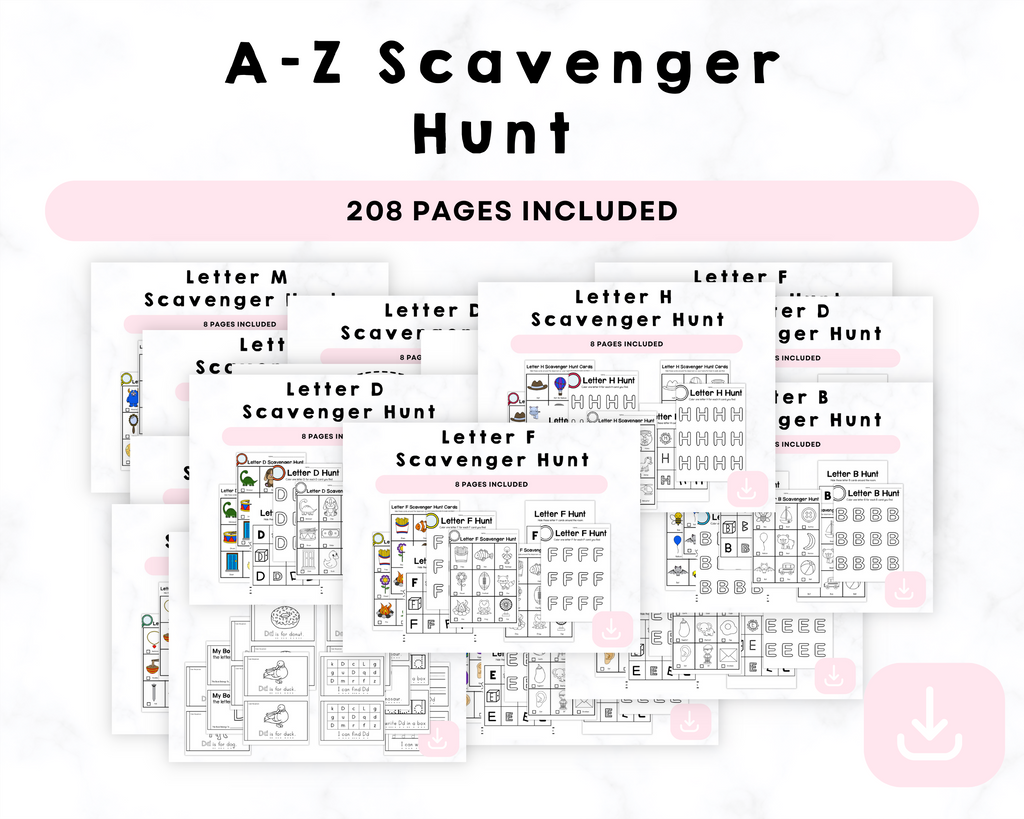 A-Z Scavenger Hunt Printable
A-Z Scavenger Hunt Printable
description
🌟 Make learning a thrilling adventure for your kids with our A-Z Scavenger Hunt Printable! 🌟

Step into a world of exploration and education with our 208-Page A-Z Scavenger Hunt Printable. This fun and educational resource is designed to keep your children engaged while they learn about the alphabet and the world around them.

🔍 Key Features:

🎨 Coloring Fun: Each page showcases a beautifully illustrated letter of the alphabet, along with a charming picture of an item that starts with that letter. Your kids will adore coloring these images, turning learning into a creative experience.

🔤 A to Z Learning: Our scavenger hunt takes your child on an exciting journey through the entire alphabet. From apples to zebras, they'll be on the hunt for items that match each letter.

🔍 Educational Adventure: This printable is more than just a coloring book. It's a hands-on learning tool that encourages children to observe, identify, and connect objects with their corresponding letters.

👪 Fun for the Whole Family: The A-Z Scavenger Hunt is perfect for kids of all ages. It's a fantastic way for siblings to have fun together on shared adventures and works just as well for solo exploration.

🏡 Indoor and Outdoor Play: Whether it's a rainy day inside or a sunny day in the yard, our scavenger hunt can be enjoyed anywhere, making it a flexible choice for any family.

🖨️ Easy Printing: Simply download and print at home – no special equipment or extra costs needed. Then, you're all set to embark on your scavenger hunt.

📚 Learning Through Play: This printable is a fantastic tool for homeschooling or enhancing your child's education. It transforms learning into a playful and unforgettable experience.

🛍️ Purchase Process:

1. Add the A-Z Scavenger Hunt Printable to your cart.
2. Complete the secure checkout process.
3. Get an instant download link.
4. Print as many copies as you need.
5. Start your educational adventure!

🎉 Transform learning into an exciting treasure hunt with our 208-Page A-Z Scavenger Hunt Printable. Your children will be engaged, entertained, and educated while having a blast. Get your copy today and witness your little explorers eagerly discovering the world one letter at a time!



Please note: This is a digital product. No physical items will be shipped. After purchase, you will receive a link to download your printable pack.
Contact us
Crystal & Co.
P O Box 55263
Hurst, Texas 76054
crystalandcomp@yahoo.com
Sign up to our mailing list