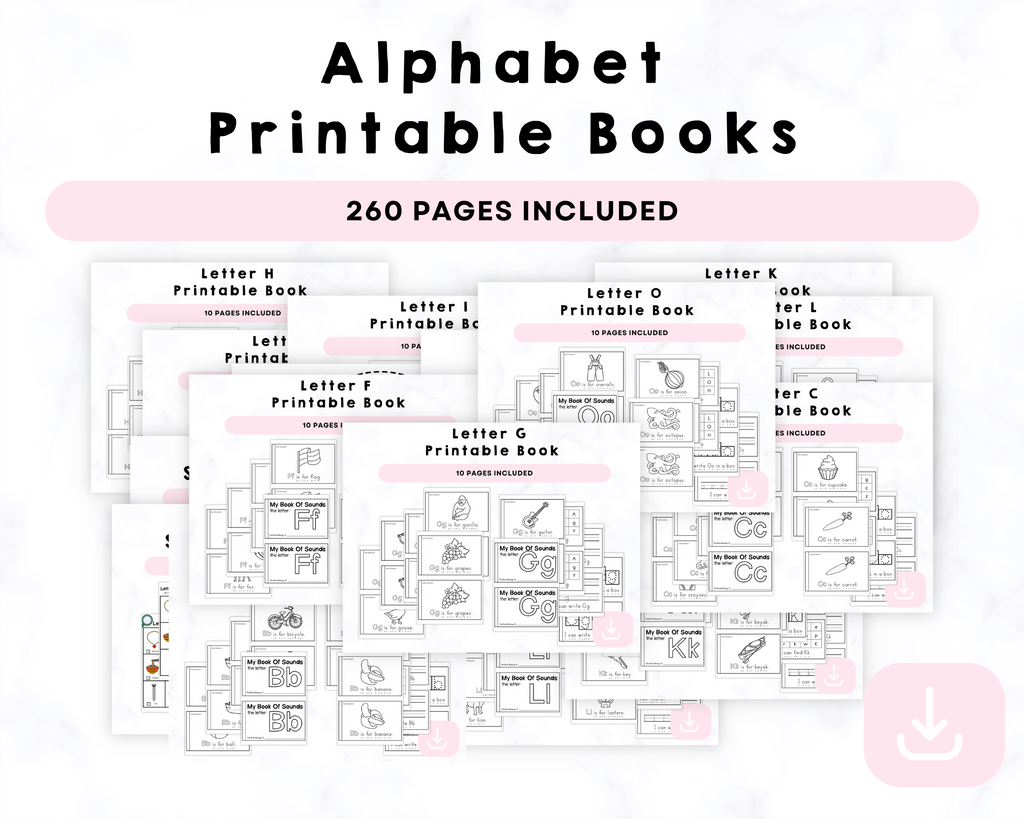 Alphabet Printable Books
Alphabet Printable Books
description
🌟 Step into the world of learning with our Alphabet Printable Books Bundle - a fantastic educational resource designed to captivate young minds and make learning enjoyable! 🌟

📚 What You'll Get:
Embark on an educational journey with our 260-page Alphabet Printable Books! Each book is carefully designed to help your child master the ABCs with excitement and creativity.

🎨 Coloring Adventures:
Watch your child's creativity flourish as they explore colorful illustrations and engage in fun coloring activities. These books are specially created to keep your little one entertained while they learn!

🔍 Learning the Alphabet:
Learning the alphabet is now an enjoyable experience! With each page, your child will easily identify and become more familiar with each letter. Our interactive design helps your child recognize the alphabet and associate it with memorable images and words.

🌊 Why Choose Our Alphabet Printable Books:
1️⃣ Educational & Fun: We believe in the power of learning through play. Our printable books offer a perfect blend of education and entertainment, making it easy for parents to teach their children the ABCs effortlessly.

2️⃣ Versatile Learning: Whether your child loves art or language, our Alphabet Printable Books offer a well-rounded approach to alphabet recognition. Coloring and letter identification create a multifaceted learning experience.

3️⃣ Quality and Durability: We take pride in the quality of our products. These books can handle the enthusiasm of young learners. Print, use, and reuse them as much as you like!

4️⃣ Parent-Friendly: We understand that busy parents need easy-to-use resources. Our Alphabet Printable Books are user-friendly and ready to print from the comfort of your home.

🌈 Your child's early learning journey should be memorable. Our Alphabet Printable Books Bundle is not just a learning tool but an enchanting experience that will nurture a love for reading and language in your little one.

🎁 Get your bundle today and give your child the gift of knowledge and creativity. Watch them thrive as they explore the magical world of the alphabet!



Please note: This is a digital product. No physical items will be shipped. After purchase, you will receive a link to download your printable pack.
Contact us
Crystal & Co.
P O Box 55263
Hurst, Texas 76054
crystalandcomp@yahoo.com
Sign up to our mailing list