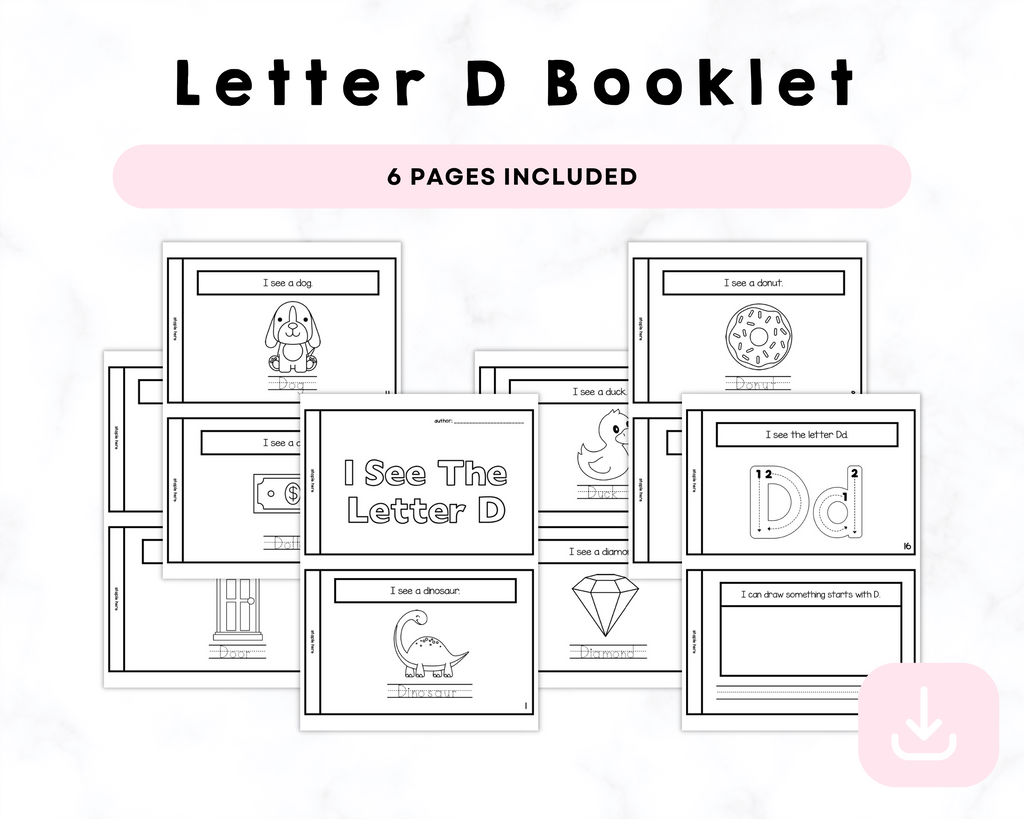 I See The Letter D Printable Book
I See The Letter D Printable Book
description
"I See The Letter D: A 6-Page Adventure in Coloring, Tracing, and Discovery!"

Embark on a delightful learning journey with our "I See The Letter D" booklet, specially crafted for curious preschool minds. This 6-page printable is a magical combination of coloring, tracing, and discovery, designed to introduce your little one to the wonders of the letter 'D.'

**What's Inside:**

🌟 **6 Pages of Discovery:** Each page of this booklet is a mini-adventure, unveiling the charm of the letter 'D.' From a dazzling "dolphin" to a delightful "duck," your child will explore and identify pictures that start with the letter 'D.'

🎨 **Coloring Fun:** Spark creativity with charming images waiting to be brought to life! Your little artist will adore coloring the "dinosaur," "dragonfly," and other delightful 'D' characters, making learning a colorful and joyful experience.

🖋️ **Name Tracing:** Foster early writing skills as your preschooler practices tracing the names of each 'D' image. The interactive tracing exercises add an extra layer of skill development, helping them become confident with letter recognition and formation.

👀 **Interactive Discovery:** Encourage active engagement as your child identifies, colors, and traces their way through the booklet. It's more than just a coloring book; it's a hands-on experience that makes learning the letter 'D' memorable and fun.

📚 **Educational and Entertaining:** Watch as your preschooler's eyes light up with excitement and discovery, setting the stage for a lifelong love of learning.

Order your "I See The Letter D" booklet today and witness the joy of education through play. Make every moment a learning adventure and nurture your child's growing mind with this delightful, interactive printable. 
Please note: This is a digital product. No physical items will be shipped. After purchase, you will receive a link to download your printable pack.
Contact us
Crystal & Co.
P O Box 55263
Hurst, Texas 76054
crystalandcomp@yahoo.com
Sign up to our mailing list