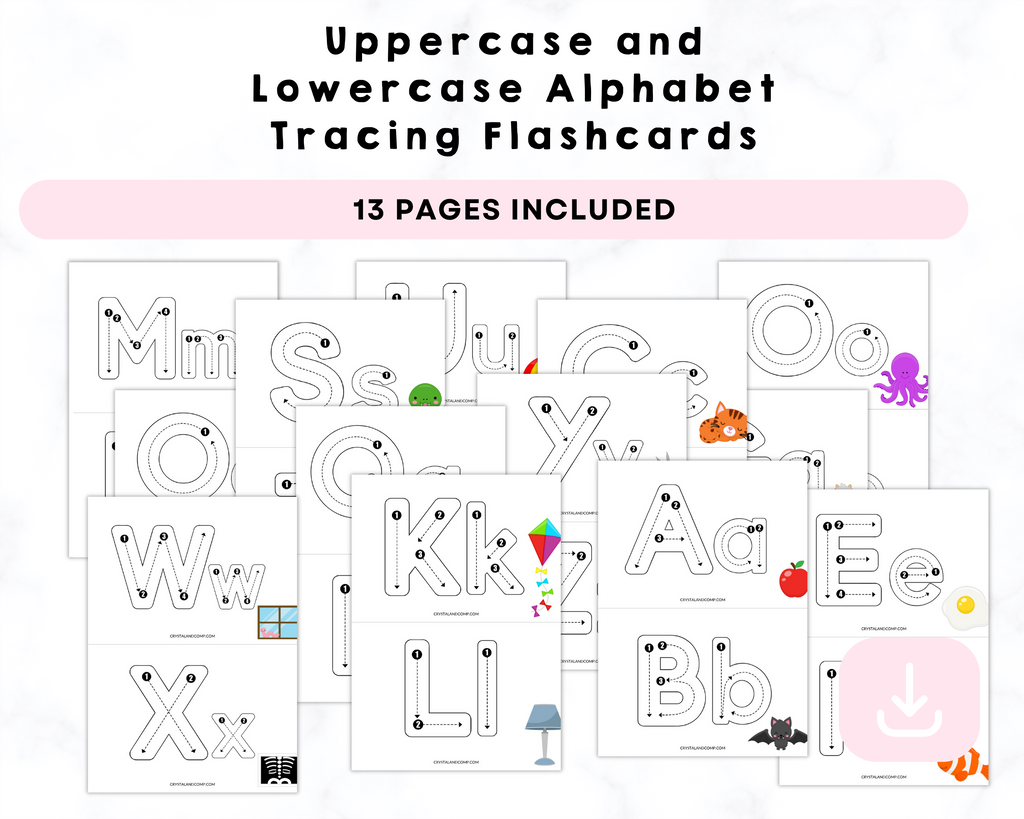 Uppercase and Lowercase Tracing Flashcards Printable
Uppercase and Lowercase Tracing Flashcards Printable
description
Introducing our 13-Page Uppercase and Lowercase Tracing Flashcards Printable for Preschoolers!

Help your little ones embark on an exciting journey of learning and development with our specially crafted Uppercase and Lowercase Tracing Flashcards. Designed for preschoolers, these 13 pages of interactive and engaging printables make learning the alphabet a fun and educational experience.

**Key Features:**

1. **Comprehensive Set:** Our flashcards include all 26 uppercase and lowercase letters of the alphabet, providing a complete set for thorough learning.

2. **Interactive Tracing:** Each flashcard features a clear and easy-to-follow tracing guide for both uppercase and lowercase letters, helping children improve their penmanship and fine motor skills.

3. **Engaging Illustrations:** Vibrant and colorful illustrations accompany each letter, capturing children's attention and making the learning process enjoyable.

4. **Educational and Fun:** Combine education with enjoyment as your child traces and practices writing each letter while exploring delightful visuals that reinforce their understanding.

5. **Designed for Progress:** The flashcards are organized in a logical progression, allowing children to gradually build their knowledge and confidence as they move through the alphabet.

6. **Printable Convenience:** Easily print the flashcards from the comfort of your home, enabling continuous learning and practice at your own pace.

**How to Use:**

Simply print out the flashcards and watch as your preschooler dives into a world of letters and writing. Encourage them to trace the uppercase and lowercase letters using a pencil or crayon, following the guided lines. Make learning interactive by pronouncing the letter and associating it with words that start with the same sound.

Make learning the alphabet a joyous adventure with our Uppercase and Lowercase Tracing Flashcards Printable. Your child's foundation for language and writing skills begins here!
This is a digital product. No physical items will be shipped. After purchase, you will receive a link to download your printable pack.
Contact us
Crystal & Co.
P O Box 55263
Hurst, Texas 76054
crystalandcomp@yahoo.com
Sign up to our mailing list