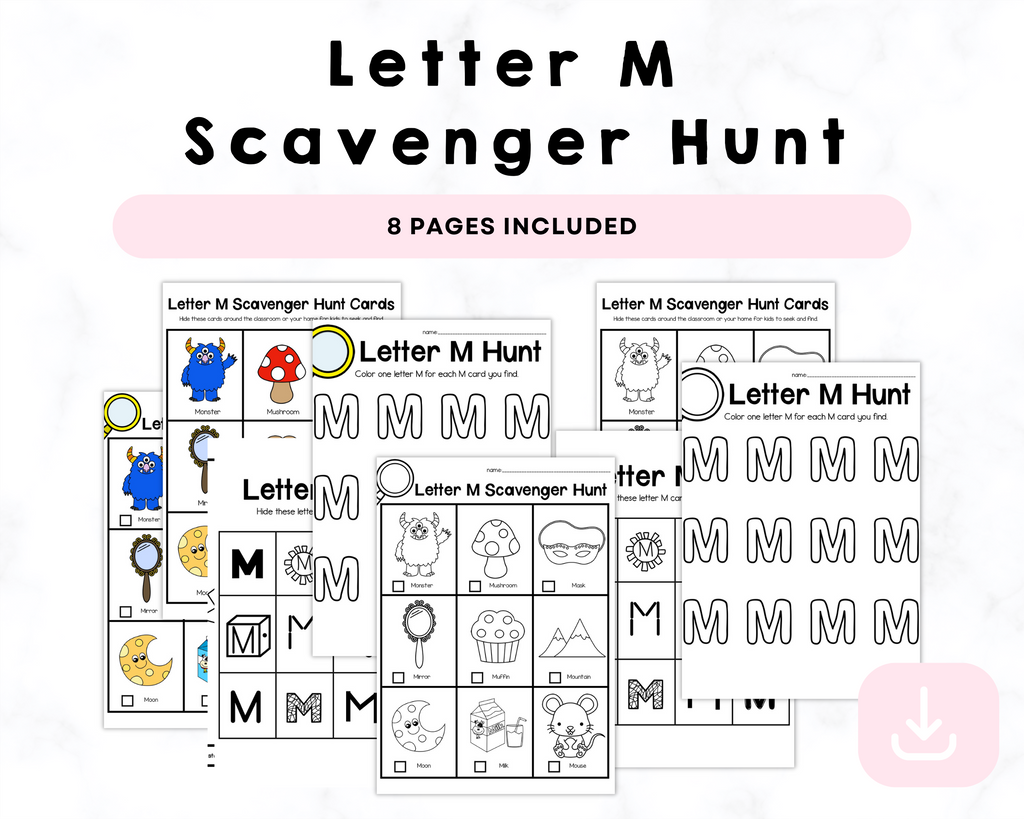 Letter M Scavenger Hunt Printables
Letter M Scavenger Hunt Printables
description

"Mystical Letter 'M' Scavenger Hunt: 8 Pages of Marvelous Fun!"

Embark on a magical journey with our Letter 'M' Scavenger Hunt - an enchanting 8-page printable adventure for your little explorer. Packed with whimsy, discovery, and creativity, this activity is designed to captivate and educate, turning learning into a joyous quest.

**What Awaits Your Young Explorer:**

🔍 **Scavenger Hunt Cards:** Set the stage for excitement with interactive scavenger hunt cards featuring mesmerizing 'M' objects. From majestic "mountains" to mysterious "magnifying glasses," each card is a portal to a world of discovery.

🖍️ **Color the Letter M:** Unleash your child's artistic side by inviting them to color the letter 'M' each time they find a scavenger card. This not only reinforces letter recognition but also adds a personalized touch to their learning journey.

🌈 **Engaging Illustrations:** Our beautifully crafted illustrations make the scavenger hunt come alive! Your child will be captivated by the vibrant scenes, each one hiding a new 'M' treasure waiting to be found.

🏆 **Rewarding Exploration:** Celebrate each discovery with a sense of accomplishment! This scavenger hunt not only encourages learning but also boosts confidence as your little one conquers each 'M' mystery.

🌟 **Quality Printables:** Our high-quality printables ensure that each page is a feast for the eyes, providing a durable and visually stunning experience for your child.

Make learning an unforgettable adventure with our Letter 'M' Scavenger Hunt. Order now and watch as your child explores, colors, and learns their way through the magic of the letter 'M'! A world of discovery awaits!


Please note: This is a digital product. No physical items will be shipped. After purchase, you will receive a link to download your printable pack.

Contact us
Crystal & Co.
P O Box 55263
Hurst, Texas 76054
crystalandcomp@yahoo.com
Sign up to our mailing list