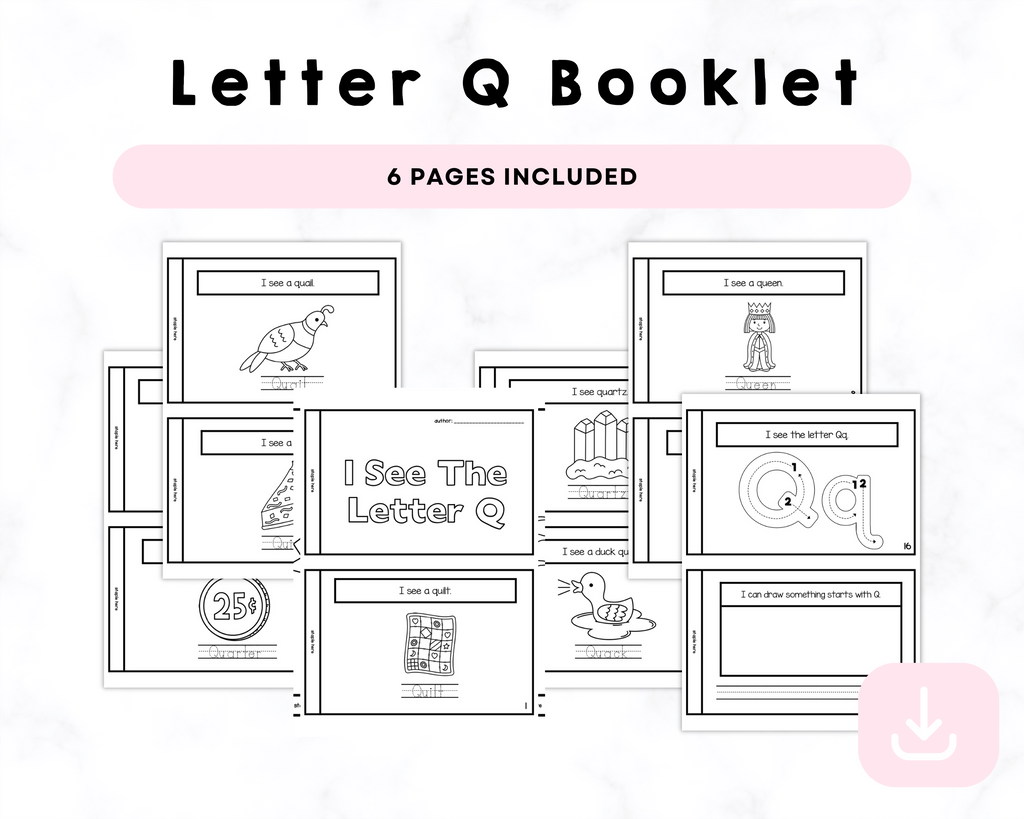 I See The Letter Q Printable Book
I See The Letter Q Printable Book
description
"I See The Letter Q: 6 Pages of Fun for Preschoolers!"

Discover the magic of 'Q' with our engaging 6-page booklet designed just for little learners. It's a joyful experience that combines play and education, making letter exploration exciting for your preschooler.

**What's Inside:**

🌟 **Coloring Fun:** Spark creativity with quirky images like the "quizzical quilt" and the "whimsical quail." Each page is a canvas for your child's imagination to run wild.

📝 **Tracing Practice:** Boost fine motor skills as your child traces the names of captivating 'Q' images. It's a hands-on way to learn and reinforce letter recognition.

👩‍🏫 **Teacher & Parent Approved:** Aligned with early learning standards, this booklet seamlessly blends fun with education. It's a tool that supports your child's holistic development.

🌈 **Interactive Adventure:** Beyond basics, this booklet turns learning into an interactive adventure. Your little explorer will actively participate, making each 'Q' discovery memorable.

🎨 **Easy for Parents & Teachers:** Designed with you in mind, these printables effortlessly complement your teaching resources. Reinforce learning at home or in the classroom with this delightful booklet.

👶🏽 **Ideal for Preschoolers:** Crafted for curious minds, "I See The Letter Q" ensures age-appropriate engagement, laying the foundation for a lifelong love of learning.

**Why "I See The Letter Q":**
- 🌟 Inspires creativity and imagination.
- 📚 Strengthens letter recognition and early writing skills.
- 👩‍🏫 Aligned with educational standards.

Introduce your little one to the world of 'Q' in a way that's fun and educational. Grab "I See The Letter Q" now for colorful learning moments filled with exploration!


Please note: This is a digital product. No physical items will be shipped. After purchase, you will receive a link to download your printable pack.

Contact us
Crystal & Co.
P O Box 55263
Hurst, Texas 76054
crystalandcomp@yahoo.com
Sign up to our mailing list