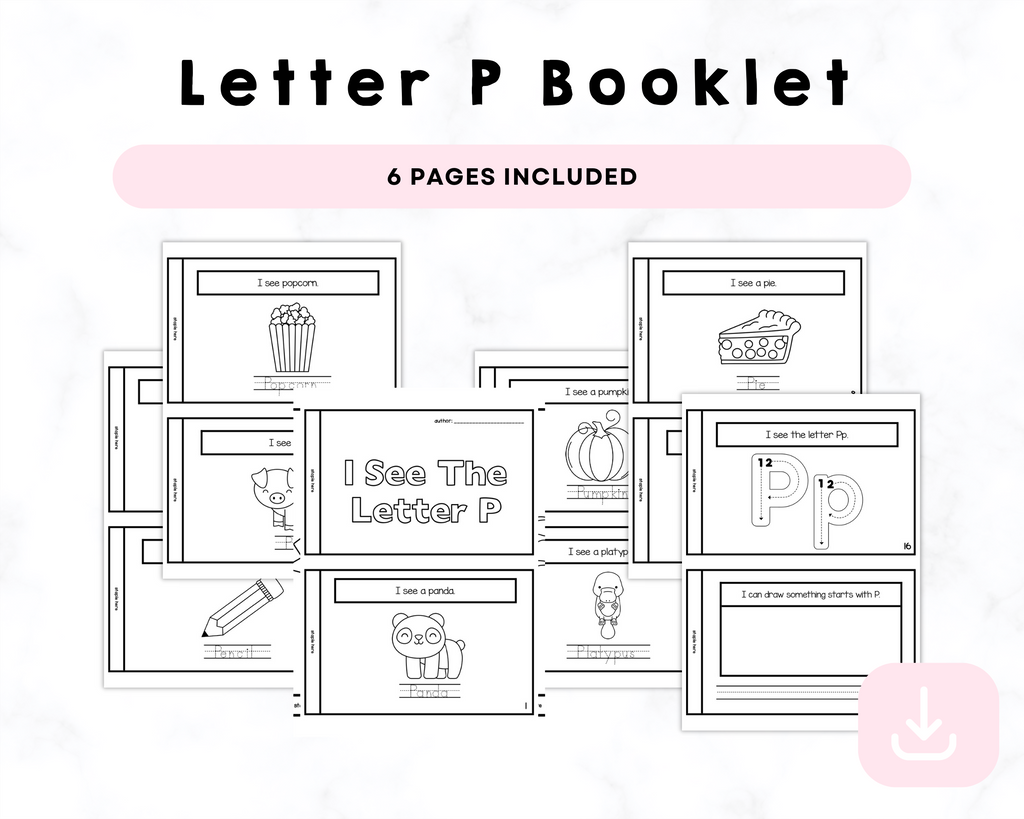 I See The Letter P Printable Book
I See The Letter P Printable Book
description
"I See The Letter P" is not just a booklet; it's a dynamic learning experience, seamlessly blending the joy of coloring, the magic of tracing, and the wonders of 'P'!

**What Awaits Your Little Explorer:**

🎨 **Playful Coloring Scenes:** Ignite your child's imagination with delightful images like a "pouncing puppy" and a "polka-dotted pear." Each page is a whimsical canvas, inviting your little one to bring these enchanting scenes to life with a burst of colors.

📝 **Trace & Discover:** Foster fine motor skills and early writing abilities with dedicated tracing sections for each image. Your preschooler will delight in tracing the names of 'P' images, reinforcing letter recognition and enhancing early writing skills.

🌟 **Educational Excitement:** "I See The Letter P" is designed to make learning enjoyable and memorable. As a parent or teacher, you'll witness the joy of discovery and the sparkle of curiosity in your little one's eyes.

👩‍🏫 **Perfect for Teachers:** Enhance your preschool curriculum with this engaging booklet. The combination of coloring and tracing activities aligns with educational goals while keeping the learning process enjoyable for young minds.

👨‍👩‍👧‍👦 **Parent-Child Bonding:** Share precious moments with your child as you explore the world of 'P' together. This booklet provides a wonderful opportunity for bonding, laughter, and shared creativity.

✨ **Beyond Worksheets:** These printables go beyond traditional worksheets, offering a holistic approach to early learning. It's not just about letters; it's about sparking a lifelong love for learning.

Enrich your child's early education with the magic of 'P.' Order "I See The Letter P" now and unlock a world where coloring, tracing, and learning blend seamlessly into an educational adventure that captivates both parents and teachers alike!

Please note: This is a digital product. No physical items will be shipped. After purchase, you will receive a link to download your printable pack.

Contact us
Crystal & Co.
P O Box 55263
Hurst, Texas 76054
crystalandcomp@yahoo.com
Sign up to our mailing list