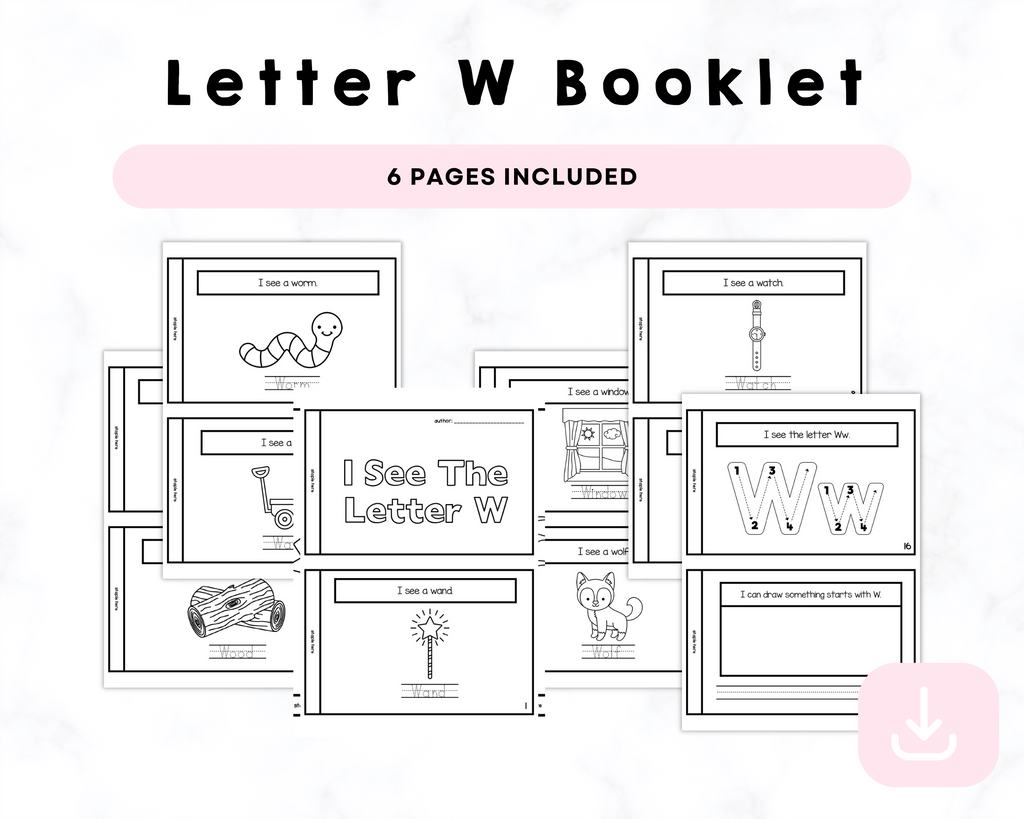 I See The Letter W Printable Book
I See The Letter W Printable Book
description
 This isn't just a booklet; it's a magical expedition designed to captivate young minds through the joy of coloring and tracing!

**What Awaits Your Little Explorer:**

🌈 **Whimsical Coloring Adventure:** Watch as your child's imagination comes alive with six pages of vibrant coloring images that all begin with the letter 'W.' From a wandering "whale" to a wondrous "watermelon," each page is a portal to a world of creativity.

🖋️ **Trace the Wonder:** Foster fine motor skills and early writing abilities with dedicated tracing sections for each image. Your little one will delight in tracing the names of these 'W' wonders, reinforcing letter recognition and building the foundation for confident handwriting.

🚀 **Wondrous World of 'W':** Dive into a wondrous world where 'W' is more than just a letter—it's a gateway to excitement and exploration. Each page is crafted to create a sense of wonder, making learning an adventure to cherish.

✨ **Enchantingly Interactive:** This booklet transcends traditional learning materials, offering an enchantingly interactive experience. Your child will actively participate, making learning a joyous activity that leaves a lasting impression.

🎨 **Creative Expression Unleashed:** This booklet is a must-have addition to your child's educational toolkit, making 'W' a letter they'll remember with joy.

👶 **Tailored for Little Learners:** Crafted with preschoolers in mind, this booklet is age-appropriate, ensuring that your little explorer has the perfect introduction to the wonders of letters through play and exploration.

🌟 **Order Now and Let the Wonder Begin:** Bring the magic of 'W' into your child's hands. Order "I See The Letter W" now, and let the wonder unfold as they embark on a journey of colors, imagination, and early literacy!
Please note: This is a digital product. No physical items will be shipped. After purchase, you will receive a link to download your printable pack.
Contact us
Crystal & Co.
P O Box 55263
Hurst, Texas 76054
crystalandcomp@yahoo.com
Sign up to our mailing list