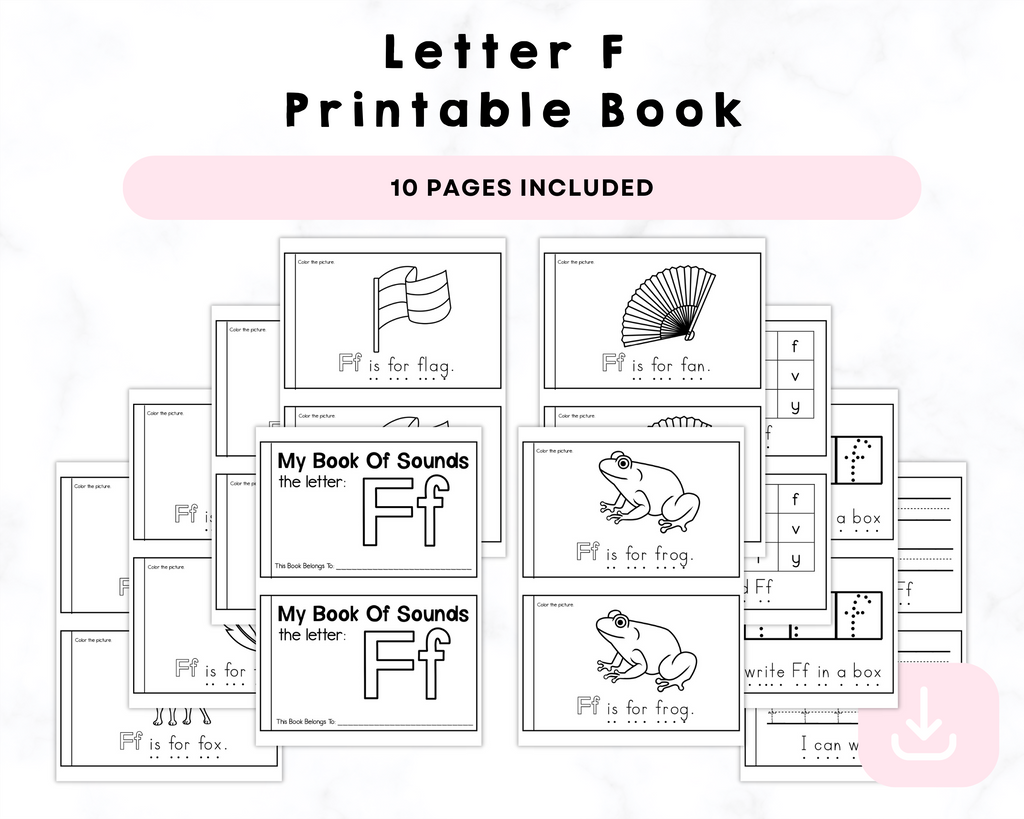 Letter F Printable Book
Letter F Printable Book
description
"Fantastic Letter 'F' Adventure: Fun, Fascinating, and Full of Learning!"

Embark on a fantastic journey through the alphabet with our 10-page preschool printable activity book, where the letter 'F' takes center stage. Designed to ignite your child's curiosity and early literacy skills, this activity book is the gateway to a world of fun and learning.

**What's Inside:**

🌟 **10 Pages of Exploration:** Dive into the magical world of 'F' with 10 captivating pages, each dedicated to a unique letter 'F' word. Your child will have a blast exploring words like "fish," "flower," and "fire" while building a strong foundation in early literacy.

🌈 **Vibrant Coloring Images:** Our eye-catching illustrations bring 'F' words to life, making learning a visual delight for your child. From the colorful scales of a "fish" to the vibrant petals of a "flower," these images captivate young minds and make the learning experience unforgettable.

📝 **Line Tracing:** Help your child develop fine motor skills and handwriting proficiency with dedicated line tracing activities. They'll practice writing the letter 'F' in various fonts and styles, setting them on a path to perfect penmanship.

🖍️ **Creative Coloring:** Encourage creativity as your child adds their personal touch to each page. From friendly "frogs" to festive "flags," your little artist can bring these 'F' words to life with their own choice of colors.

👪 **Parent-Approved Learning:** It's a valuable resource for nurturing your child's early literacy skills while fostering creativity and fine motor development.

Give your child the gift of a fantastic 'F' adventure that will leave them excited about learning. 
Please note: This is a digital product. No physical items will be shipped. After purchase, you will receive a link to download your printable pack.
Contact us
Crystal & Co.
P O Box 55263
Hurst, Texas 76054
crystalandcomp@yahoo.com
Sign up to our mailing list