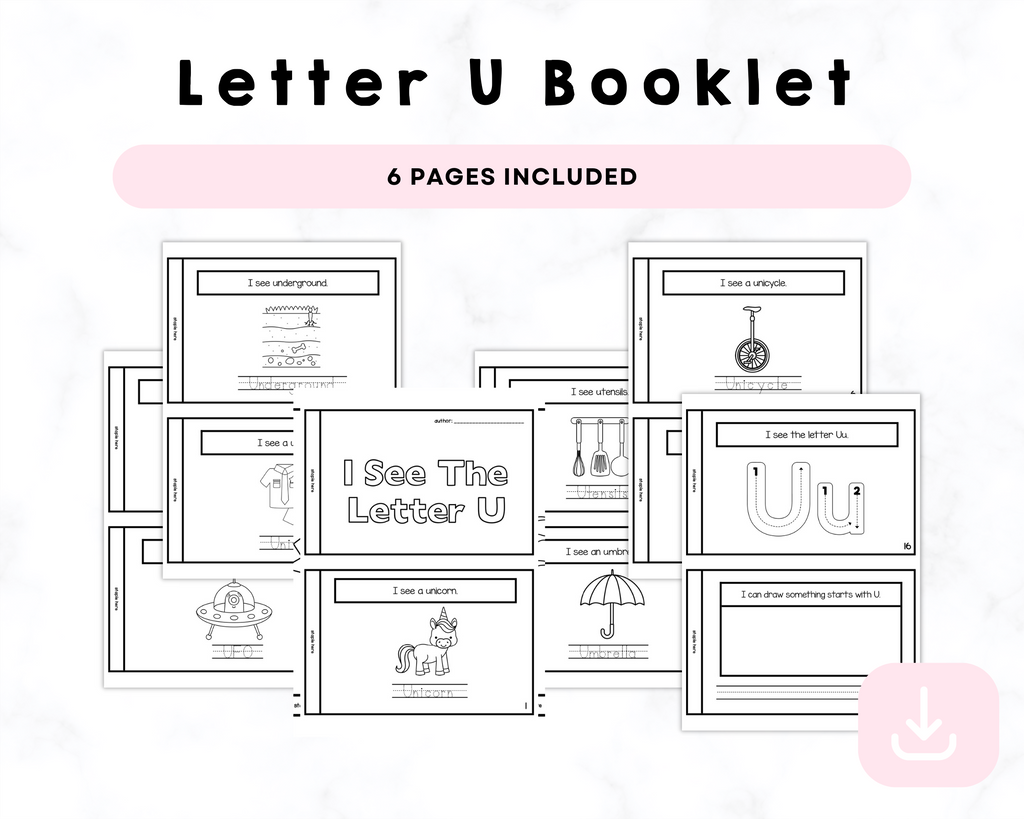 I See The Letter U Printable Book
I See The Letter U Printable Book
description
Discover the magic of 'U' with our 6-page booklet designed for little learners. Packed with vibrant coloring and tracing activities, this booklet is a simple yet effective way to introduce the wonders of the letter 'U.'

**Why Choose "I See The Letter U":**

🌟 **Unlock Imagination:** Dive into delightful scenes starting with 'U'—from a cheerful "umbrella" to a playful "unicorn." Each page sparks creativity and imagination.

🖌️ **Color & Create:** Foster artistic expression with engaging coloring activities. Watch as your child brings each 'U' word to life, learning through play in a visually stimulating way.

📝 **Trace to Transform:** Elevate fine motor skills with tracing sections for each image. Your preschooler will take pride in tracing 'U' words, reinforcing letter recognition and building handwriting skills.

👩‍🏫 **Teacher's Choice:** A valuable addition to any curriculum. This booklet aligns seamlessly with early learning objectives, making it perfect for teachers and parents guiding their little ones at home.

🌈 **Interactive Learning:** Encourage collaboration with interactive elements. Witness the joy of discovery as each page unfolds, fostering a love for learning.

Unleash the power of 'U' in your child's learning journey. Order "I See The Letter U" today and witness the joy of exploration and foundational learning!
Please note: This is a digital product. No physical items will be shipped. After purchase, you will receive a link to download your printable pack.
Contact us
Crystal & Co.
P O Box 55263
Hurst, Texas 76054
crystalandcomp@yahoo.com
Sign up to our mailing list