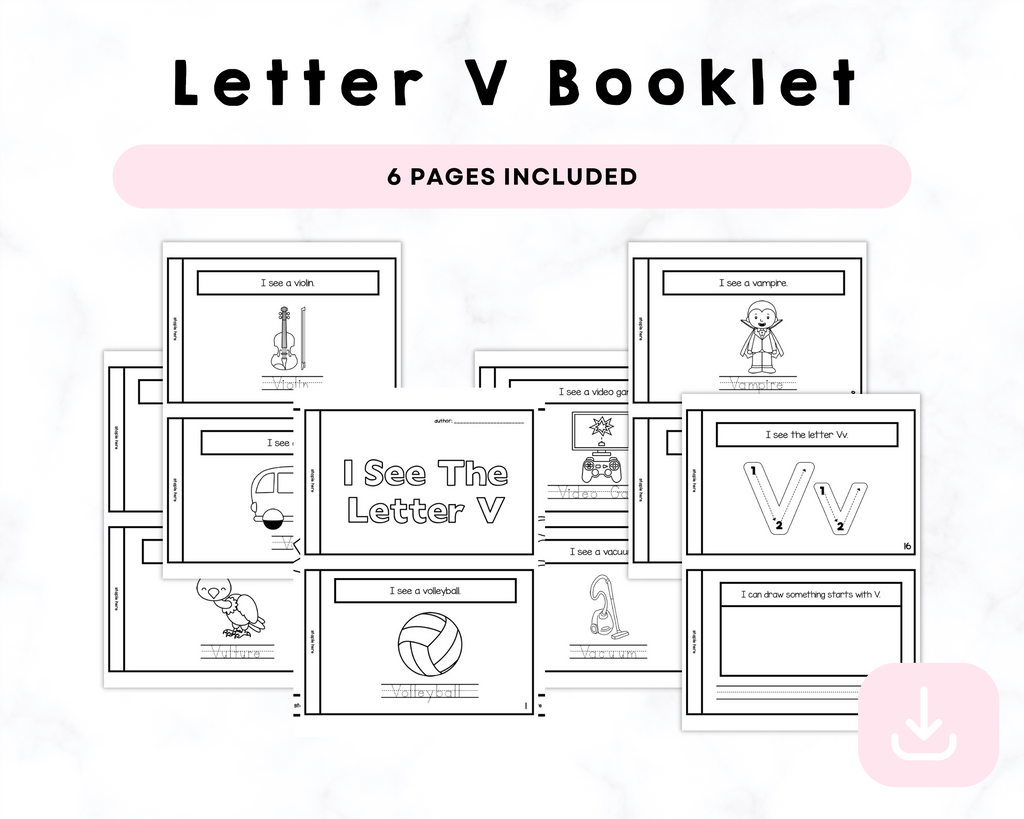 I See The Letter V Printable Book
I See The Letter V Printable Book
description
"I See The Letter V" is not just a booklet; it's a gateway to early literacy, creativity, and a world of vibrant exploration for your little learners.

**Discover the Magic Within:**

🌟 **Vivid Coloring Experience:** Watch your child's eyes light up as they explore and color delightful images starting with the letter 'V.' From a soaring "volcano" to a majestic "violin," each page is a canvas of imagination waiting to be adorned.

📝 **Trace and Transform:** Nurture fine motor skills and early writing abilities with dedicated tracing sections for each image. Your preschooler will take pride in tracing the names of the 'V' images, building foundational skills with each stroke.

🍎 **Valuable Learning Moments:** "I See The Letter V" is more than a fun activity; it's a valuable learning tool designed to engage young minds. Parents and teachers alike will appreciate the thoughtful integration of education and entertainment.

👩‍🏫 **Perfect for Teachers:** As a teacher, you know the importance of engaging resources. This booklet is tailor-made for your classroom, providing a seamless blend of entertainment and education to support your curriculum.

🌈 **Parental Delight:** Parents, relish in the joy of watching your child learn and create. This booklet is a delightful addition to your child's educational journey, fostering a love for letters and laying the foundation for future academic success.

👧👦 **For Ages 3-6:** Crafted for preschoolers, this booklet is an age-appropriate treasure, ensuring an exciting introduction to the world of letters through play and exploration.

Bring the wonder of 'V' into your child's hands. Order "I See The Letter V" now, and witness the joy of learning unfold in a world of colors, exploration, and skill-building. This booklet is not just a purchase; it's an investment in your child's bright future!
Please note: This is a digital product. No physical items will be shipped. After purchase, you will receive a link to download your printable pack.

Contact us
Crystal & Co.
P O Box 55263
Hurst, Texas 76054
crystalandcomp@yahoo.com
Sign up to our mailing list