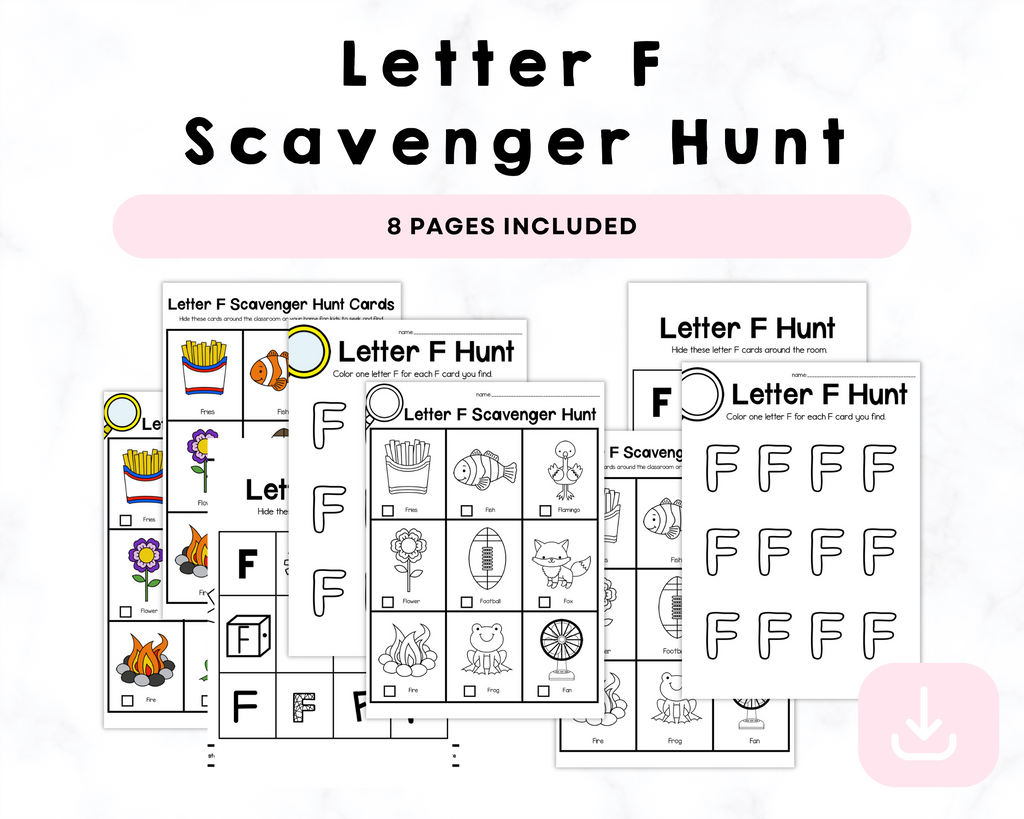 Letter F Scavenger Hunt Printable
Letter F Scavenger Hunt Printable
description
"Unlock the gateway to a world of discovery and creativity with our captivating 8-page Letter F Scavenger Hunt Printable, tailor-made for preschoolers. This educational treasure is your child's key to exploring the enchanting world of the letter F while nurturing essential early learning skills.

What's in store for your young learner:

1. **Scavenger Hunt Adventure:** Embark on an exhilarating alphabet expedition as your little one seeks out delightful objects and charming creatures that all begin with the letter F. Each find is a chance to triumphantly circle the letter 'F' on their scavenger hunt card, turning learning into an exciting quest.

2. **Coloring Extravaganza:** Once they've triumphed in spotting all the "F's," your child can unleash their inner artist by coloring the Letter F images on their card. This creative endeavor not only hones fine motor skills but also sparks a burst of imagination.

Our 8-page Letter F Scavenger Hunt Printable is the perfect addition to your teaching toolkit or home learning adventures. Whether you're an educator or a parent, it's a hassle-free and enthralling way to introduce the alphabet. Embark on the alphabet adventure today and watch the magic unfold!

Please note: This is a digital product. No physical items will be shipped. After purchase, you will receive a link to download your printable pack.

Contact us
Crystal & Co.
P O Box 55263
Hurst, Texas 76054
crystalandcomp@yahoo.com
Sign up to our mailing list