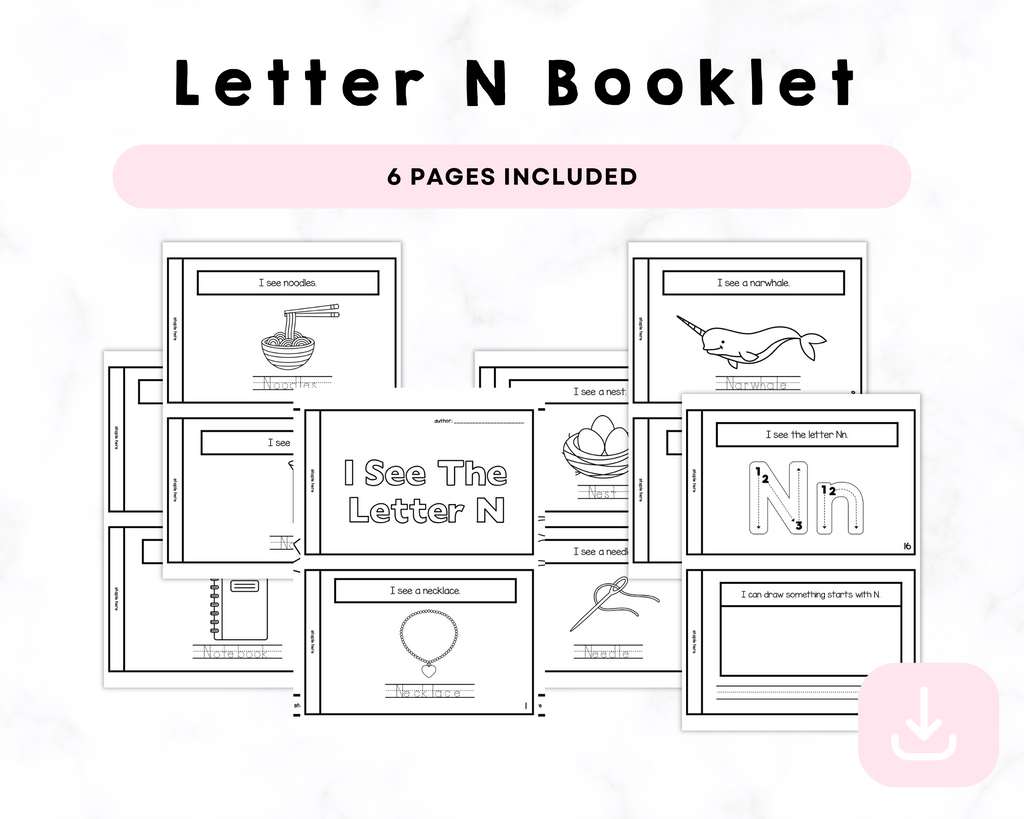 I See The Letter N Printable Book
I See The Letter N Printable Book
description
"I See The Letter N: A 6-Page Educational Wonderland for Preschool Explorers!"

This delightful resource is not just a booklet; it's a gateway to early literacy, creativity, and joyful learning for both parents and teachers alike.

**Why Choose "I See The Letter N"?**

🌈 **Nurturing Creativity:** Watch as your child explores the world of 'N' through vibrant coloring images like the noble "nest" and the nimble "narwhal." Each page is a canvas for imaginative expression.

📝 **Name Tracing Magic:** Foster essential pre-writing skills with dedicated tracing sections for each image. Your preschooler will joyfully trace the names of 'N' images, building the foundation for strong handwriting abilities.

👩‍🏫 **Teacher-Approved:** As a teacher or parent, you'll appreciate the carefully curated content designed to align with early learning objectives. "I See The Letter N" is a valuable tool for reinforcing letter recognition in a fun and engaging way.

🌟 **Interactive Learning:** Transform learning into a dynamic experience! This booklet encourages active participation, ensuring that each 'N' discovery is met with enthusiasm and excitement.

👧👦 **Perfect for Group Activities:** Ideal for both home and classroom settings, "I See The Letter N" facilitates collaborative learning experiences. Teachers can integrate it seamlessly into lesson plans, making early literacy a group adventure.

📚 **Educational Ally:** Parents and teachers, you now have a powerful ally in nurturing literacy skills. This booklet isn't just about 'N'; it's about creating a love for learning that will last a lifetime.

🎁 **Special Bonus:** Order now, and receive exclusive access to additional educational resources to complement the "I See The Letter N" experience.

Elevate early literacy with our "I See The Letter N" booklet, where every page is a stepping stone to a brighter, more literate future. Order now and let the learning adventure begin!

Please note: This is a digital product. No physical items will be shipped. After purchase, you will receive a link to download your printable pack.

Contact us
Crystal & Co.
P O Box 55263
Hurst, Texas 76054
crystalandcomp@yahoo.com
Sign up to our mailing list