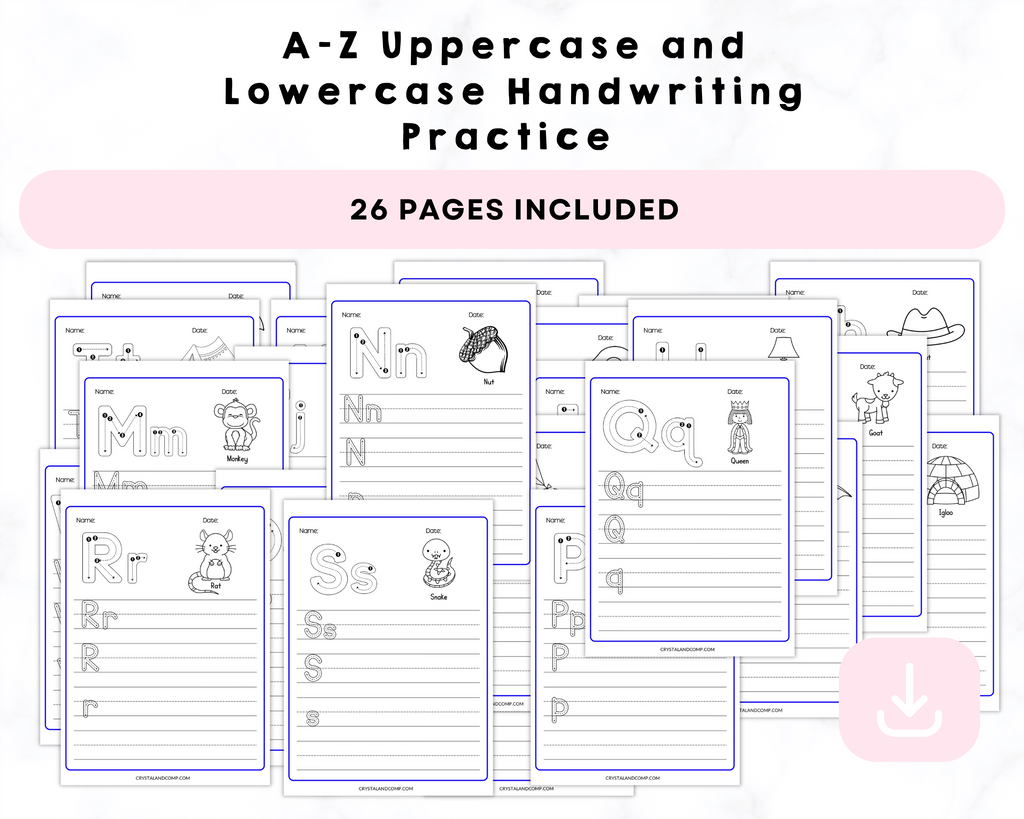 A-Z Uppercase and Lowercase Handwriting Practice Printable
A-Z Uppercase and Lowercase Handwriting Practice Printable
description
Are you ready to embark on an exciting handwriting journey from A to Z? Our 26-page A-Z Uppercase and Lowercase Handwriting Practice Printable is here to guide your child through the fundamentals of writing in both uppercase and lowercase letters. Each page is meticulously crafted to offer a delightful and educational experience for young learners.

**Key Features:**

1. **Comprehensive Practice:** Dive into 26 pages of carefully designed exercises, covering every letter of the alphabet in both uppercase and lowercase forms. Your child will master the correct strokes and formations for each letter, setting a strong foundation for their handwriting skills.

2. **Progressive Learning:** The printable follows a logical progression, starting with simple strokes and gradually introducing more complex letter formations. Your child will build confidence and proficiency at their own pace.

3. **Engaging Activities:** Make learning enjoyable with a variety of engaging activities on each page. From tracing and writing exercises to associating letters with relevant objects, our printable keeps the learning process dynamic and entertaining.

4. **Beautiful Design:** The printable features child-friendly designs, keeping your little one captivated throughout their handwriting practice. The visually appealing layout encourages focus and creativity.

5. **Printable Convenience:** Download the printable instantly and print as many copies as needed for your child's learning journey. This flexibility ensures that your child can practice whenever and wherever suits you best.

Equip your child with the tools they need to master handwriting with our 26-page A-Z Uppercase and Lowercase Handwriting Practice Printable. Help them develop a strong foundation in writing, setting them on the path to clear and confident penmanship. Order your digital download today and watch your child's handwriting skills flourish!

Please note: This is a digital product. No physical items will be shipped. After purchase, you will receive a link to download your printable pack.

Contact us
Crystal & Co.
P O Box 55263
Hurst, Texas 76054
crystalandcomp@yahoo.com
Sign up to our mailing list