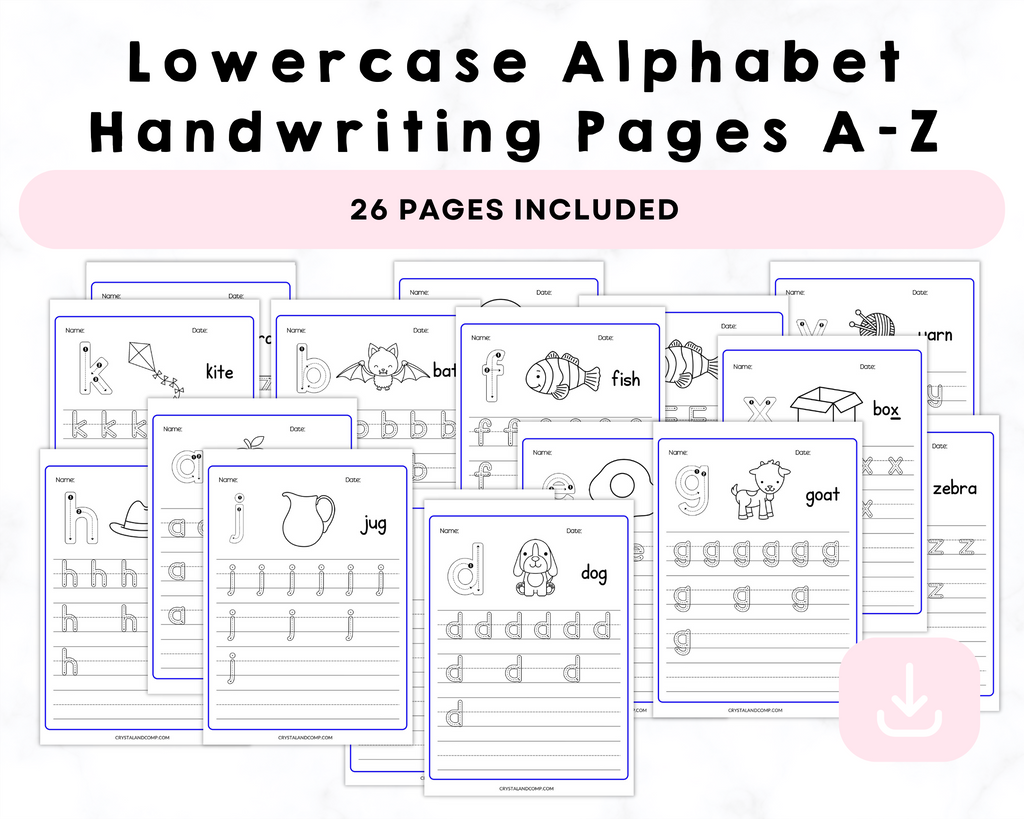 Lowercase Alphabet Handwriting Pages A-Z
Lowercase Alphabet Handwriting Pages A-Z
description
Introducing our 26-page Lowercase Alphabet Handwriting Pages A-Z Printable - the perfect tool to enhance your child's handwriting skills and alphabet mastery! This comprehensive set is designed to make learning the uppercase alphabet engaging, enjoyable, and effective.
**Key Features:**
1. **Lowercase Alphabet Focus:** Each page is dedicated to a specific uppercase letter, allowing your child to focus on one letter at a time for effective learning and practice.
2. **Letter Tracing:** Our pages feature clear and easy-to-follow letter tracing guides. These guides help children develop proper letter formation and motor skills essential for successful handwriting.
3. **Engaging Exercises:** In addition to tracing, each page includes engaging exercises to reinforce letter recognition, such as identifying pictures that start with the targeted letter.
4. **Educational and Interactive:** The design of the pages encourages interactive learning, making the process enjoyable and exciting for your child.
5. **Printable and Reusable:** This digital download can be printed and used multiple times, making it a cost-effective and versatile resource.
**How to Use:**
Simply download the 26-page PDF file, print the pages, and watch as your child dives into a world of lowercase alphabet exploration. Encourage them to trace the letters, say the corresponding sounds, and engage with the accompanying activities.
Help your child build a strong foundation for reading and writing by incorporating our Lowercase Alphabet Handwriting Pages A-Z Printable into your daily learning routine. Make learning fun and effective while setting your child up for academic success.
Invest in your child's future today with our Lowercase Alphabet Handwriting Pages A-Z Printable. Happy learning and writing!
Please note: This is a digital product. No physical items will be shipped. After purchase, you will receive a link to download your printable pack.
Contact us
Crystal & Co.
P O Box 55263
Hurst, Texas 76054
crystalandcomp@yahoo.com
Sign up to our mailing list