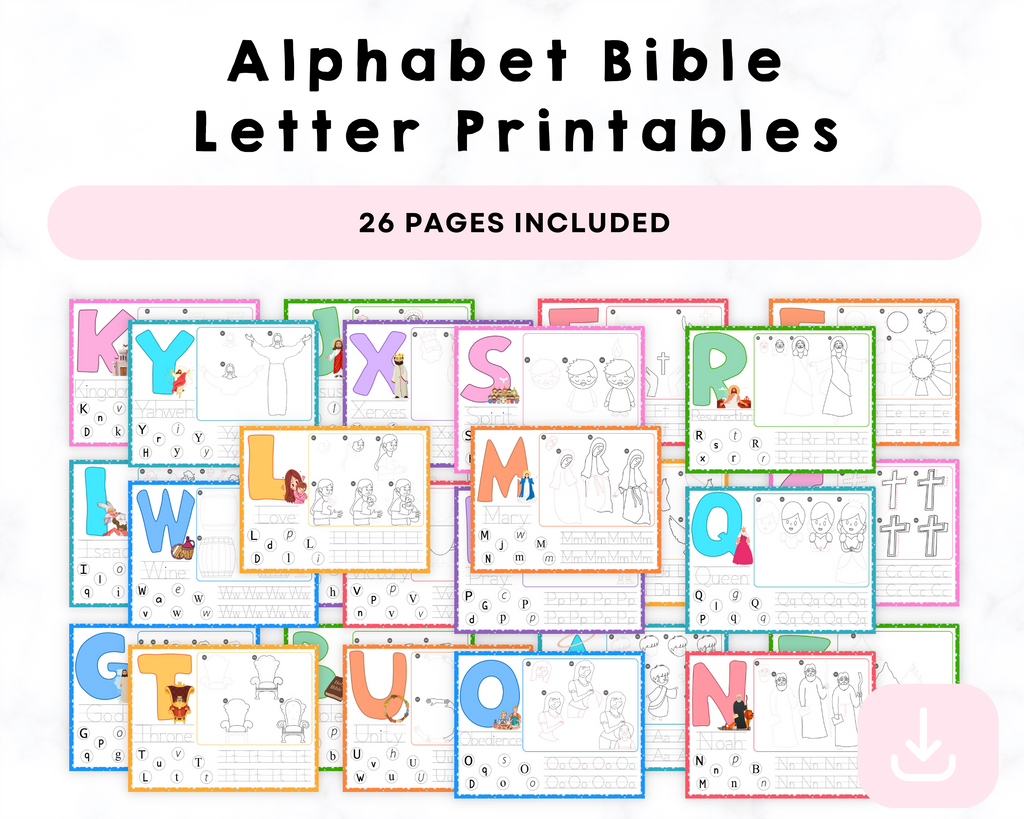 Alphabet Bible Letter Printables
Alphabet Bible Letter Printables
description
Dive into the fascinating world of the alphabet and the Bible with our 26-Page Alphabet Bible Letter Printables! This unique and engaging product is designed to provide your little ones with an exciting way to learn their ABCs while exploring the timeless stories of the Bible.

**What's Included:**

- **26 Unique Pages:** Each letter of the alphabet corresponds to a different biblical character or concept, offering an exciting and educational journey through the Bible's rich narratives.

- **Letter Tracing:** Help your child develop their handwriting skills with our specially designed letter tracing exercises. These activities encourage fine motor skills and foster better letter recognition.

- **Coloring Fun:** Let your child's creativity run wild with our delightful coloring pages. As they color in biblical characters and scenes, they'll not only have fun but also deepen their connection to these important stories.

**Why Choose Our Alphabet Bible Letter Printables:**

1. **Educational and Inspirational:** Combine early education with spiritual growth, making learning both meaningful and memorable.

2. **Engaging Design:** Vibrant and eye-catching illustrations make the learning experience captivating and enjoyable for children.

3. **Printable and Reusable:** Conveniently print the pages as many times as you need for endless hours of learning and fun.

4. **Ideal for Home and Sunday School:** These printables are perfect for parents, homeschoolers, and Sunday school teachers who want to introduce kids to the Bible in a fun and interactive way.


Please note: This is a digital product. No physical items will be shipped. After purchase, you will receive a link to download your printable pack.

Contact us
Crystal & Co.
P O Box 55263
Hurst, Texas 76054
crystalandcomp@yahoo.com
Sign up to our mailing list