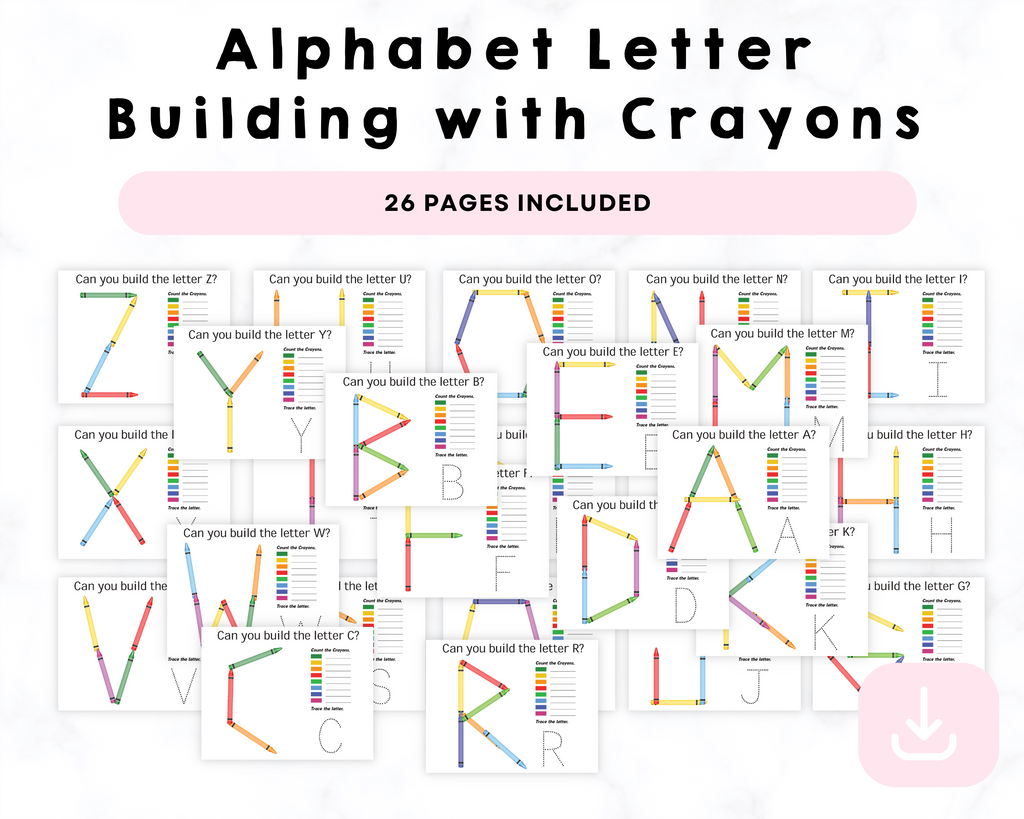 Printable Alphabet Letter Building with Crayons
Printable Alphabet Letter Building with Crayons
description
Are you ready to embark on a colorful journey of learning with your preschooler? Our 26-page Printable Alphabet Letter Building with Crayons is the perfect tool to make early education engaging and enjoyable!

🖍️ **What's Inside:**

Dive into a world of creativity with 26 carefully designed pages, each dedicated to a unique letter of the alphabet. Watch as your little one explores the magic of letters through hands-on activities, combining the joy of coloring with the excitement of building.

🌟 **Key Features:**

- **Letter Exploration:** Each page is dedicated to a specific letter, encouraging focused learning.

- **Interactive Building:** Connect the dots, trace the letters, and build them with crayons for a multisensory experience.

- **Artistic Expression:** Let your preschooler's imagination run wild as they add their personal touch to each letter with a burst of vibrant colors.

- **Educational Fun:** Foster fine motor skills, letter recognition, and creativity simultaneously.

👩‍🏫 **Educational Benefits:**

- **Letter Recognition:** Help your child become familiar with each letter of the alphabet in an engaging and memorable way.

- **Fine Motor Skills:** Develop essential motor skills through tracing and coloring activities.

- **Creativity:** Encourage self-expression and creativity as your little one brings each letter to life.

🎨 **Why Choose Our Printable Alphabet Building Kit:**

- 🏆 Expertly Crafted: Our pages are designed by education experts to align with preschool learning goals.

- 🔄 Reusable Fun: Print and use the pages repeatedly for ongoing learning and creative exploration.

- 🎁 Perfect Gift: Ideal for birthdays, holidays, or simply as a thoughtful educational gift for any preschooler.

📥 **Instant Download:**

Say goodbye to waiting! Download the Printable Alphabet Letter Building with Crayons instantly and start the educational adventure at your convenience.

👶 **Age-Appropriate:**

Tailored for preschoolers, this kit is suitable for children aged 3-6, making learning a delightful experience for the little ones.

🌐 **Join the Learning Adventure Today!**

Make learning the alphabet a joyous and creative experience for your preschooler. Download our Printable Alphabet Letter Building with Crayons now and watch as your child's love for letters and colors grows!


Please note: This is a digital product. No physical items will be shipped. After purchase, you will receive a link to download your printable pack.