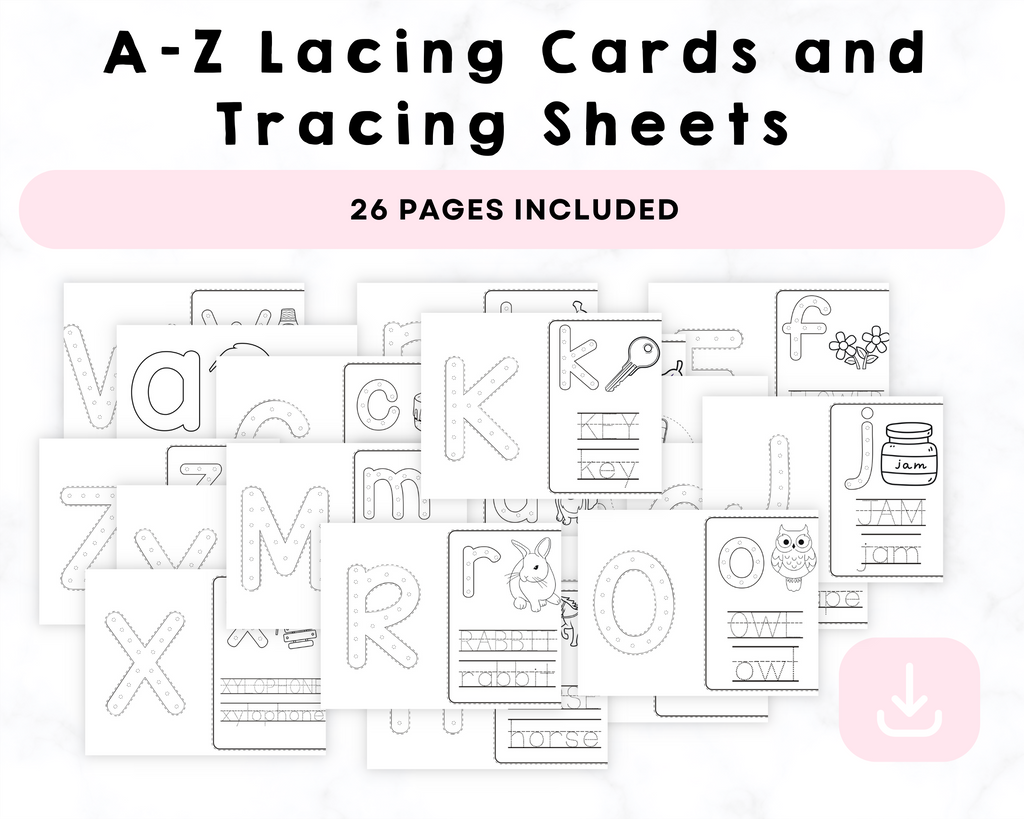 A-Z Lacing Cards and Tracing Sheets Printable
A-Z Lacing Cards and Tracing Sheets Printable
description
Introducing our comprehensive 26-page A-Z Lacing Cards and Tracing Sheets Printable set, designed to enhance your child's learning experience while having fun! This digital product is a perfect blend of entertainment and education, aimed at fostering essential skills for early childhood development.

**Product Features:**

1. **Complete A-Z Alphabet Learning:** Each page in this set features a different letter of the alphabet, allowing children to explore and master the entire alphabet.

2. **Lacing Cards for Fine Motor Skills:** Engage your child in the excitement of lacing cards, promoting fine motor skill development and hand-eye coordination.

3. **Tracing Sheets for Writing Practice:** The set includes tracing sheets for every letter, aiding in the development of proper writing techniques and letter formation.

4. **Vibrant and Engaging Designs:** Our lacing cards and tracing sheets boast colorful and captivating designs, ensuring an enjoyable learning experience.

5. **Printable and Reusable:** Easily print the pages at your convenience, offering endless opportunities for practice and learning.

6. **Educational and Entertaining:** Combining education with entertainment, this set transforms learning into an exciting adventure, keeping your child engaged and motivated.

**Benefits:**

- **Alphabet Mastery:** Help your child recognize and learn each letter of the alphabet effortlessly.

- **Handwriting Development:** Encourage proper letter formation and handwriting skills through tracing exercises.

- **Creative Learning:** Stimulate creativity and imagination with visually appealing designs that make learning enjoyable.

- **Parent-Child Bonding:** Utilize this printable set as a bonding activity, fostering a love for learning in a supportive environment.

- **Versatile Learning:** Use the lacing cards for interactive play and the tracing sheets for structured learning, providing a well-rounded learning experience.

Transform your child's learning journey into an exciting adventure with our A-Z Lacing Cards and Tracing Sheets Printable. Grab this digital download now and watch as your child grows into a confident and skilled learner!
Please note: This is a digital product. No physical items will be shipped. After purchase, you will receive a link to download your printable pack.