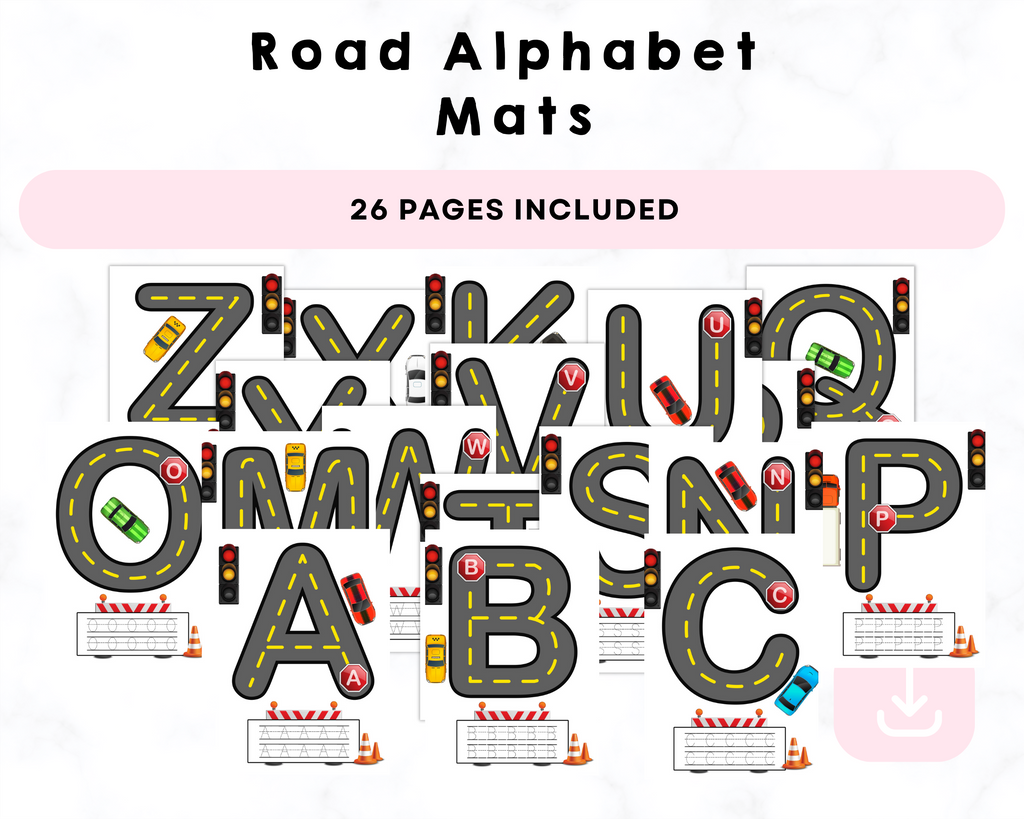 Road Alphabet Mats Printable
Road Alphabet Mats Printable
description
🚗🔤 Rev Up Literacy with Our 26-Page Road Alphabet Mats Printable! Navigate the ABCs on an Exciting Road Adventure! 🌟🛣️
Explore 26 creatively designed pages, each featuring a different letter of the alphabet on a vibrant road mat. From A to Z, these mats offer interactive and visually appealing letter exploration opportunities.
🅰️➡️ Educational Adventures:
Alphabet Exploration: Engage in letter recognition and association as children follow the roads of each letter.

Hands-On Learning: Encourage tactile engagement by tracing letters with fingers or small toy cars on the road mats.

Multisensory Learning: Promote auditory and visual learning as children pronounce letters while exploring their corresponding road paths.
🌟 Why Choose Our Alphabet Mats?
Comprehensive Set: 26 pages covering the entire alphabet, providing ample opportunities for letter exploration.

Interactive Design: Vibrant road mats that make learning the alphabet an enjoyable and hands-on experience.

Versatile Learning Tool: Ideal for various learning settings, from homeschooling to classroom activities, promoting literacy development.
🚦👶 Perfect for Little Explorers!
Inspire a love for letters and early literacy with our Road Alphabet Mats Printable. Whether for letter recognition, phonics practice, or as a playful learning tool, these mats offer an engaging and interactive way to navigate the ABCs.
📝 How to Use:
Print, play, and learn! These mats are designed for versatile use, suitable for parents, educators, and caregivers seeking to introduce or reinforce letter recognition in a fun and interactive way.
🛒 Add to Cart Now and Let the Alphabet Road Adventure Begin! 🚗🔠🌈 

Please note: This is a digital product. No physical items will be shipped. After purchase, you will receive a link to download your printable pack.

Contact us
Crystal & Co.
P O Box 55263
Hurst, Texas 76054
crystalandcomp@yahoo.com
Sign up to our mailing list