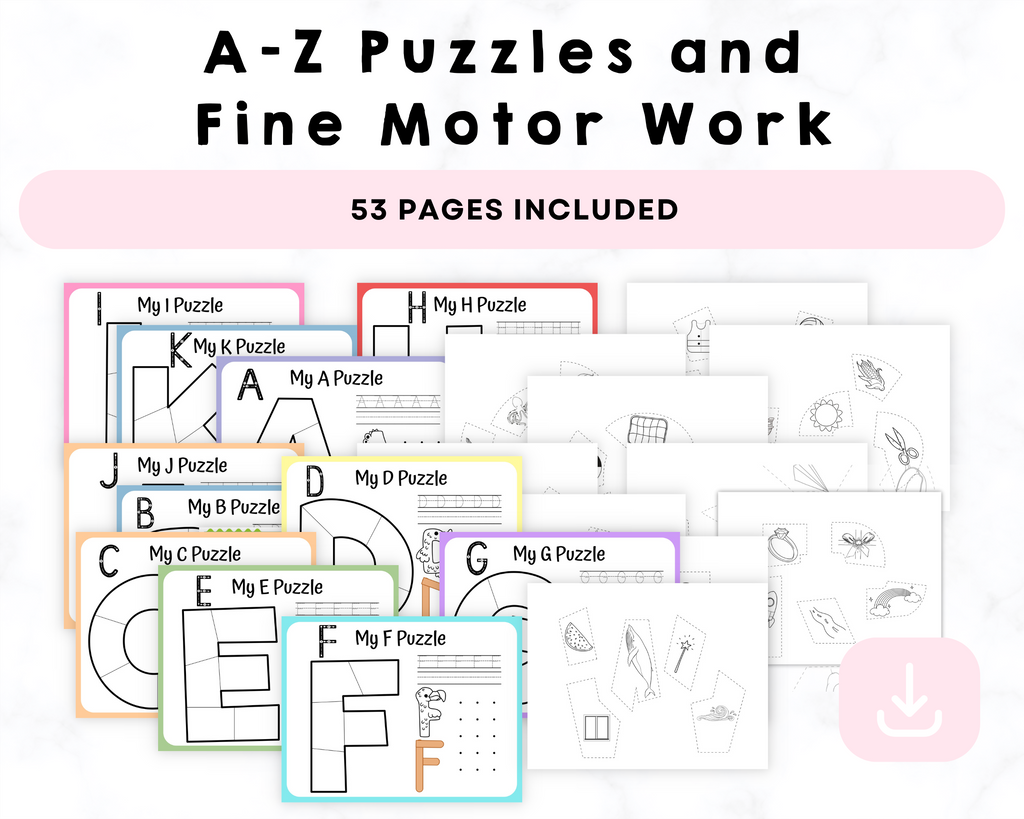 A-Z Puzzles and Fine Motor Work Printable
A-Z Puzzles and Fine Motor Work Printable
description
Introducing our 53-Page A-Z Puzzles and Fine Motor Work Book!

Enhance your child's learning experience with our engaging and educational A-Z Puzzles and Fine Motor Work Book. This comprehensive 53-page workbook is designed to captivate young minds while promoting essential fine motor skills and alphabet recognition.

Key Features:
- **Alphabet Puzzles**: Each page features a unique alphabet puzzle to help your child grasp the fundamental building blocks of language. The puzzles are thoughtfully crafted to encourage critical thinking and problem-solving skills.

- **Fine Motor Exercises**: Our workbook includes various fine motor exercises, such as tracing, coloring, and connecting dots. These activities not only reinforce motor skills but also aid in hand-eye coordination and dexterity.

- **Interactive Learning**: Make learning fun and interactive! With vivid illustrations and interactive activities on every page, children will eagerly dive into the world of letters, numbers, and shapes.

- **Educational Content**: The workbook introduces letters of the alphabet in a structured and engaging manner. Each page presents a new letter, allowing for focused learning and comprehension. Your child will master the alphabet while enjoying a creative and educational experience.


Please note: This is a digital product. No physical items will be shipped. After purchase, you will receive a link to download your printable pack.
- **Durable and Portable**: The workbook is designed with durability in mind to withstand the wear and tear of enthusiastic young learners. Its compact size makes it easy to carry wherever you go, ensuring your child can learn anytime, anywhere.

Invest in your child's early education with our 53-Page A-Z Puzzles and Fine Motor Work Book. Watch as they embark on a learning adventure, developing essential skills and fostering a love for learning that will last a lifetime. Order now and provide the perfect tool for your child's academic journey!
Contact us
Crystal & Co.
P O Box 55263
Hurst, Texas 76054
crystalandcomp@yahoo.com
Sign up to our mailing list