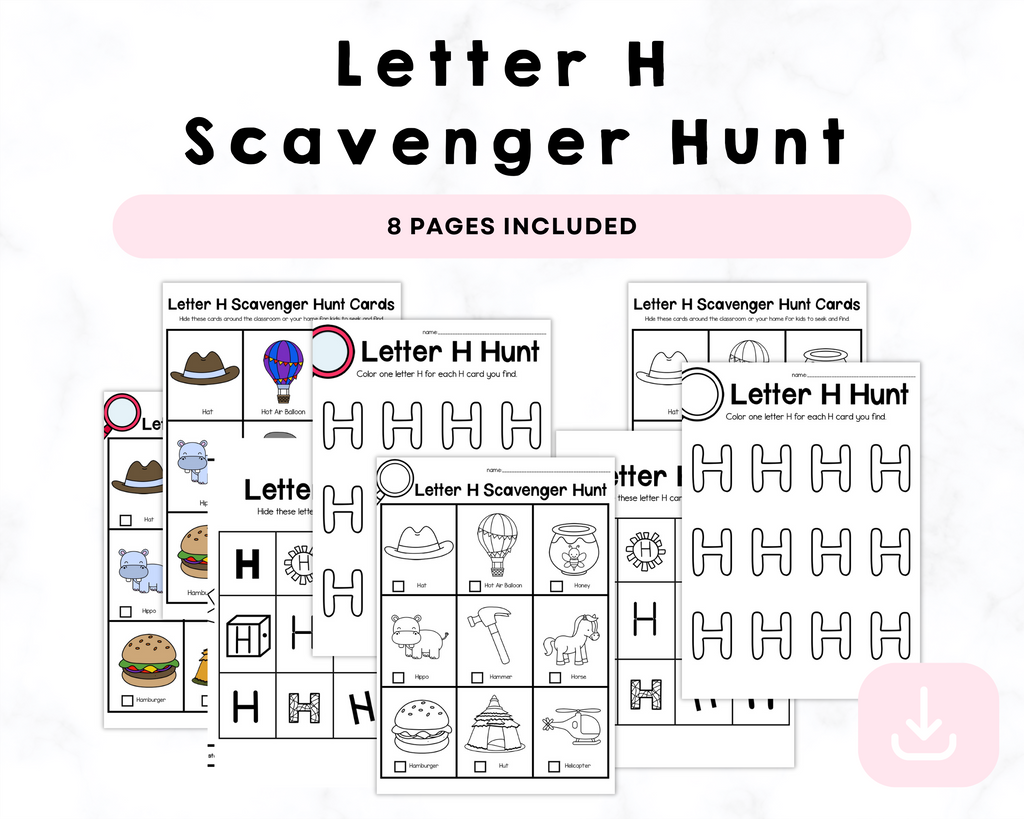 Letter H Scavenger Hunt Printables
Letter H Scavenger Hunt Printables
description
"Heartwarming Letter 'H' Scavenger Hunt Printables: Discover, Hunt, and Color!"

Embark on an exciting journey of discovery with our 8-page Letter 'H' Scavenger Hunt Printables – a delightful blend of adventure and creativity for your little explorer!

**What's Inside:**

🕵️‍♀️ **Scavenger Hunt Cards:** Unleash the thrill of the hunt with specially crafted 'H' scavenger cards. Your child will love searching for hidden treasures that begin with the letter 'H,' turning learning into a captivating adventure.

🎨 **Color the 'H':** Once the scavenger card is found, the fun continues! Our printables include a coloring section where your child can bring the letter 'H' to life with their favorite hues. It's a hands-on experience that enhances fine motor skills while sparking artistic expression.

🧩 **Engaging Challenges:** Each page is designed with unique challenges, ensuring an enriching experience that goes beyond the ordinary. From spotting a "happy" face to discovering a "hidden" gem, these activities promote critical thinking and problem-solving.

👫 **Perfect for Playdates:** Whether for solo exploration or shared with friends, these printables are perfect for playdates and group activities. Watch as laughter and excitement fill the air while children collaborate to uncover 'H' treasures together.


📚 **Educational and Entertaining:** Beyond the joy of the hunt, our Letter 'H' Scavenger Hunt Printables foster letter recognition, vocabulary development, and creativity. It's an educational resource disguised as pure entertainment, ensuring your child learns while having a blast.

Please note: This is a digital product. No physical items will be shipped. After purchase, you will receive a link to download your printable pack.


Contact us
Crystal & Co.
P O Box 55263
Hurst, Texas 76054
crystalandcomp@yahoo.com
Sign up to our mailing list