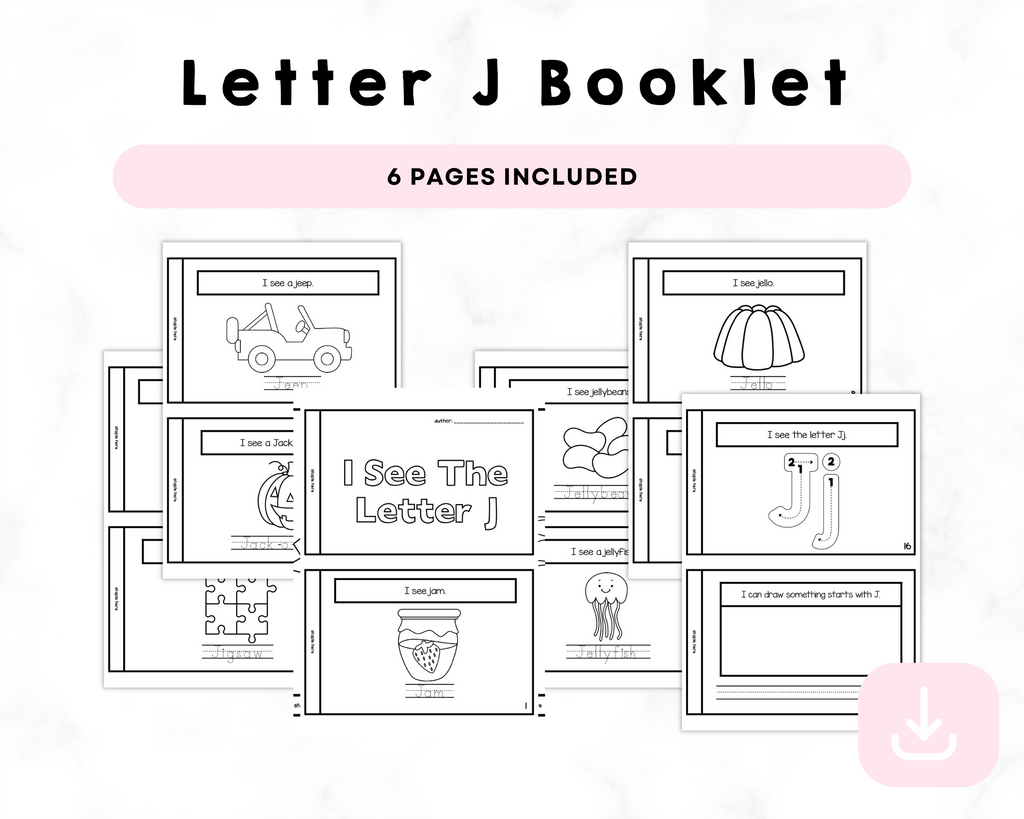 I See The Letter J Printable Book
I See The Letter J Printable Book
description
"I See The Letter J: A 6-Page Journey in Coloring and Tracing for Preschool Explorers!"

**Product Description:**
Embark on an exciting learning adventure with our exclusive "I See The Letter J" 6-page printable booklet, specially crafted for preschoolers. This isn't just a booklet; it's a captivating exploration into the world of 'J,' weaving together coloring, tracing, and the enchantment of learning.

**Discover the Magic Within:**

🌈 **Joyful Coloring Escapade:** Ignite your child's imagination with lively and vibrant coloring images, all starting with the letter 'J.' From a jubilant "jellyfish" to a jolly "jigsaw," each page is a canvas ready to be brought to life by your little one's creativity.

📝 **Trace and Triumph:** Nurture fine motor skills and early writing prowess with dedicated tracing sections for each image. Your preschooler will not only trace the names of the 'J' images but also triumph in letter recognition and handwriting skills.

👩‍🏫 **Teacher-Approved Learning:** Ideal for both parents and teachers, this booklet seamlessly blends education and entertainment. The carefully curated activities ensure an engaging learning experience, making it an invaluable resource for early childhood education.

🎨 **Immersive & Interactive:** This booklet goes beyond traditional methods, creating an immersive and interactive learning experience. Watch as your child actively participates, fostering crucial cognitive skills while having a blast.

👶👧 **For Little Explorers:** Tailored for preschoolers, this booklet is designed to be age-appropriate, ensuring that your little explorer receives a captivating introduction to the magical world of letters.

📚 **Educational Tool for Home or Classroom:** Whether you're a parent looking to enrich at-home learning or a teacher enhancing the classroom experience, "I See The Letter J" is a versatile educational tool that sparks curiosity and ignites a love for learning.

Unleash the magic of 'J' into your child's hands. Order our "I See The Letter J" booklet printables now, and let the joy of learning bloom through colors, exploration, and the thrill of tracing!

Please note: This is a digital product. No physical items will be shipped. After purchase, you will receive a link to download your printable pack.


Contact us
Crystal & Co.
P O Box 55263
Hurst, Texas 76054
crystalandcomp@yahoo.com
Sign up to our mailing list