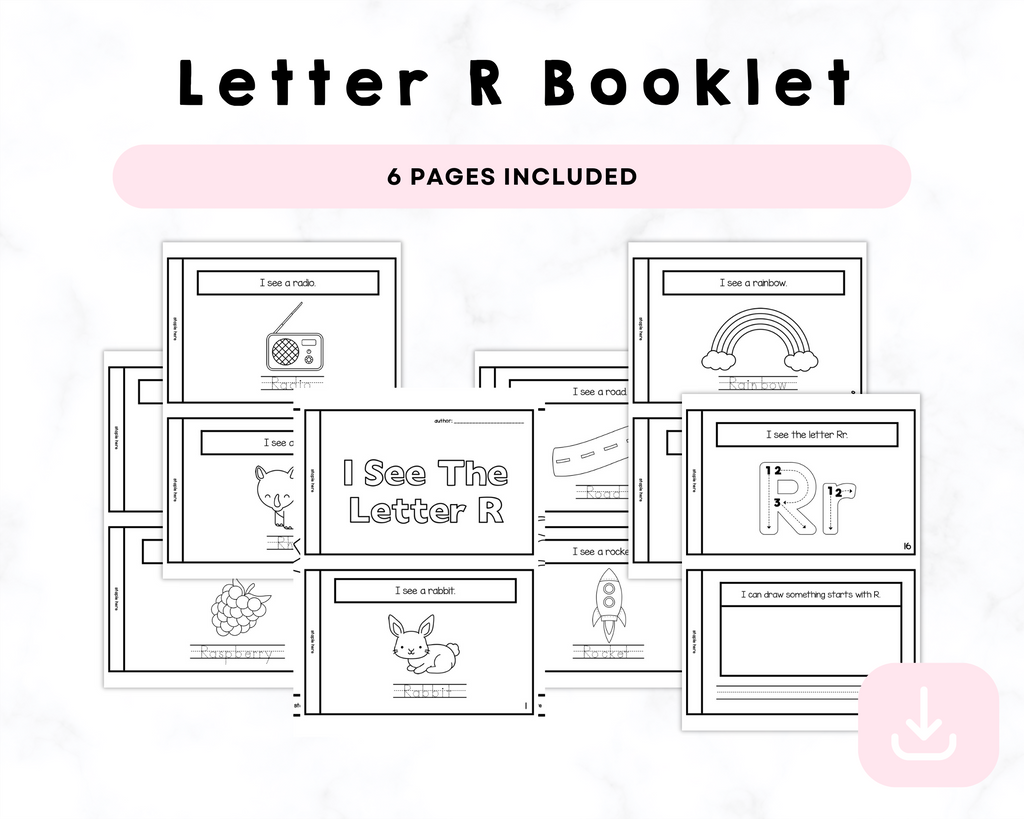 I See The Letter R Printable Book
I See The Letter R Printable Book
description
Discover the excitement of the letter 'R' with our 6-page printable booklet! It's not just a booklet; it's a colorful adventure for preschoolers, blending coloring, tracing, and the magic of 'R'!

**What's Inside:**

🌈 **Colorful Imagery:** Spark creativity with vibrant images like the "radiant rainbow" and the "roaring rocket." Each page is a canvas of discovery, making the letter 'R' come alive in brilliant colors.

📝 **Trace and Learn:** Foster fine motor skills with tracing sections for each image. Your little one will enjoy tracing the names of 'R' images, reinforcing letter recognition and refining handwriting skills.

🚀 **Learning is Fun:** Crafted for excitement, this booklet turns learning into a thrilling adventure. Watch as your child engages with each page, ready to explore the world of 'R.'

🌟 **Perfect for Educators:** Teachers, enhance your lessons with this resource. The "I See The Letter R" booklet seamlessly fits into your curriculum, offering a hands-on way for young learners to embrace the magic of 'R.'

🎨 **Unleash Creativity:** More than a product, it's a journey into creativity. Whether at home or in the classroom, you're nurturing a love for learning through play and exploration.

Elevate your child's early learning with "I See The Letter R" booklet printables. Order now, and witness the joy of exploration and the magic of 'R' unfold in the hands of your young learners!

Please note: This is a digital product. No physical items will be shipped. After purchase, you will receive a link to download your printable pack.

Contact us
Crystal & Co.
P O Box 55263
Hurst, Texas 76054
crystalandcomp@yahoo.com
Sign up to our mailing list