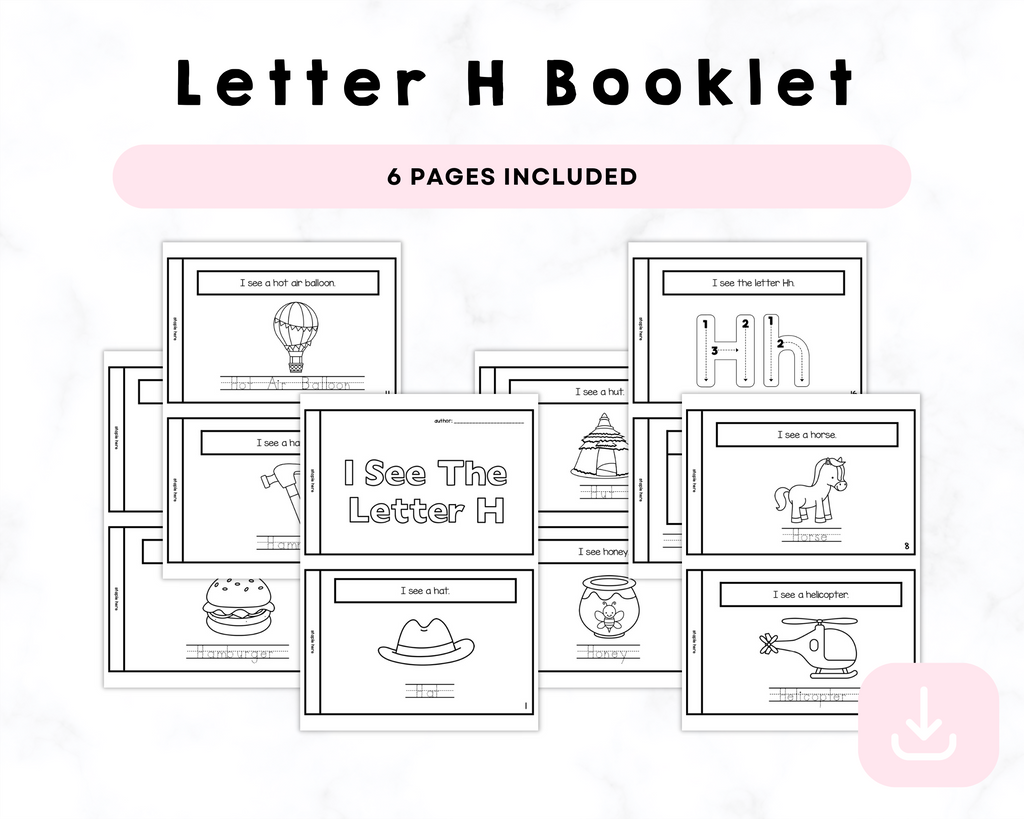 I See The Letter H Printable Book
I See The Letter H Printable Book
description
"I See The Letter H: A 6-Page Adventure in Coloring and Tracing for Little Learners!"

Embark on a delightful educational journey with our exclusive 6-page "I See The Letter H" booklet printables, tailor-made for preschoolers. This enchanting booklet is not just about learning the letter 'H'—it's a gateway to hands-on exploration, creativity, and foundational skills that parents and teachers alike will adore.

**What Awaits Your Little Explorer:**

🌈 **Harmonious Coloring:** Spark your child's imagination with six vibrant pages filled with delightful images that all begin with the letter 'H.' From a happy "hippo" to a heavenly "hot air balloon," each illustration is a canvas waiting to be brought to life.

📝 **Handwriting Adventure:** Foster fine motor skills and early writing abilities with dedicated tracing sections for each image. Your little one will trace the names of 'H' images, reinforcing letter recognition and building essential handwriting skills.

🌟 **Educational Engagement:** As a parent or teacher, you'll appreciate the thoughtful design that makes learning the letter 'H' an engaging and enjoyable experience. The booklet seamlessly integrates fun with education, ensuring little ones absorb knowledge effortlessly.

🎨 **Interactive Learning:** This booklet isn't just a set of printables; it's a tool for interactive learning. Watch as your child actively engages with each page, creating an environment where learning feels like play.

👩‍🏫 **Perfect for Teachers:** As a teacher, you'll find this booklet to be a valuable addition to your classroom resources. The carefully curated activities align with early learning standards, making it an ideal supplement to your lesson plans.

👶 **Tailored for Preschoolers:** Crafted with the developmental needs of preschoolers in mind, this booklet is perfect for ages 3-5. It introduces the letter 'H' in a way that captivates young minds and lays the foundation for future learning.

Unleash the power of 'H' in your child's early education. Order the "I See The Letter H" booklet printables now and witness the joy of learning as little hands bring each page to life with color, creativity, and a whole lot of fun! 

Please note: This is a digital product. No physical items will be shipped. After purchase, you will receive a link to download your printable pack.