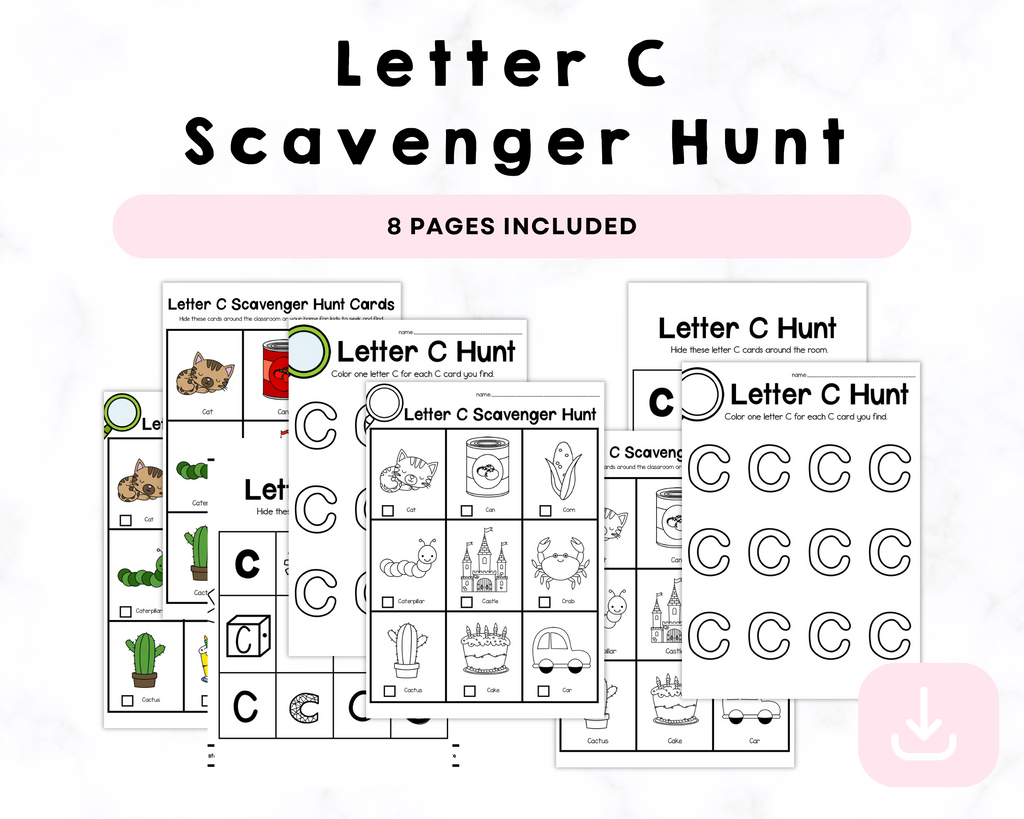 Letter C Scavenger Hunt Printable
Letter C Scavenger Hunt Printable
description
Introducing our 8-page Letter C Scavenger Hunt Printable - the perfect tool to make learning the alphabet a fun and interactive experience for your preschooler. Designed to capture the imagination and encourage early literacy, this printable is an ideal addition to your child's educational resources.

What's included:

1. **Scavenger Hunt Adventure:** Watch your child's curiosity come alive as they embark on a captivating scavenger hunt to discover objects and animals that begin with the letter C. Each page is brimming with vibrant illustrations, making learning an exciting quest.

2. **Coloring Creativity:** Once they've completed their scavenger hunt and found all the "C" cards, your little one can unleash their creativity by coloring the Letter C on each card. It's an engaging way to enhance fine motor skills and add a personal touch to their learning journey.

Our Letter C Scavenger Hunt Printable is perfect for both teachers and parents looking for a dynamic and enjoyable method to introduce the alphabet to young learners. It offers the convenience of being downloadable, making it a flexible addition to your child's educational materials.

Give your child a strong foundation in literacy and alphabet recognition with our Letter C Scavenger Hunt Printable. Purchase your copy today and witness the joy and excitement that comes with every "C" they find. Start the adventure now, and watch your preschooler's learning journey flourish!

Please note: This is a digital product. No physical items will be shipped. After purchase, you will receive a link to download your printable pack.

Contact us
Crystal & Co.
P O Box 55263
Hurst, Texas 76054
crystalandcomp@yahoo.com
Sign up to our mailing list