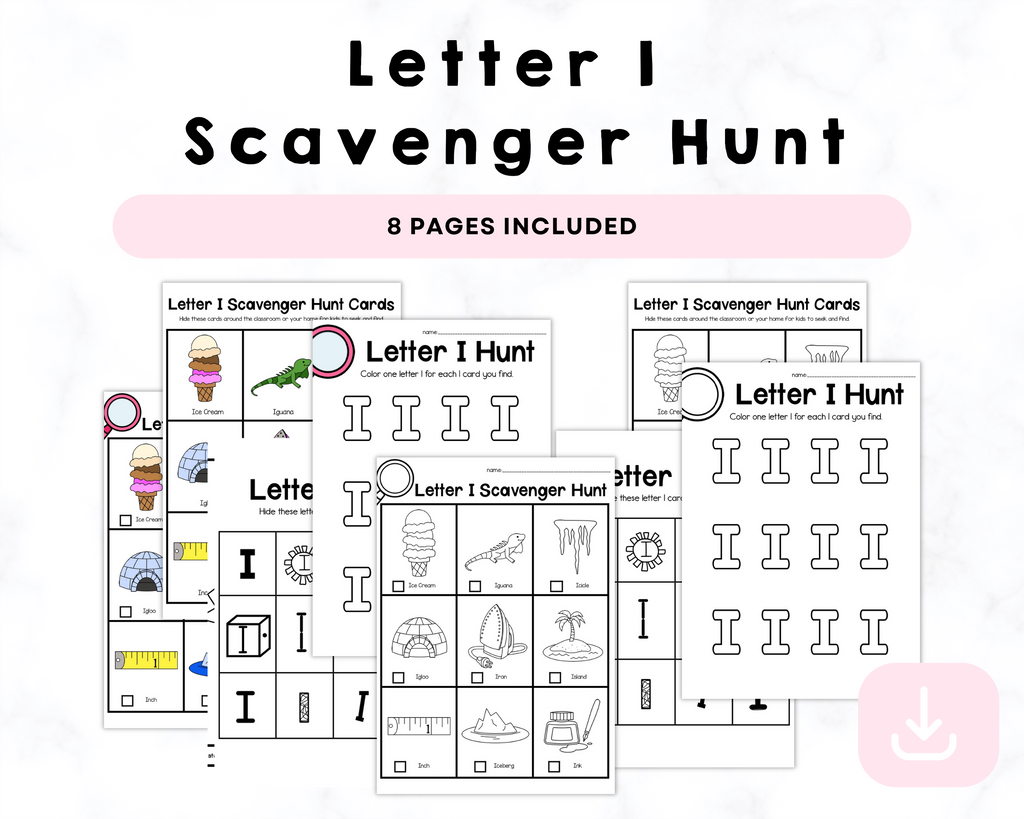 Letter I Scavenger Hunt Printables
Letter I Scavenger Hunt Printables
description
Embark on an exciting adventure with our 8-page Letter 'I' Scavenger Hunt Printables, specially crafted to make learning irresistibly fun for your little one. Unleash the power of imagination and discovery as your child explores the world of the letter 'I' through engaging activities.

**What's Inside:**

🕵️‍♀️ **Scavenger Hunt Cards:** Ignite curiosity with our cleverly designed scavenger hunt cards featuring all things 'I.' From igloos to insects, your child will delight in the thrill of finding and identifying items that begin with the letter 'I.' It's an interactive way to reinforce letter recognition!

🎨 **Color the 'I':** After each successful scavenger hunt, the adventure continues with a coloring activity. Your child can unleash their creativity by coloring the letter 'I' on each page, reinforcing letter formation while enjoying the satisfaction of completing the hunt.

👩‍👧 **Quality Bonding Time:** Dive into quality bonding time with your child as you join them on this scavenger hunt. Watch as they light up with joy when they find each item, creating lasting memories while fostering a love for learning.

🚀 **Ready for Adventure:** Elevate your child's learning journey with this delightful scavenger hunt. Order now and let the exploration of the letter 'I' begin! Watch as your child develops essential skills in a playful and enjoyable way.

Make learning an adventure – order your Letter 'I' Scavenger Hunt Printables today and witness the magic of discovery in your child's eyes!

Please note: This is a digital product. No physical items will be shipped. After purchase, you will receive a link to download your printable pack.

Contact us
Crystal & Co.
P O Box 55263
Hurst, Texas 76054
crystalandcomp@yahoo.com
Sign up to our mailing list