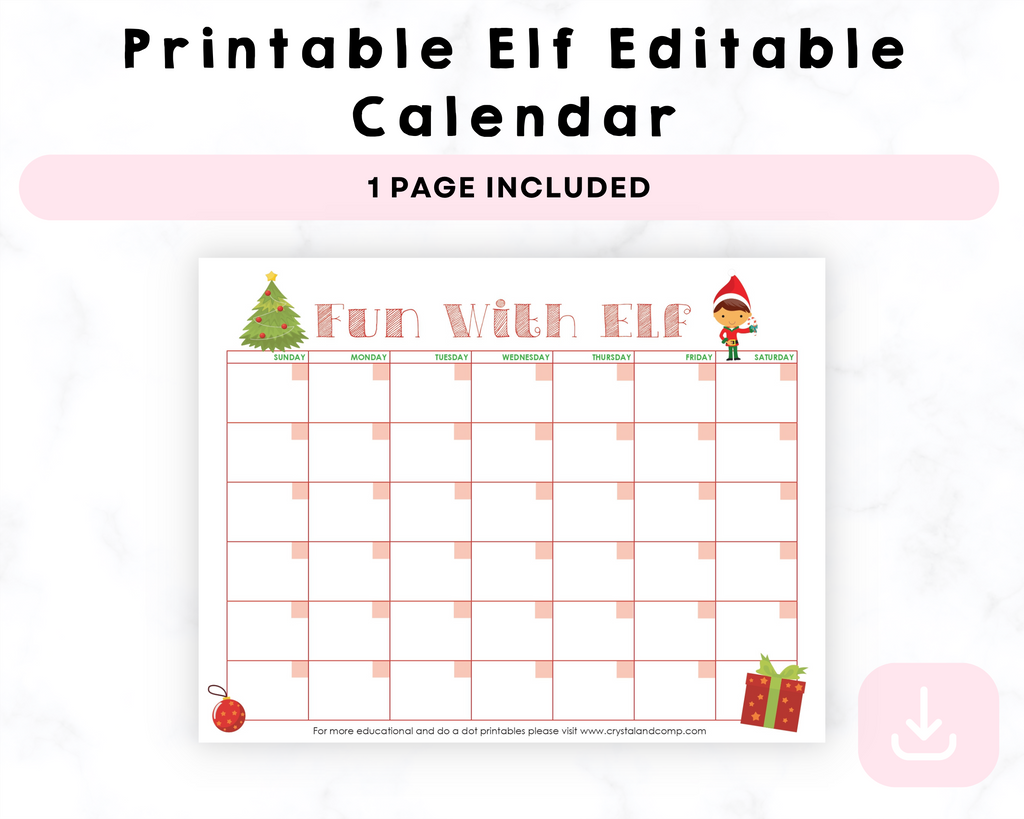 Printable Elf Editable Calendar
Printable Elf Editable Calendar
description
🎄🗓️ Stay Organized this Holiday Season with Our 1-Page Printable Elf Editable Calendar! Keep Track of Festive Plans and Activities! 🎅✨

Manage your holiday schedules with ease using our convenient Elf Editable Calendar! Designed to add a touch of whimsy to your planning, this printable calendar allows you to fill in events, appointments, and special moments throughout the busy holiday season.

🗓️🎁 **What's Included:**

- **Editable Design:** Customize this adorable Elf-themed calendar to suit your December schedule and festivities.

- **Functional Layout:** Plan daily activities, holiday events, and important dates in a clear and organized manner.

- **Festive Decoration:** Enjoy a touch of holiday spirit as you jot down your plans on this charming Elf-themed calendar.

🎅🖊️ **Convenient and Practical:**

- **Personalized Planning:** Edit, print, and hang this calendar to keep track of your holiday to-dos and plans.

- **Effortless Organization:** Ensure you don't miss any festive activities or appointments with this easy-to-use, single-page calendar.

🎄🗓️ **Stay on Top of Your Holiday Schedule! Download and Personalize Our Elf Editable Calendar for a Festive and Organized December!** 🎁📅


This file is editable you simply need a PDF reader, preferable Adobe. These files seem to work best in Chrome, but not limited to that browser. 


Please note: This is a digital product. No physical items will be shipped. After purchase, you will receive a link to download your printable pack.

Contact us
Crystal & Co.
P O Box 55263
Hurst, Texas 76054
crystalandcomp@yahoo.com
Sign up to our mailing list