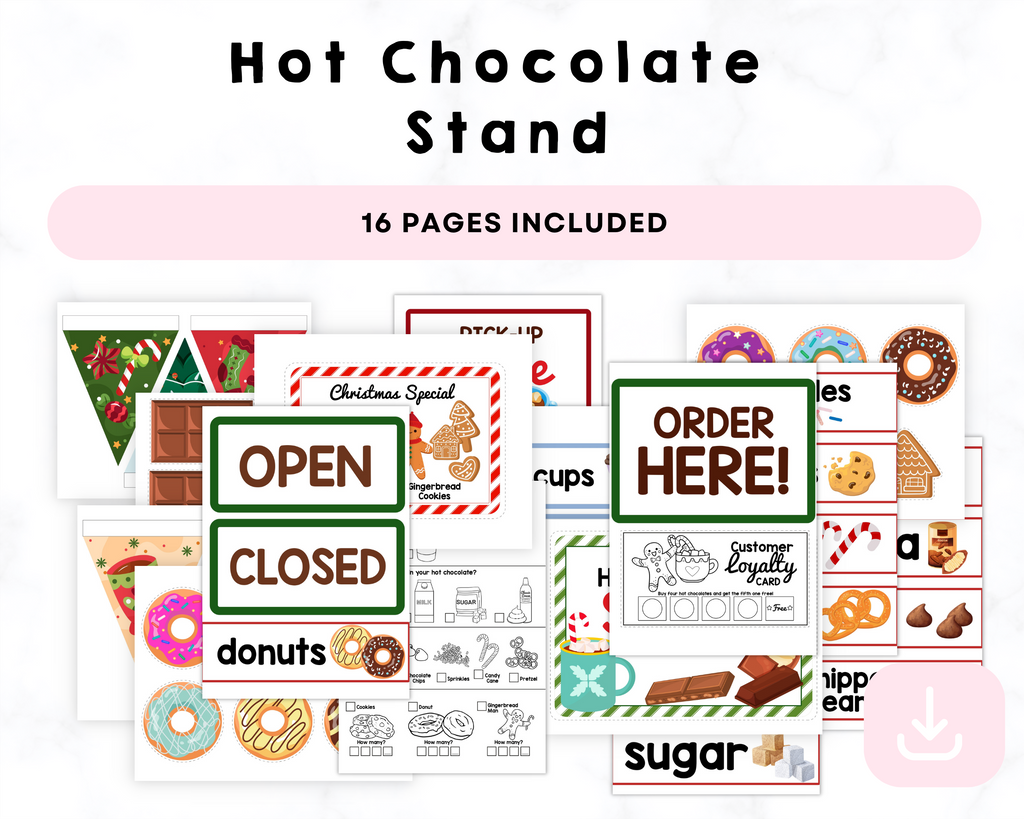 Hot Chocolate Stand Pretend Play Printable
Hot Chocolate Stand Pretend Play Printable
description
Unleash your child's creativity and imagination with our 16-page Hot Chocolate Stand Pretend Play Printable. Designed especially for preschoolers, this delightful playset will transport your little one to a world of hot cocoa magic and imaginative play.

🌟 Key Features:
🧁 16 Pages of Play: This comprehensive set includes 16 printable pages packed with everything your child needs to set up their very own hot chocolate stand, from the menu to the decorations.

🍫 Menu Magic: The set comes with a customizable menu board, allowing your child to decide on the hot chocolate flavors, toppings, and prices. It's an excellent way to develop their math and decision-making skills.

🖍️ Coloring Fun: Let your child's inner artist shine with coloring pages featuring various hot chocolate-themed images. It's an excellent opportunity for them to explore their creativity while having fun.

🏠 Adorable Stand: Your preschooler can assemble a cute hot chocolate stand with easy-to-follow instructions, enhancing their fine motor skills and boosting their sense of achievement.

❤️ Interactive Play: Encourage role-playing and interaction with friends and family as your child plays the hot chocolate vendor, serving up warm drinks and practicing social skills.

🎁 Great for Gifts: Our Hot Chocolate Stand Pretend Play Printable makes a perfect gift for birthdays, holidays, or just to surprise your little one with a fun and educational activity.


🛒 Order now and watch your preschooler's eyes light up with excitement as they embark on a hot chocolate adventure like no other. Perfect for fostering creativity, social skills, and a love for learning.


Please note: This is a digital product. No physical items will be shipped. After purchase, you will receive a link to download your printable pack.

Contact us
Crystal & Co.
P O Box 55263
Hurst, Texas 76054
crystalandcomp@yahoo.com
Sign up to our mailing list