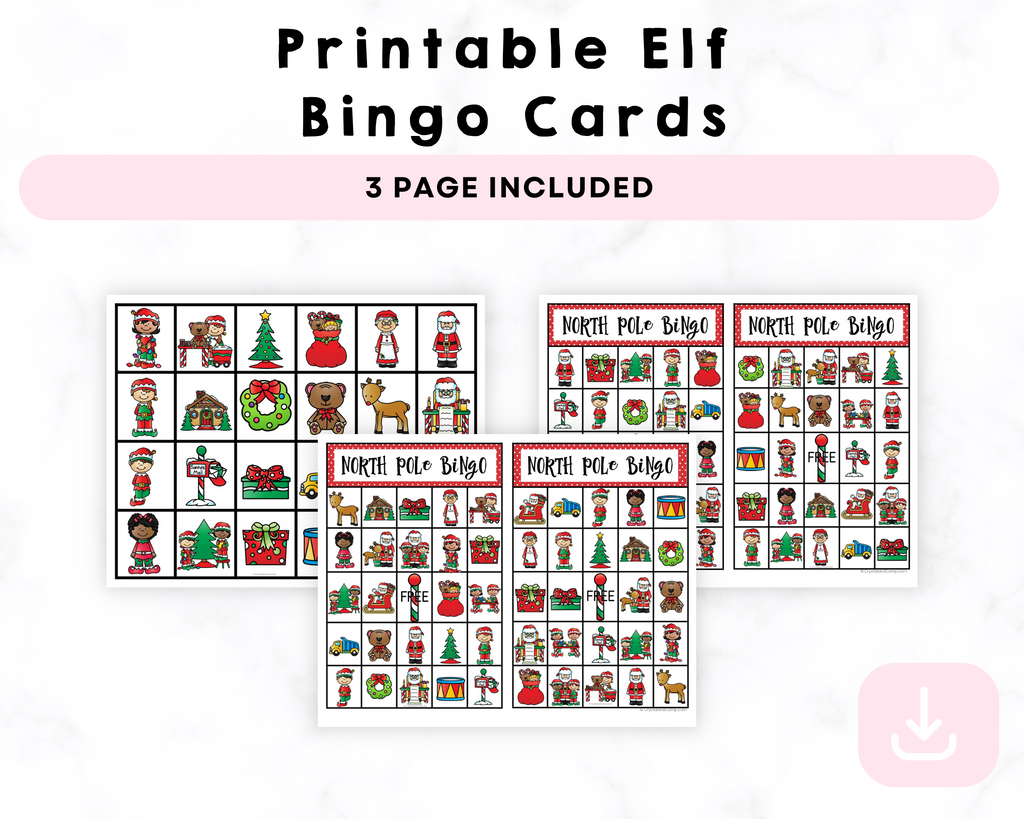 Printable Elf Bingo Cards
Printable Elf Bingo Cards
description
🎅🏽🎄 Add Cheer to Your Holiday Gatherings with Our 3-Page Printable Elf Bingo Cards! Enjoy Festive Fun for All Ages! 🎁✨

Get ready for a jolly good time with our delightful set of Printable Elf Bingo Cards! These cards are the perfect addition to your holiday celebrations, offering an entertaining way to engage family and friends in a merry game of bingo.

🃏🎉 **What's Included:**

- **Elf-Themed Bingo:** Explore three charmingly designed bingo cards adorned with festive elf illustrations, creating an immersive holiday atmosphere.

- **Family Fun:** Engage players of all ages with a delightful game that's perfect for family gatherings, Christmas parties, or cozy nights by the fire.

- **Playful Festivity:** Enjoy the holiday spirit as you match the whimsical elf-themed images on the bingo cards, bringing a touch of magic to your celebration.

👨‍👩‍👧‍👦🎄 **Fun for Everyone:**

Our Printable Elf Bingo Cards are designed to add excitement and laughter to your holiday festivities, fostering moments of togetherness and enjoyment for family and friends.

🎅🏽🃏 **Get Ready for Festive Fun! Play Elf Bingo and Make Your Holiday Gatherings Merry and Bright!** 🎁🎉


Please note: This is a digital product. No physical items will be shipped. After purchase, you will receive a link to download your printable pack.

Contact us
Crystal & Co.
P O Box 55263
Hurst, Texas 76054
crystalandcomp@yahoo.com
Sign up to our mailing list