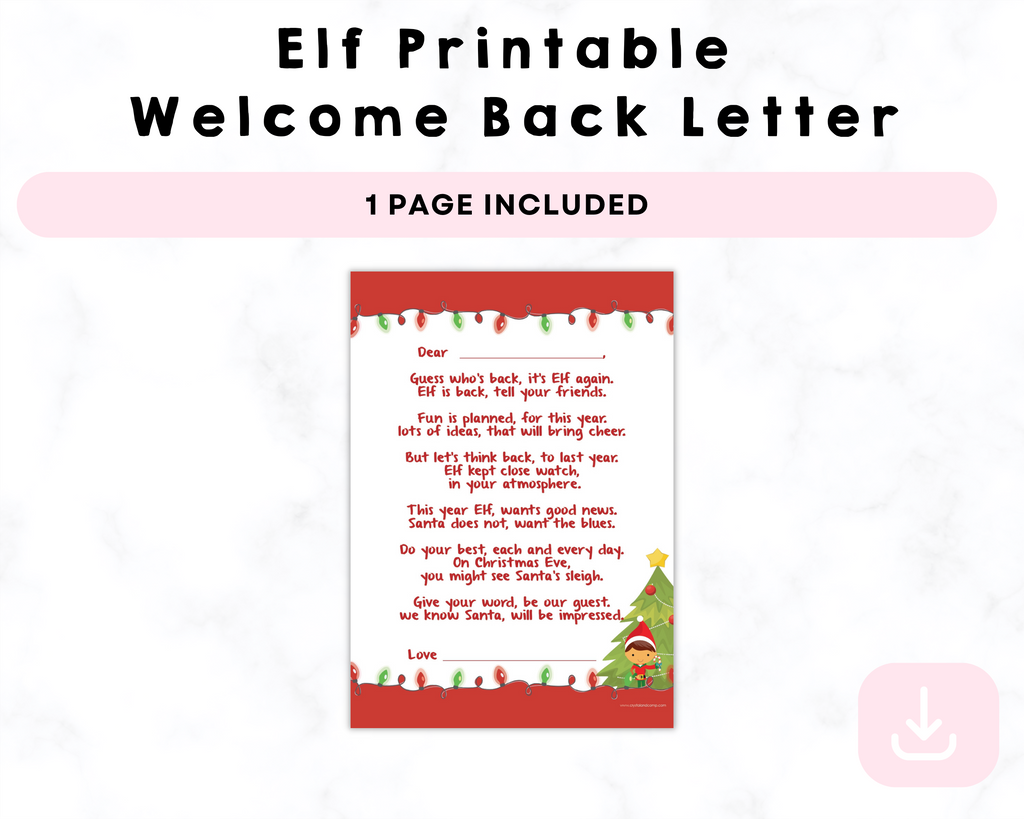 Elf Printable Welcome Back Letter
Elf Printable Welcome Back Letter
description
🎄✨ Welcome Back to the Holiday Cheer with Our Elf Printable Welcome Letter! 📜🎁

Make the return of your mischievous elf extra special with our delightful 1-page Elf Printable Welcome Back Letter! This enchanting letter is a perfect way to bring joy and excitement to your household, welcoming back your little holiday visitor.

🎅📜 **What's Included:**

- **Warm Greetings:** Extend a warm and festive welcome back to your elf with a charmingly crafted letter.

- **Cheerful Design:** Adorned with holiday-themed illustrations and enchanting fonts, it sets the perfect tone for the return of your magical friend.

- **Customizable Details:** Personalize the letter with your elf's name or any special messages to create an engaging and memorable experience.

🌟🎁 **Magical Return:**

As your elf returns, greet them with this specially crafted welcome letter, igniting the holiday spirit and setting the stage for their playful antics and adventures throughout the season.

🎄💌 **Get Ready for the Magic! Welcome Your Elf Back with Festive Warmth and Joyful Anticipation!** 🎅📜✨ 


Please note: This is a digital product. No physical items will be shipped. After purchase, you will receive a link to download your printable pack.

Contact us
Crystal & Co.
P O Box 55263
Hurst, Texas 76054
crystalandcomp@yahoo.com
Sign up to our mailing list