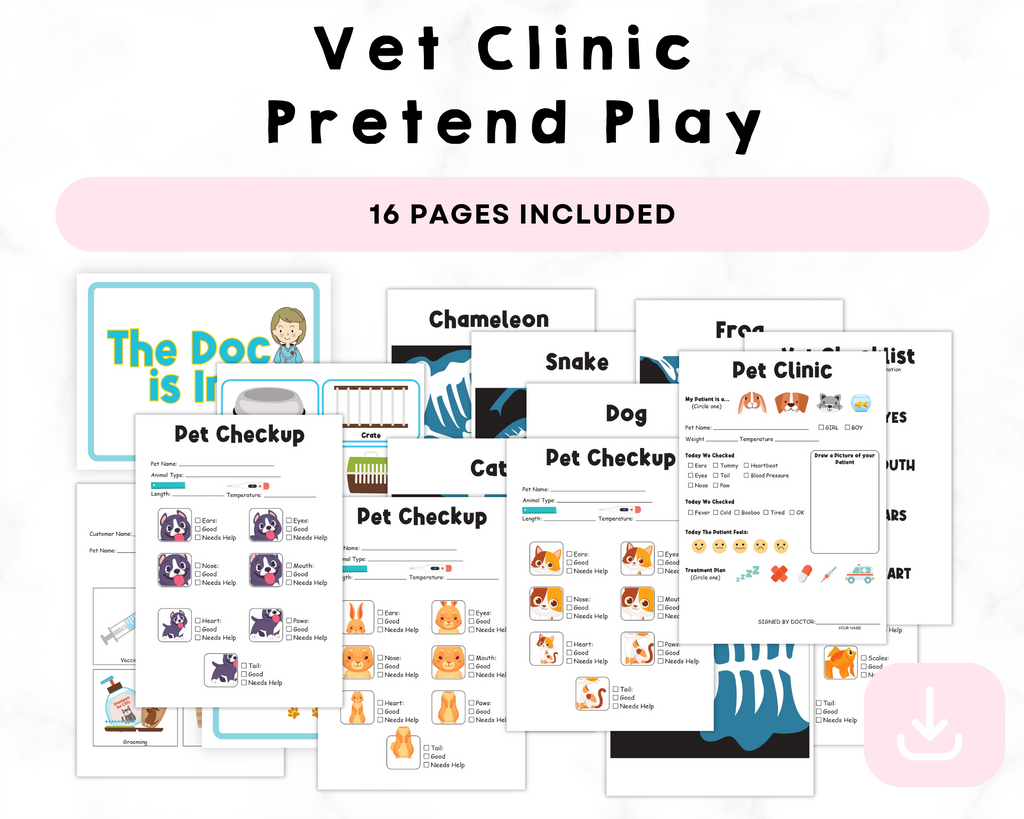 Vet Clinic Pretend Play Printables
Vet Clinic Pretend Play Printables
description
**Unleash the Veterinarian in Your Child**

Is your little one passionate about animals and dream of becoming a vet? Nurture their love for pets and ignite their imagination with our Vet Clinic Pretend Play Printables. This 16-page bundle is a delightful and educational resource designed to inspire creativity, compassion, and a sense of responsibility in your child.

**What's Inside:**

1. **Pet Checkup Forms:** Your child will have everything they need to conduct thorough pet checkups. From temperature checks to heart rate monitoring, these forms will make sure no detail is missed.

2. **Pet Clinic Prescription Pads:** Playtime just got even more realistic. Your child can now write prescriptions for their 'patients' with our dedicated prescription pad.

3. **Identifying Pet X-Rays:** Teach them the importance of diagnostics with our pet X-ray sheets. Spot any hidden issues and discuss potential treatments.

**Why You'll Love It:**

- **Screen-Free Fun:** Our Vet Clinic Pretend Play Printables offer a screen-free alternative for imaginative play, keeping them engaged and away from digital devices.
- **Quality Time:** Share valuable moments with your child as you take on the role of pet owner or even a fellow vet in this fun and educational game.
- **Learning Through Play:** These printables foster learning through imaginative play, giving your child essential life skills and knowledge.

**Let the Adventures Begin:**

Bring the world of veterinary care into your home with our Vet Clinic Pretend Play Printables. Watch your child's confidence grow as they learn about pet health and take care of their furry 'patients' with love and compassion.

Order now and create unforgettable memories while nurturing a love for animals in your child. Get ready for countless hours of imaginative play with our 16-Page Vet Clinic Pretend Play Printables!
Please note: This is a digital product. No physical items will be shipped. After purchase, you will receive a link to download your printable pack.
Contact us
Crystal & Co.
P O Box 55263
Hurst, Texas 76054
crystalandcomp@yahoo.com
Sign up to our mailing list