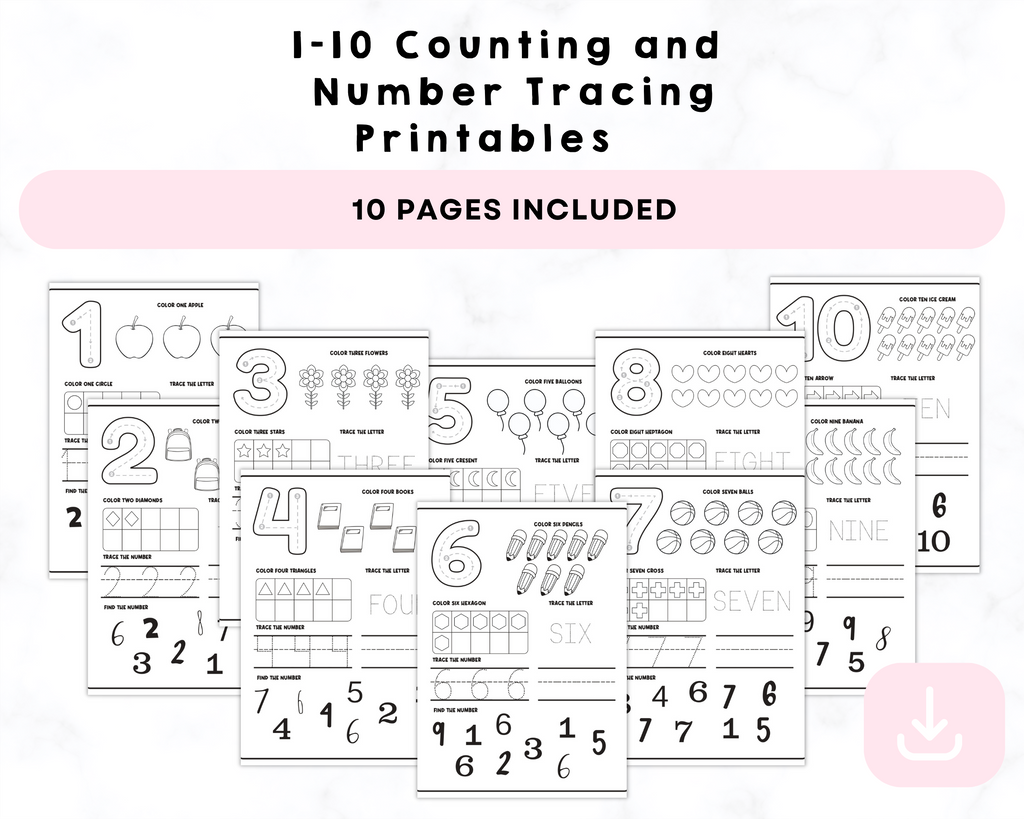 1-10 Counting and Number Tracing Printables
1-10 Counting and Number Tracing Printables
description
Introducing our 10-Page 1-10 Counting and Number Tracing Printables Set!
Enhance your child's numeracy skills with our meticulously designed 10-page printable set focused on counting and number tracing. This educational package is perfect for young learners who are embarking on their journey to understand numbers from 1 to 10.
**Key Features:**
1. **Comprehensive Learning**: Our 10-page set covers numbers from 1 to 10, ensuring a thorough understanding and mastery of basic counting and number recognition.
2. **Guided Tracing**: Each page provides guided tracing activities, helping children learn the correct strokes for writing each number, promoting proper penmanship.
3. **Interactive and Engaging**: The printables are adorned with vibrant and captivating graphics, making learning an enjoyable experience for your little ones.
4. **Educational and Fun**: We have integrated fun and interactive elements into each page to keep your child engaged while they learn and practice counting and tracing.
5. **Versatile Use**: Use these printables in multiple ways - for home practice, in the classroom, during travel, or as a supplement to your child's preschool curriculum.
**Benefits:**
- **Enhanced Numeracy Skills**: Help your child build a strong foundation in counting and number recognition, setting the stage for advanced math learning.
- **Improved Fine Motor Skills**: Tracing the numbers will aid in refining your child's fine motor skills, essential for writing and other everyday activities.
- **Boosted Confidence**: As your child successfully traces and learns each number, their confidence in their abilities will grow, motivating them to further excel in their educational endeavors.
- **Parent-Child Bonding**: Work through the printables together, creating valuable bonding moments with your child as you guide and encourage them in their learning journey.
Unlock the world of numbers for your child with our 10-Page 1-10 Counting and Number Tracing Printables Set. Order now and watch your child flourish in their early numeracy skills!
Please note: This is a digital product. No physical items will be shipped. After purchase, you will receive a link to download your printable pack.
Contact us
Crystal & Co.
P O Box 55263
Hurst, Texas 76054
crystalandcomp@yahoo.com
Sign up to our mailing list