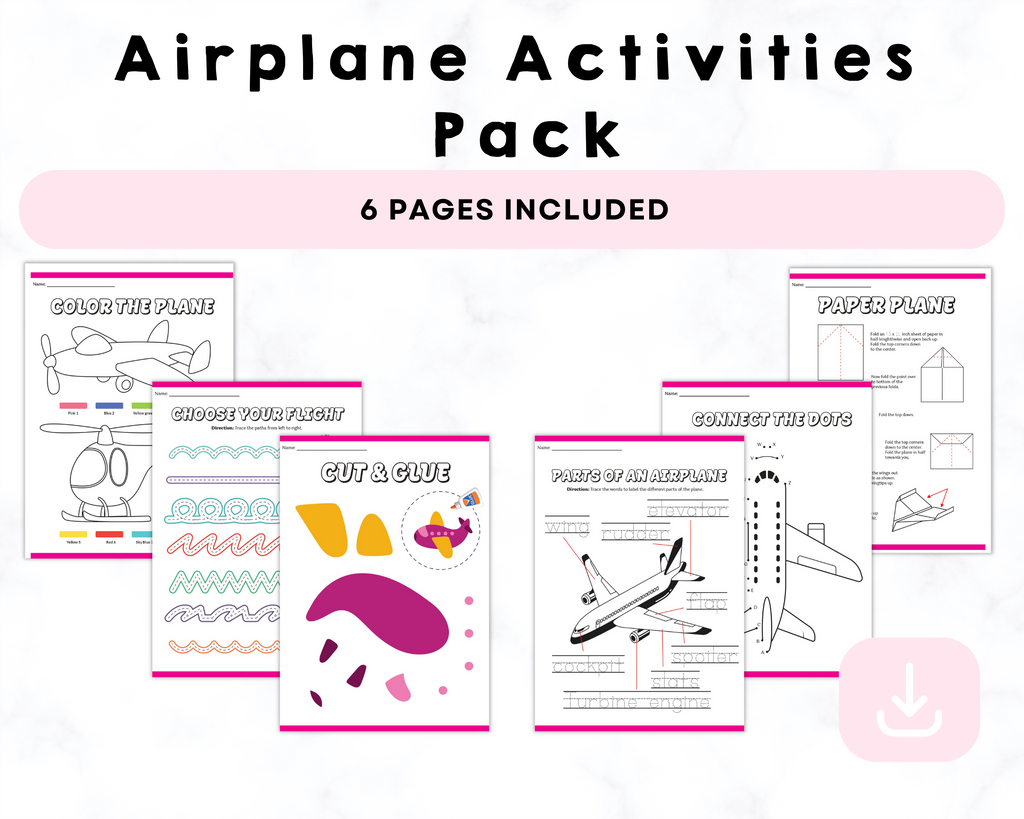 Airplane Activities Pack Printable
Airplane Activities Pack Printable
description
Introducing our 6-Page Airplane Activities Pack Printable – a high-flying adventure for young aviation enthusiasts! This exciting and educational printable is designed to captivate little minds and fuel their imagination while providing an enriching learning experience.

**Page 1: Coloring Bonanza**
Let your little pilots unleash their creativity and choose the colors of the sky! They'll enjoy coloring various airplane designs, allowing their artistic flair to take flight.

**Page 2: Line Tracing Challenge**
Get ready for takeoff with our line tracing activity! Your aspiring aviators will practice their fine motor skills as they trace the paths of airplanes, improving their hand-eye coordination.

**Page 3: Discover the Parts of an Airplane**
Embark on a journey of discovery as your young learners identify and label the different parts of an airplane. From wings to engines, this educational activity encourages knowledge of aircraft anatomy.

**Page 4: Connect the Dots Adventure**
Connect the dots and reveal the hidden image of an airplane in the sky! This engaging activity sharpens counting skills and reveals a surprise picture that will delight your little adventurers.

**Page 5: Paper Plane Creation**
Time to fold, fly, and soar! Your young aviators will learn the art of making a paper airplane, fostering creativity and hands-on engagement as they craft and experiment with flight.

**Page 6: Dream Up Your Own Airplane**
Encourage imaginative thinking as your little dreamers design their very own airplanes. From futuristic models to vintage classics, this page is an invitation to invent and dream big.

With our 6-Page Airplane Activities Pack Printable, the sky is the limit! Spark excitement and learning in your young ones as they embark on this educational airborne journey. Perfect for playtime or educational settings, this printable is sure to make learning about airplanes a soaring adventure.
Please note: This is a digital product. No physical items will be shipped. After purchase, you will receive a link to download your printable pack.
Contact us
Crystal & Co.
P O Box 55263
Hurst, Texas 76054
crystalandcomp@yahoo.com
Sign up to our mailing list