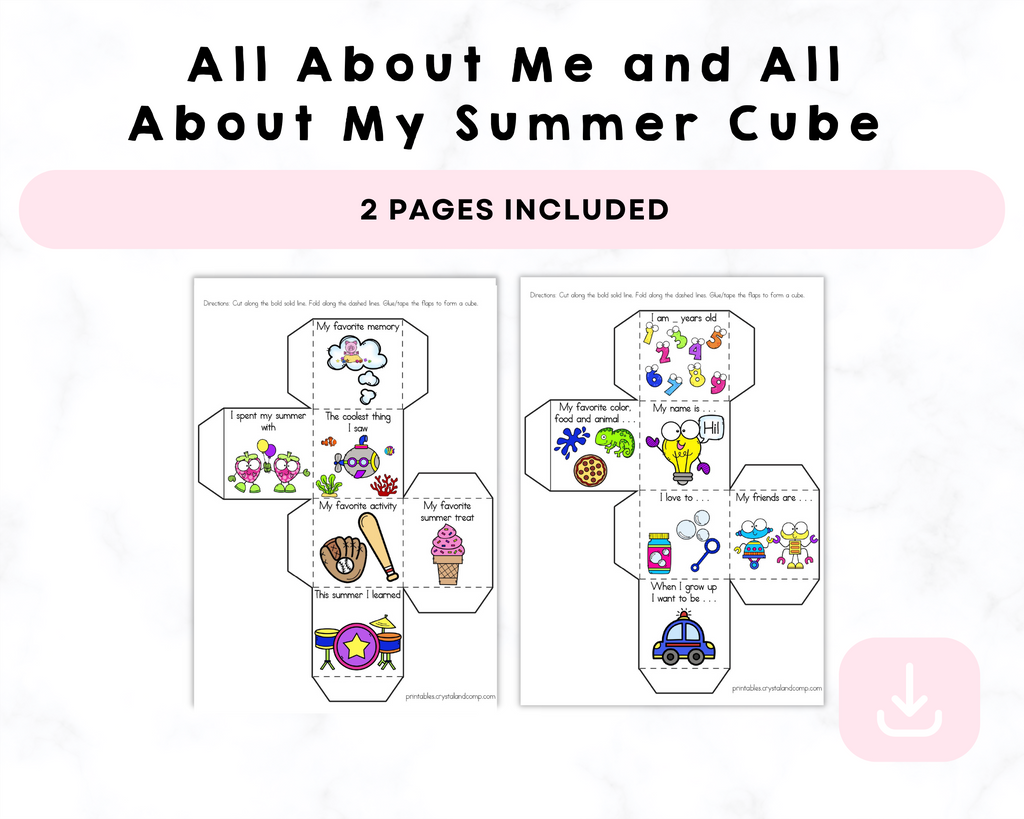 All About Me and All About My Summer Cube
All About Me and All About My Summer Cube
description
🌟📦 Explore Your World in a Cube! Create Your "All About Me" and "All About My Summer" Cubes in 2 Pages - Cut, Fold, and Share Your Story! 🌞👧
Unfold the adventure of self-expression with our 2-page "All About Me" and "All About My Summer" Cube printable! Crafted for fun and creativity, this activity allows you to design, cut, fold, and assemble a unique cube filled with personal stories, memories, and dreams.
🔍 What's Included?
On two pages, find templates for "All About Me" and "All About My Summer" cubes! Each page features sections for you to draw, write, or depict your favorite things, adventures, cherished memories, and aspirations.
✂️📏 Crafting and Creativity:
Cutting and Folding: Engage in a hands-on crafting experience, cutting and folding to assemble your personalized cubes.
Expressive Design: Use your imagination to decorate and fill each side of the cube with illustrations, stories, and reflections about yourself and your summer experiences.
🖍️🧒👦 How to Make:
Print, cut along the lines, fold along the edges, and assemble the cube! This simple and enjoyable activity is perfect for creative minds looking to express themselves or for teachers seeking a fun project for their students.
🌈📝 Perfect for Self-Expression:
Ideal for kids, students, or anyone seeking a creative outlet, these cubes offer a charming way to share personal stories and memories. Use them as a conversation starter or a keepsake to cherish your summer memories.
🛍️ Get Your 2-Page Cube Set and Craft Your Unique "All About Me" and "All About My Summer" Cubes Today! 🌟📦✨

Please note: This is a digital product. No physical items will be shipped. After purchase, you will receive a link to download your printable pack.

Contact us
Crystal & Co.
P O Box 55263
Hurst, Texas 76054
crystalandcomp@yahoo.com
Sign up to our mailing list