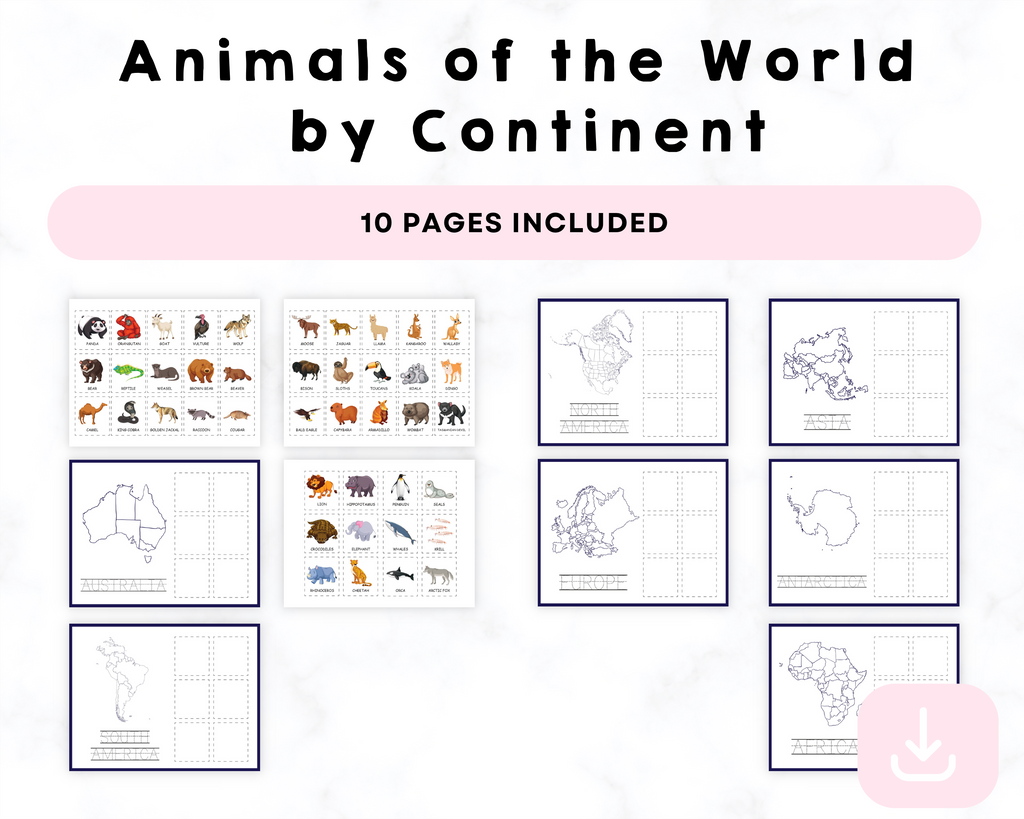 Animals of the World by Continent Printables
Animals of the World by Continent Printables
description
🔍 What's Inside?
Explore 10 meticulously curated pages, each dedicated to a different continent and its unique animal inhabitants. From the majestic lions of Africa to the playful kangaroos of Australia, these printables offer a captivating glimpse into the rich biodiversity of our world.
🧠 Educational Adventures:
Geography and Culture: Connect preschoolers with the world map, teaching them about continents and the animals that call them home.

Animal Identification: Encourage learning and curiosity as young minds identify and learn about various species from different parts of the globe.

Visual Recognition: Foster cognitive development by introducing diverse animals and their habitats through colorful illustrations.
🌟 Why Choose Our Animals by Continent Printables?
Comprehensive Coverage: Featuring animals from each continent, our printables provide a well-rounded understanding of global biodiversity.

Engaging Visuals: Vibrant illustrations capture the essence of each continent's wildlife, captivating young imaginations.

Versatile Learning: Ideal for fostering curiosity and initiating discussions about nature, geography, and the interconnectedness of our world.
🎁 Perfect Gift for Little Explorers!
Inspire a love for wildlife and geography early on with our Animals of the World Printables. Whether for classrooms, homeschooling, or as an engaging gift, these printables open doors to exciting learning adventures.
🛒 Add to Cart Now and Let the Adventure of Exploring Continents Begin! 🐼🌎

Please note: This is a digital product. No physical items will be shipped. After purchase, you will receive a link to download your printable pack.

Contact us
Crystal & Co.
P O Box 55263
Hurst, Texas 76054
crystalandcomp@yahoo.com
Sign up to our mailing list