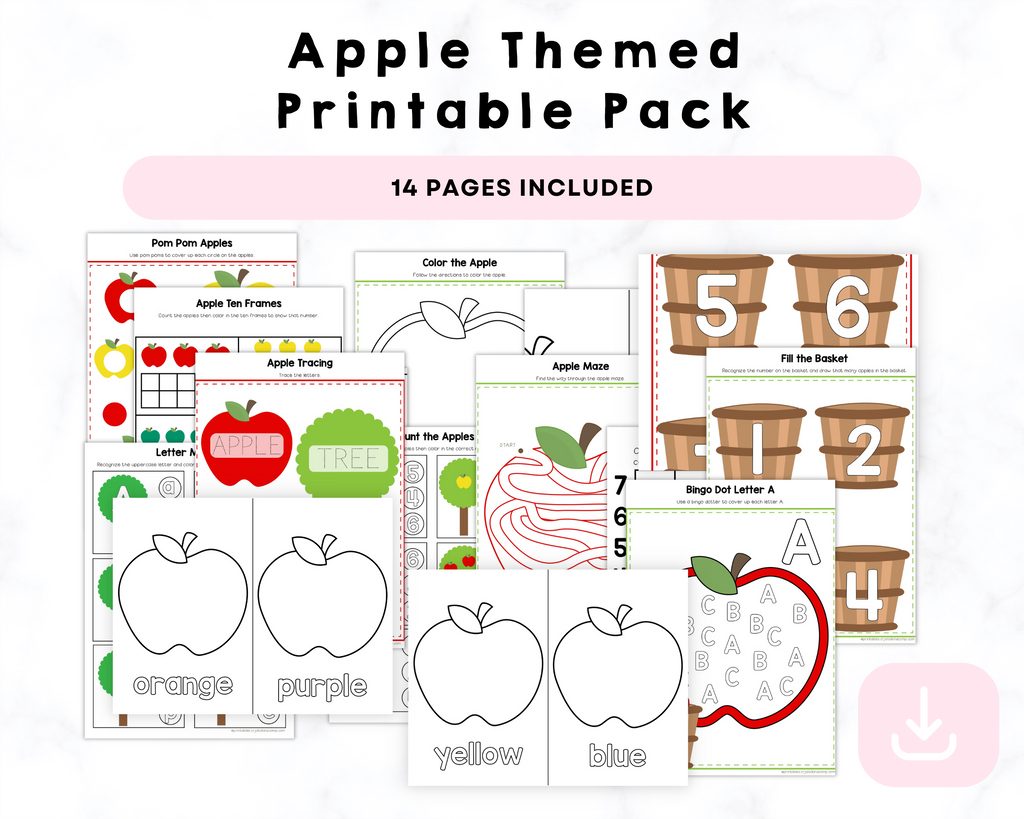 Apple Themed Printable Pack
Apple Themed Printable Pack
description
🍎📝 Explore Learning and Play with Our 14-Page Apple Themed Printable Pack! Engage in Coloring, Counting, Apple Maze, Tracing, and Pom-Pom Apple Fun! 🖍️🍏
Embark on an educational adventure with our exciting 14-Page Apple Themed Printable Pack! This pack offers a delightful array of apple-inspired activities, blending learning and play for young minds.
🔍 What's Inside?
Dive into fun-filled coloring exercises, interactive counting adventures, navigate through an engaging apple maze, practice tracing apple shapes, and create adorable pom-pom apples.
🎨🔢 Educational Adventures:
Coloring: Stimulate creativity with charming apple illustrations waiting to be filled with vibrant colors.
Counting: Engage in interactive counting exercises centered around apples, making learning numbers a delightful experience.
Apple Maze: Navigate through a challenging yet fun maze filled with apples!
Tracing: Enhance fine motor skills with tracing activities featuring apple shapes.
Pom-Pom Apples: Enjoy a hands-on crafting activity creating adorable pom-pom apples, perfect for imaginative play.


Please note: This is a digital product. No physical items will be shipped. After purchase, you will receive a link to download your printable pack.

Contact us
Crystal & Co.
P O Box 55263
Hurst, Texas 76054
crystalandcomp@yahoo.com
Sign up to our mailing list