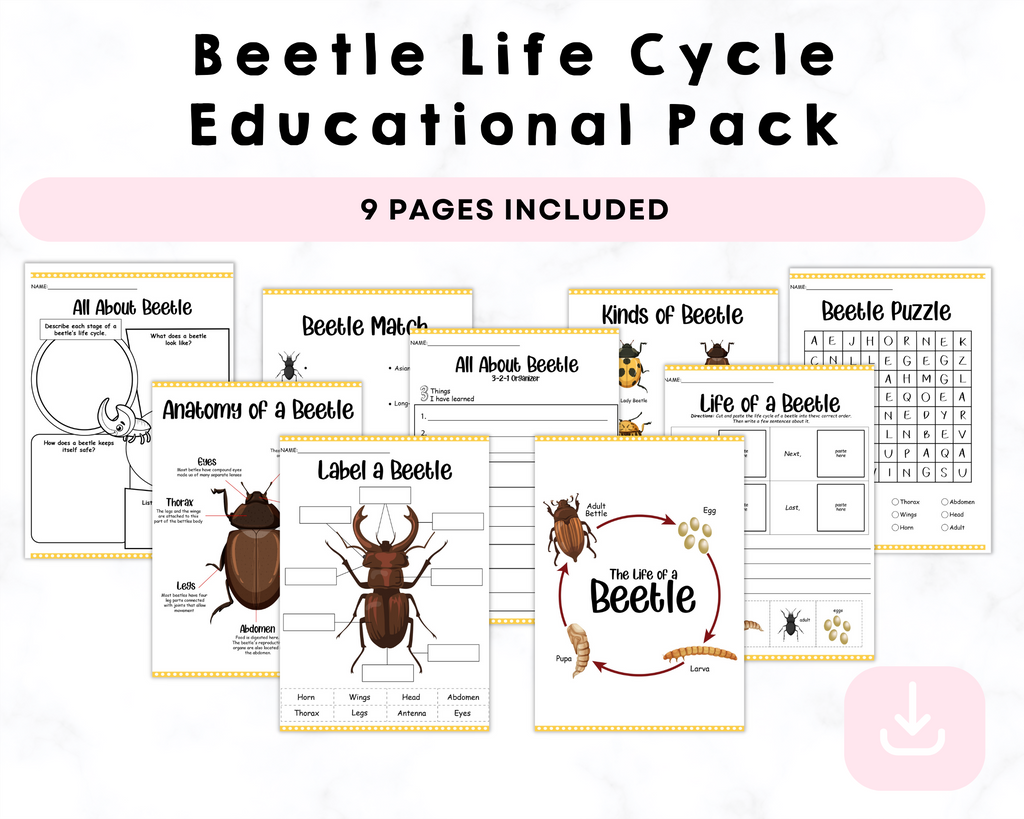 Beetle Life Cycle Educational Pack Printable
Beetle Life Cycle Educational Pack Printable
description
🐞📚 Discover the Fascinating World of Beetles with Our 9-Page Educational Pack! Explore Beetle Anatomy, Life Cycle, and Engaging Activities! 🌟
Embark on a captivating journey into the world of beetles with our comprehensive 9-page Beetle Life Cycle Educational Pack! This engaging set delves into the intricate world of beetles, covering their anatomy, life cycle, different species, and fun-filled educational activities.
🔍 What's Inside?
Explore nine detailed pages featuring a treasure trove of beetle-related content! Dive into labeling the parts of a beetle, understanding its anatomy, discovering various beetle species, exploring the life cycle, solving beetle puzzles, and engaging in beetle matching activities.
🐞📝 Educational Adventures:
Label a Beetle: Learn and identify the different parts of a beetle through a labeling exercise.
Anatomy Exploration: Explore the intricate anatomy of beetles, fostering a deeper understanding of these amazing creatures.
Life Cycle Insight: Delve into the life stages of a beetle, understanding their fascinating life cycle.
Interactive Activities: Engage in beetle-themed puzzles and matching games for a fun and educational experience.
🖍️👧🧑 How to Use:
Simply print and dive into the world of beetles! These printables are designed for interactive learning, perfect for curious minds eager to explore the intricacies of beetles or educators seeking captivating resources for their lessons.
🌿🔬 Perfect for Nature Enthusiasts:
Ideal for homeschooling, science projects, or simply nurturing a love for nature, our Beetle Life Cycle Educational Pack promises an enriching and enjoyable learning experience for all ages fascinated by these incredible insects. 

Please note: This is a digital product. No physical items will be shipped. After purchase, you will receive a link to download your printable pack.

Contact us
Crystal & Co.
P O Box 55263
Hurst, Texas 76054
crystalandcomp@yahoo.com
Sign up to our mailing list