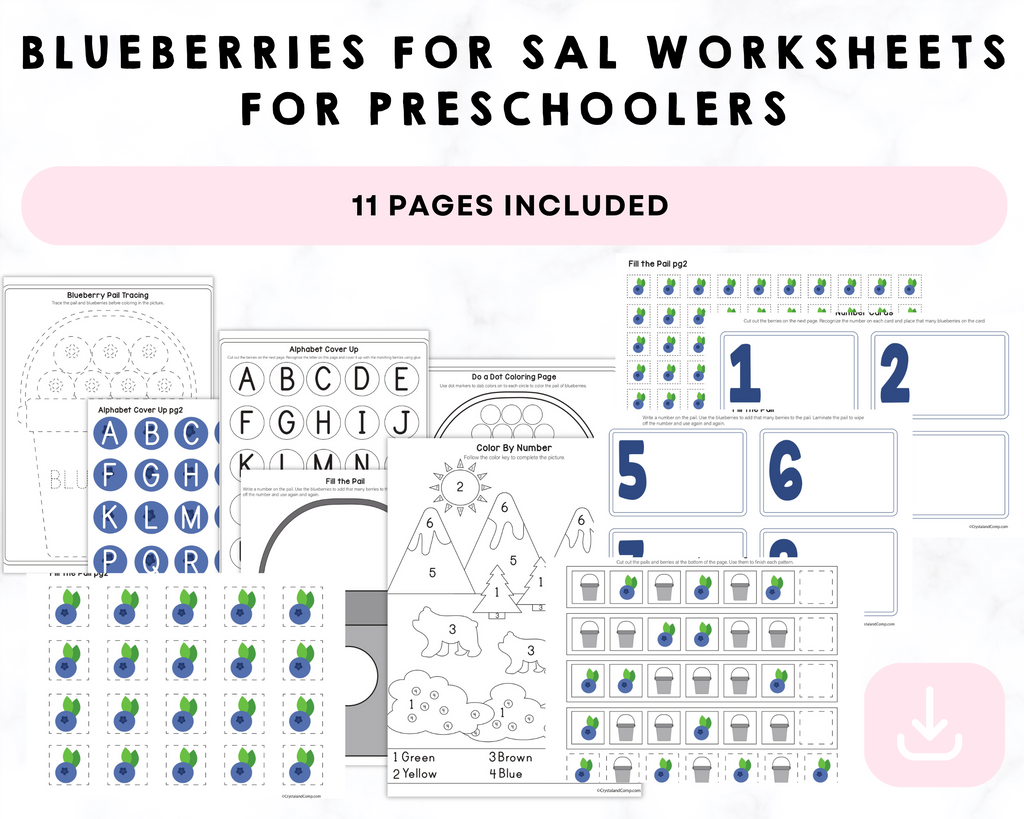 Blueberries for Sal Worksheets for Preschoolers Printable
Blueberries for Sal Worksheets for Preschoolers Printable
description
Engage your little ones with our delightful Blueberries for Sal Worksheets designed specifically for preschoolers! This 11-page printable pack is filled with interactive and educational activities, perfect for fostering creativity and early learning.


1. **Coloring by Numbers:**
Let your child explore their artistic side as they bring adorable blueberries to life by matching colors with numbers. It's a great way to enhance their color recognition and fine motor skills.

2. **Alphabet Cover Up:**
Combine the joy of hunting for letters with the delightful story of Sal and her blueberries. Your child will love identifying and covering the letters of the alphabet, reinforcing letter recognition and early literacy skills.

3. **Do a Dot Coloring Page:**
Encourage creativity with our do-a-dot coloring page featuring charming blueberries. Your child can use dot markers or simply color to their heart's content, enhancing hand-eye coordination and artistic expression.

Why Choose Our Blueberries for Sal Worksheets:

- **Educational Fun:** These worksheets are designed to blend learning and enjoyment, making the educational journey an exciting adventure for your little one.

- **Perfect for Preschoolers:** Tailored to suit preschoolers, these activities will captivate their attention and lay the foundation for essential skills.

- **High-Quality Printables:** Our printables are created with vibrant images and clear designs, ensuring a satisfying printing experience and excellent results.

Let the magic of "Blueberries for Sal" come alive as your child dives into these engaging worksheets. Watch as they learn, play, and grow with this delightful printable pack!


Please note: This is a digital product. No physical items will be shipped. After purchase, you will receive a link to download your printable pack.
Contact us
Crystal & Co.
P O Box 55263
Hurst, Texas 76054
crystalandcomp@yahoo.com
Sign up to our mailing list