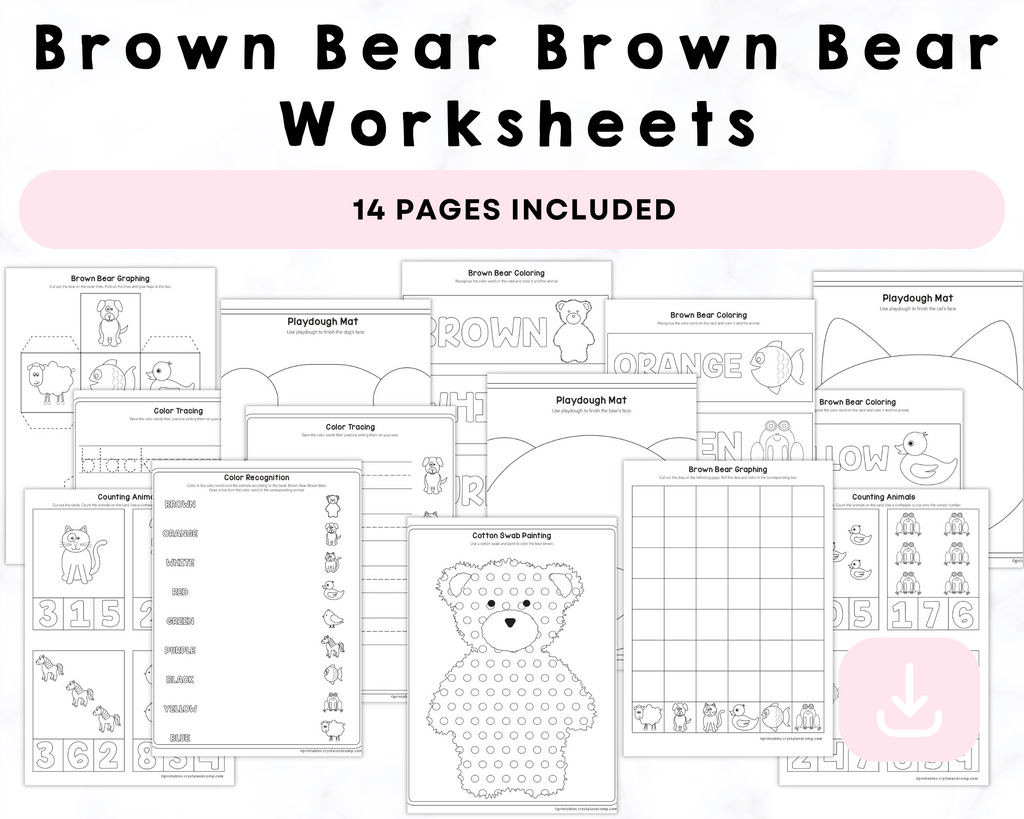 Brown Bear Brown Bear Worksheets Printable
Brown Bear Brown Bear Worksheets Printable
description
Introducing our "Brown Bear Brown Bear Worksheets Printable" - a delightful 14-page educational resource designed to engage and educate young learners in a fun and interactive way. Your little ones will embark on a colorful adventure through the world of the beloved Brown Bear character, enhancing their creativity, fine motor skills, and cognitive development.

**Features:**

1. **Brown Bear Coloring:** Dive into the vibrant world of Brown Bear with carefully designed coloring pages. Let your child's imagination soar as they bring this iconic character to life using their favorite colors.

2. **Playdough Mat:** Get hands-on with our interactive playdough mat, where your child can sculpt and shape their very own Brown Bear using playdough. This kinesthetic activity promotes sensory exploration and improves motor skills.

3. **Color Tracing:** Develop fine motor control and hand-eye coordination through our engaging color tracing exercises. Your child will trace and recognize different colors associated with the charming characters in the Brown Bear story.

4. **Color Recognition:** Reinforce color recognition skills as your child matches colors to the characters in the story. This interactive activity makes learning about colors exciting and memorable.

5. **Counting Animals:** Explore the world of numbers by counting the delightful animals featured in the Brown Bear story. Your child will improve their counting skills while enjoying the company of these adorable creatures.

Our "Brown Bear Brown Bear Worksheets Printable" is designed to make learning enjoyable and effective. Bring the magic of Brown Bear into your child's learning routine, and watch as they grow and learn through the joy of colors, counting, and creativity. Download now and let the adventure begin!
Please note: This is a digital product. No physical items will be shipped. After purchase, you will receive a link to download your printable pack.
Contact us
Crystal & Co.
P O Box 55263
Hurst, Texas 76054
crystalandcomp@yahoo.com
Sign up to our mailing list