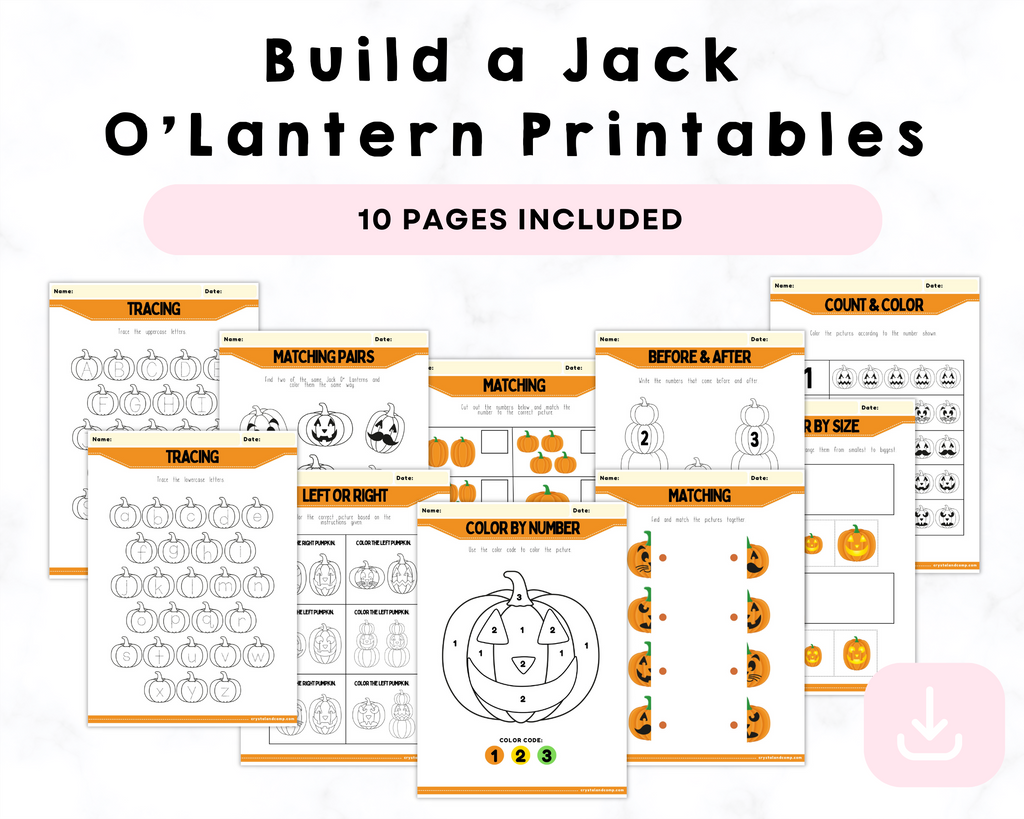 Build a Jack O'Lantern Printables
Build a Jack O'Lantern Printables
description
Introducing our "Build a Jack-O-Lantern Printables for Preschoolers" - a delightful and educational resource designed to engage your little ones in a fun Halloween-themed learning experience. With 10 exciting pages of activities, your preschooler will have a blast while developing essential skills such as matching, counting by number, counting, and coloring, as well as honing their tracing abilities.

🎃 What's Included:
1. **Match the Faces:** Your child will have a blast mixing and matching different eyes, noses, and mouths to create their very own unique Jack-O-Lantern faces. This activity encourages creativity and helps improve visual discrimination.

2. **Counting Fun:** With our counting pages, children will have the chance to count spooky bats, friendly ghosts, and pumpkins. It's a fantastic way to introduce early math concepts while keeping the Halloween spirit alive.

3. **Count and Color:** These engaging pages will allow your little one to practice counting and reinforce number recognition, all while having a blast coloring in the corresponding number of items on each page.

4. **Tracing Trails:** Fine motor skills are developed through tracing the paths of friendly Halloween creatures. Your child can follow the lines and improve their coordination.

📚 Learning Through Play:
Our Jack-O-Lantern Printables are designed with educational goals in mind, but they're so enjoyable that your child won't even realize they're learning. These activities encourage:

- Creative thinking and imagination
- Numerical skills development
- Fine motor skill improvement
- Hand-eye coordination enhancement
- Focus and attention to detail

👻 Perfect for Home or Classroom:
Whether you're a parent looking for fun learning activities for your child at home or a teacher seeking engaging Halloween-themed resources for your preschool classroom, our printables are versatile and easy to use.

🎨 High-Quality Design:
Each page is beautifully designed with vibrant colors and adorable Halloween characters that are sure to captivate your child's attention. The high-quality images are easy to understand, making it a seamless learning experience.

📦 Instant Download:
Get your "Build a Jack-O-Lantern Printables for Preschoolers" today and enjoy instant access. No need to wait for shipping; simply download, print, and let the learning fun begin!

Prepare your child for a spooktacular Halloween full of learning and laughter. Order our "Build a Jack-O-Lantern Printables for Preschoolers" now, and watch your little one's skills grow while having a hauntingly good time!
Please note: This is a digital product. No physical items will be shipped. After purchase, you will receive a link to download your printable pack.