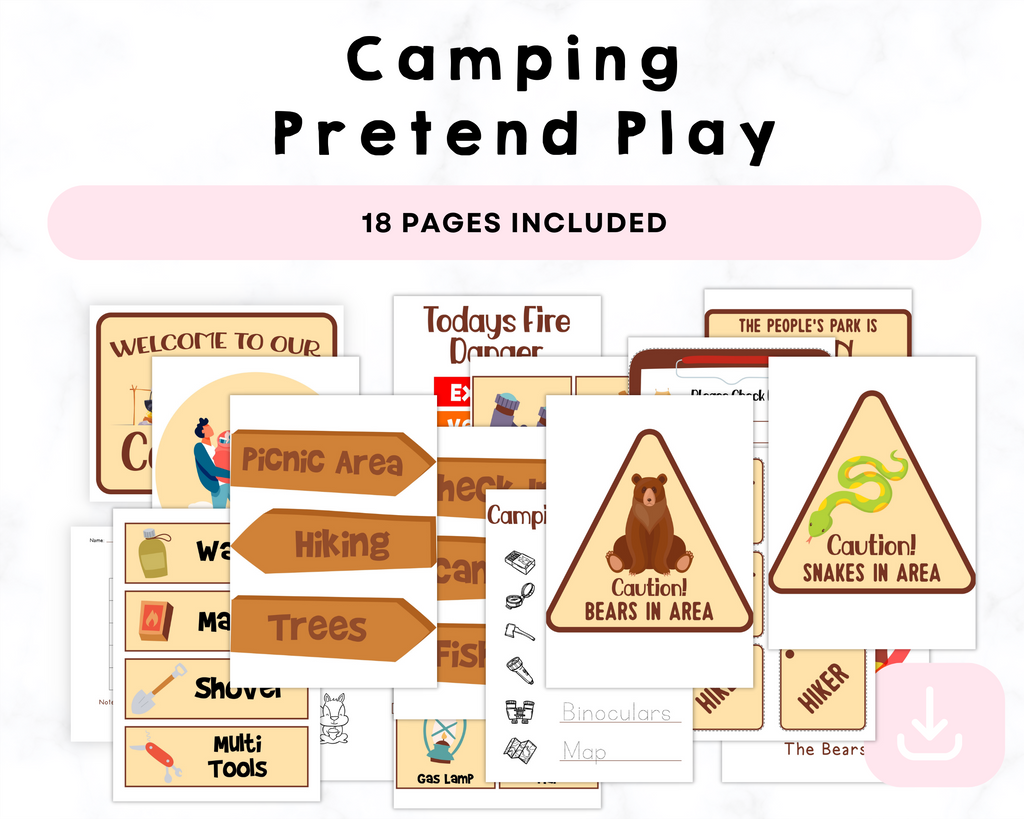 Camping Pretend Play Printable
Camping Pretend Play Printable
description
🏕️ Are your little adventurers ready for an exciting journey into the great outdoors? Our 18-page Camping Pretend Play Printable is the perfect tool to ignite their imaginations and bring the wonders of camping right into your home or classroom.

🌟 Key Features:
1. **Realistic Camping Experience:** Our printable set includes 18 beautifully illustrated pages filled with a wide range of camping-themed activities, designed to make your child feel like they're truly in the wilderness.

2. **Interactive Learning:** This printable pack is more than just fun; it's educational too! Children will develop essential skills like fine motor skills, problem-solving, and creativity through engaging activities like scavenger hunts, campfire sing-alongs, and wildlife spotting.

3. **Variety of Printables:** With 18 pages of printables, there's something for everyone. From building a cozy campfire to setting up a tent, identifying forest animals, and roasting marshmallows, your child will experience the joys of camping without ever leaving home.

4. **Easy to Use:** Our printables are designed with simplicity in mind. Just print, cut, and play! You don't need any special materials or equipment to enjoy these activities. Plus, they're perfect for both parents and teachers.

5. **Versatile and Reusable:** Use these printables for playtime, in the classroom, or even at a camping-themed party. They're durable and can be reused for hours of entertainment.

6. **Engaging Storytelling:** Enhance your child's storytelling skills as they create their own camping adventures, complete with characters, scenes, and more.

7. **Imaginative Fun:** Encourage your child's creativity and allow them to explore the world of camping in a safe and controlled environment.

🎁 Whether you're a parent looking for a unique way to keep your child engaged or a teacher seeking innovative educational resources, our Camping Pretend Play Printable is the perfect solution. It's an excellent addition to your homeschooling toolkit or preschool curriculum.

Get ready for endless hours of camping fun and learning with our 18-page Camping Pretend Play Printable for preschoolers. Download it today and let the camping adventures begin! 🏞️🔦🌲

Note: This is a digital product available for instant download upon purchase. No physical items will be shipped.
Contact us
Crystal & Co.
P O Box 55263
Hurst, Texas 76054
crystalandcomp@yahoo.com
Sign up to our mailing list