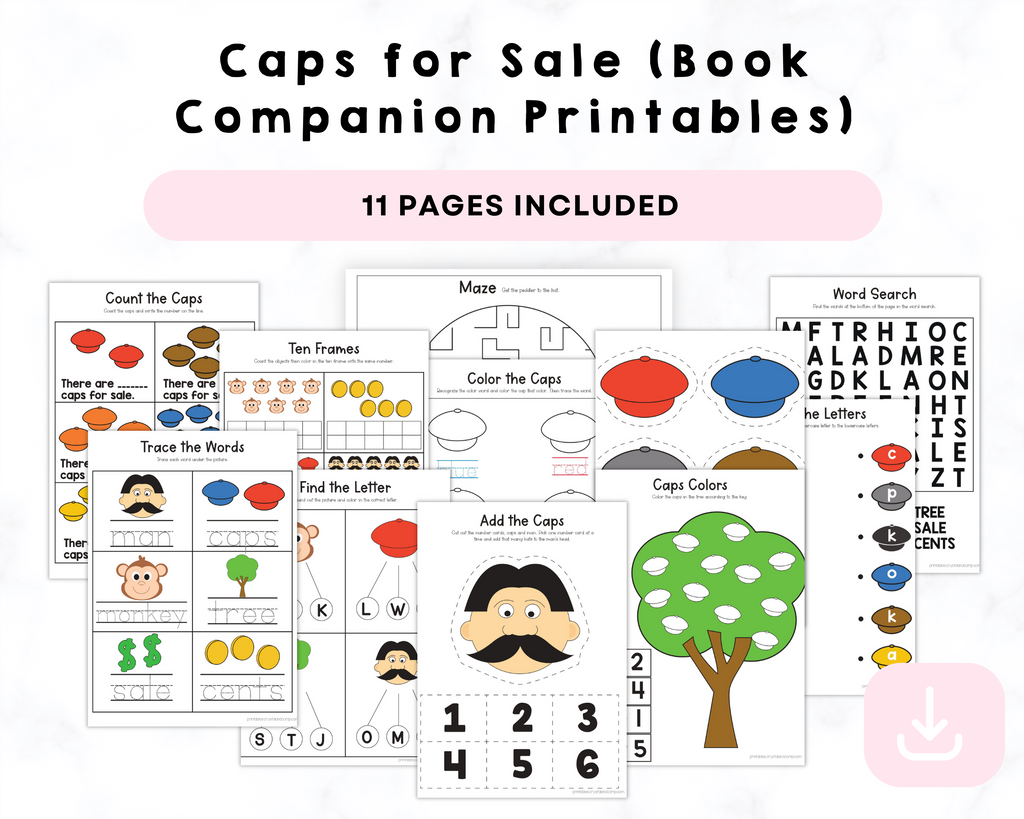 Caps for Sale (Book Companion Printables)
Caps for Sale (Book Companion Printables)
description
Introducing our exclusive "Caps for Sale Book Companion Printables" package - the perfect resource to enhance your reading experience of the classic tale, "Caps for Sale"! Dive into the whimsical world of colorful caps and mischievous monkeys with our meticulously designed printables spread across 11 engaging pages.

🧢 Page 1: **Character Introduction**
Get to know the delightful characters from the book! From the cap peddler to the cheeky monkeys, each character is beautifully illustrated and accompanied by fascinating descriptions.

🌈 Pages 2-4: **Cap Collection Coloring**
Unleash your creativity and color a diverse collection of caps! From vibrant red caps to calming blue ones, let your artistic flair shine as you bring these caps to life.

🐒 Pages 5-6: **Monkey Mischief Maze**
Help the mischievous monkeys find their way through a maze of caps and fun! This engaging activity is sure to entertain while improving problem-solving skills.

🎨 Pages 7-8: **Design Your Cap**
Put on your designer hat and create your unique cap designs! From polka dots to stripes, let your imagination run wild as you design the perfect cap.

✍️ Page 9: **Story Sequencing**
Develop critical thinking and reading comprehension skills by sequencing the events of the story in the correct order. A wonderful way to revisit the narrative!

🧠 Page 10: **Word Search**
Expand your vocabulary while having a blast with our exciting word search puzzle featuring key words and phrases from the book. A playful challenge for wordsmiths of all ages!

🖍️ Page 11: **Cap Count and Match**
Sharpen your counting skills as you match the caps with their respective numbers. It's a fun and educational way to reinforce numeracy concepts.

Immerse yourself in the captivating world of "Caps for Sale" with our comprehensive printables that complement the book flawlessly. Perfect for parents, educators, and anyone who cherishes this timeless story, our "Caps for Sale Book Companion Printables" will enhance your reading adventure and provide hours of creative learning and joy. Grab your cap and let the fun begin! 🌟

Please note: This is a digital product. No physical items will be shipped. After purchase, you will receive a link to download your printable pack.

Contact us
Crystal & Co.
P O Box 55263
Hurst, Texas 76054
crystalandcomp@yahoo.com
Sign up to our mailing list