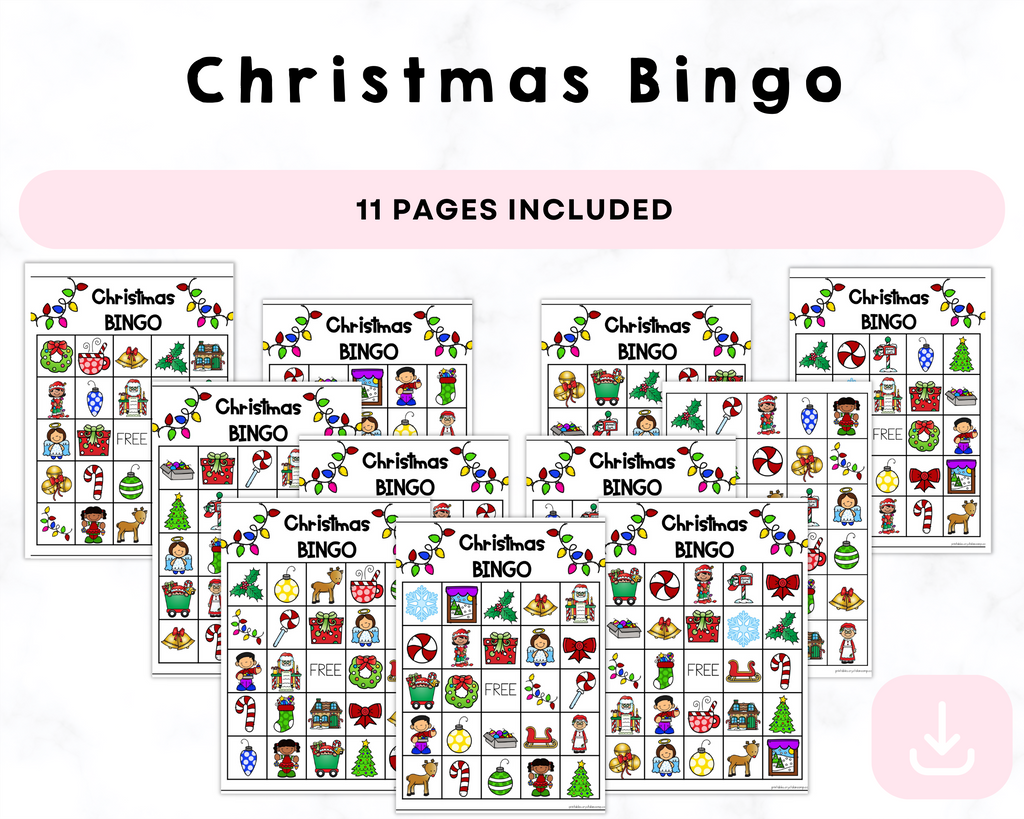 Christmas Bingo Printables
Christmas Bingo Printables
description
Introducing our 11-Page Christmas Bingo Printable – the perfect way to infuse some festive cheer into your holiday gatherings! This comprehensive set of bingo printables includes 11 unique pages of Christmas-themed bingo cards that are sure to bring joy and excitement to your celebrations.

**Features:**

1. **Festive Designs:** Our bingo cards boast delightful and eye-catching Christmas-themed designs, featuring iconic holiday symbols like Santa Claus, reindeer, snowflakes, candy canes, and more. Get into the Christmas spirit as you play this classic game with a holiday twist.

2. **Variety of Pages:** With 11 different pages of bingo cards, you and your family and friends can enjoy hours of entertainment without ever repeating a set of cards. Whether you're hosting a small gathering or a grand Christmas party, our bingo printables have got you covered.

3. **Easy to Print and Play:** Simply download the printable files, and with the click of a button, you'll have your bingo cards ready to print. The clear and crisp designs make for easy reading and enjoyable gameplay.

4. **Family-Friendly Fun:** Christmas bingo is a fantastic activity for all ages, making it a perfect addition to your holiday festivities. Gather 'round the table, grab some markers, and let the laughter and excitement begin!

5. **Interactive and Engaging:** Bingo is a game that encourages social interaction and friendly competition. It's a wonderful way to engage with your loved ones during the holiday season, creating memories that will last a lifetime.

6. **Customizable Options:** Personalize your Christmas bingo experience by choosing the number of players and setting the rules that best suit your gathering.

7. **High-Quality Resolution:** Our bingo cards are designed with high-resolution graphics to ensure a visually appealing and professional finish. Your guests will be impressed by the attention to detail and the quality of these printables.

Make this holiday season even more memorable with our 11-Page Christmas Bingo Printables. Gather your loved ones, indulge in some festive treats, and let the bingo fun unfold amidst the joyous ambiance of Christmas. Get ready to shout "Bingo!" and spread the holiday cheer like never before.
Please note: This is a digital product. No physical items will be shipped. After purchase, you will receive a link to download your printable pack.
Contact us
Crystal & Co.
P O Box 55263
Hurst, Texas 76054
crystalandcomp@yahoo.com
Sign up to our mailing list