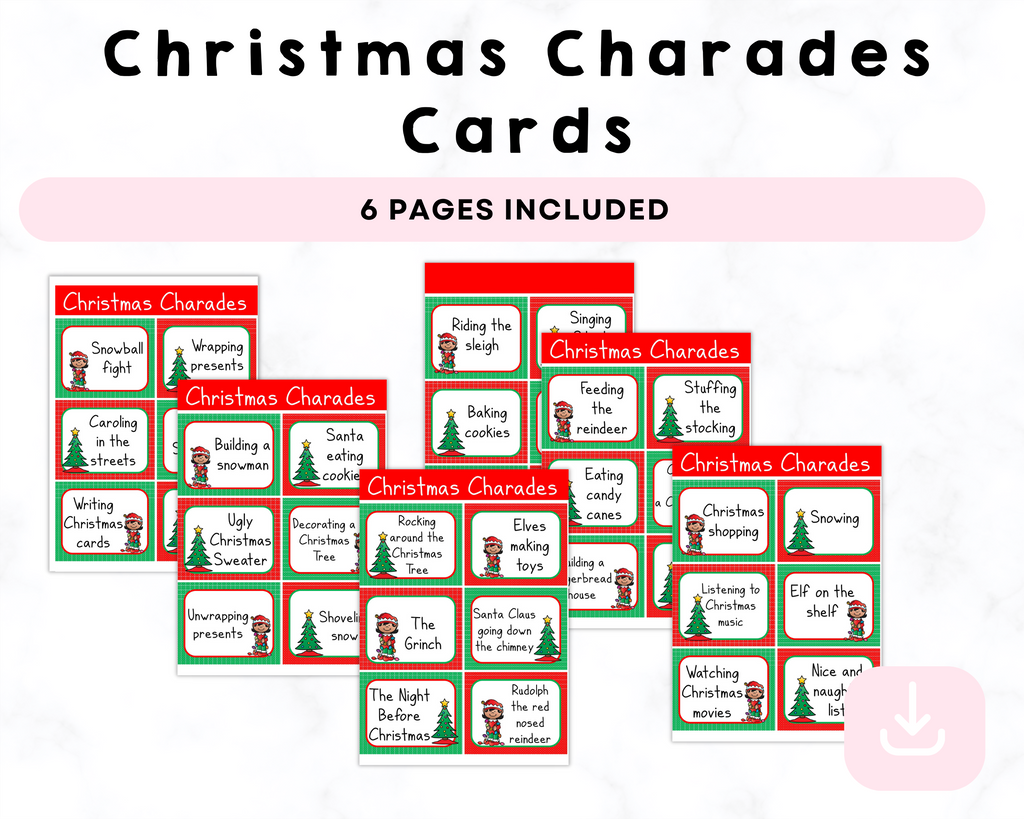 Christmas Charades Printable Cards
Christmas Charades Printable Cards
description
Introducing our Christmas Charades Printable Cards - the perfect festive addition to your holiday gatherings and celebrations! This set includes 6 pages of fun-filled, holiday-themed charades cards, guaranteed to bring laughter and joy to your Christmas gatherings.

**Features:**

1. **Festive Fun for Everyone**: Gather your family and friends for a jolly good time with our Christmas Charades Printable Cards. Get ready to act out iconic holiday gestures and scenes that will have everyone guessing and giggling.

2. **Diverse Christmas Moves**: Our printable cards feature a wide array of Christmas-related moves, from mimicking Santa's sleigh ride to reenacting a snowball fight. You'll find something for everyone, ensuring hours of entertainment for all ages.

3. **Easy to Print and Use**: Simply download the printable PDF file and print out the pages. Cut along the dotted lines to create individual charades cards. It's a hassle-free way to bring the magic of charades to your Christmas gathering.

4. **Holiday-Themed Delight**: Embrace the holiday spirit as you act out beloved Christmas traditions, characters, and festivities. From decorating the tree to singing carols, these charades cards encapsulate the essence of the season.

5. **Boosts Creativity and Laughter**: Engage in hilarious and imaginative performances, bringing out the actor in everyone. Watch as laughter fills the room and bonds are strengthened during this delightful Christmas game.

6. **Perfect Party Addition**: Whether it's a cozy family gathering or a lively holiday party, our Christmas Charades Printable Cards will enhance the merriment and ensure unforgettable memories.

**How to Use:**

1. **Print and Cut**: Download the PDF file and print the pages. Cut along the provided lines to create individual charades cards.

2. **Divide into Teams**: Split your group into teams and take turns drawing a card. One member from the team acts out the charade without speaking, while the others guess the Christmas move.

3. **Guessing Game**: Time each round and award points for correct guesses. Rotate teams for continuous laughter and enjoyment.

Make this Christmas a memorable one with our Christmas Charades Printable Cards. Gather your loved ones and let the festive acting fun begin!
Please note: This is a digital product. No physical items will be shipped. After purchase, you will receive a link to download your printable pack.