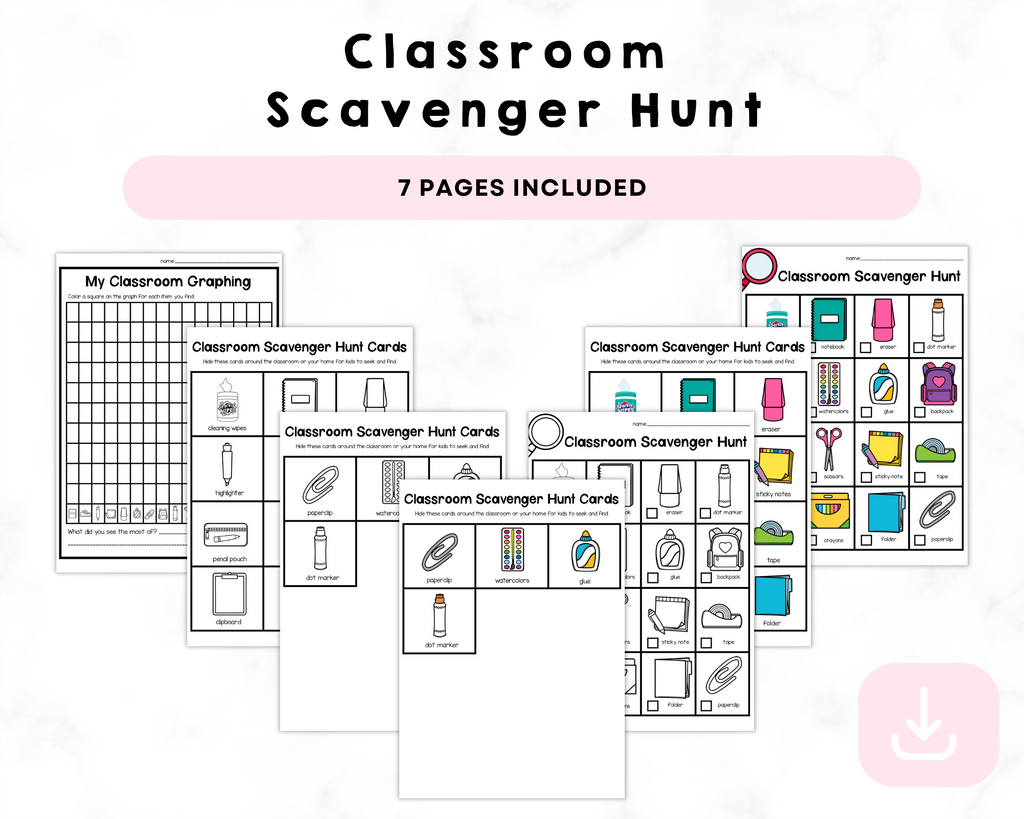 Classroom Scavenger Hunt Printables
Classroom Scavenger Hunt Printables
description
🌟 Turn Your Child's Classroom into a Thrilling Learning Playground 🌟

Discover the joy of education with our Classroom Scavenger Hunt Printables! These 7 pages of engaging activities are designed to spark your child's curiosity and turn classroom exploration into a fantastic adventure.

🔍 What's Included: 🔍

1. 📈 Classroom Graphing: Make math exciting as your child charts and graphs classroom objects. It's an interactive way to learn and have fun.

2. 🎨 Coloring Fun: Unleash your child's creativity as they color and personalize classroom items they discover, adding their unique touch to their adventures.

3. 🔍 Identifying Classroom Items: Enhance observation skills and problem-solving abilities as your child checks items off their list.

🎉 Why Parents Adore Our Printables: 🎉

✨ Learning through Fun: Say goodbye to dull homework. Our scavenger hunts make learning enjoyable without your child even realizing they're gaining knowledge.

✨ Encourage Independence: Watch as your child takes charge and boosts their self-confidence on these independent hunts.

✨ Classroom Adventures: Transform the classroom into an exciting adventure zone filled with hidden treasures. Every day is a new opportunity for exploration.

✨ Cherished Memories: These hunts offer not just education but also unforgettable memories. Your child will fondly remember these exciting experiences.

🌈 Enrich Your Child's Classroom Journey Today! 🌈

Our Classroom Scavenger Hunt Printables make classroom time engaging and educational. Created with parents in mind, they ensure your child's learning journey is both thrilling and enriching.

See your child's eyes light up with excitement on their classroom adventure. Get our Classroom Scavenger Hunt Printables now and create a lasting educational experience they'll treasure!


Please note: This is a digital product. No physical items will be shipped. After purchase, you will receive a link to download your printable pack.

Contact us
Crystal & Co.
P O Box 55263
Hurst, Texas 76054
crystalandcomp@yahoo.com
Sign up to our mailing list