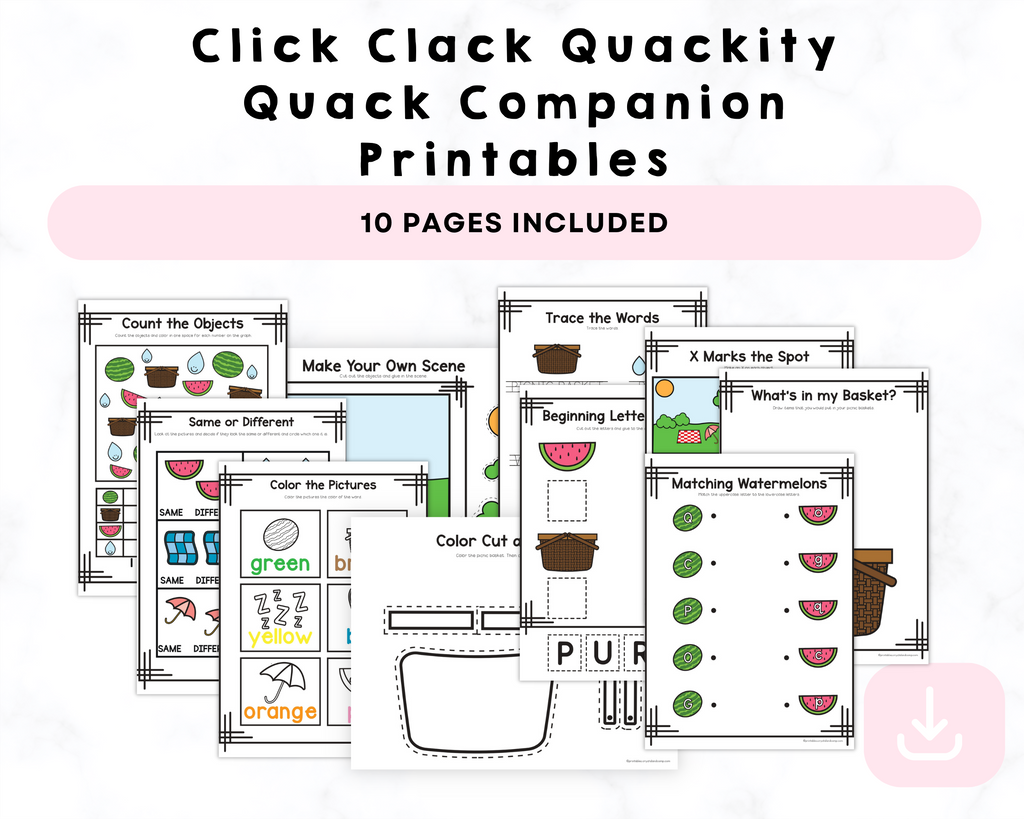 Click Clack Quackity Quack Companion Printables
Click Clack Quackity Quack Companion Printables
description
Engage your little ones in a world of creativity and fun with our Click Clack Quackity Quack Companion Printables. Designed especially for preschoolers, this interactive and educational set is packed with excitement, featuring playful watermelons, vibrant coloring activities, and engaging cut-and-paste exercises.

**Product Features:**

1. **10 Entertaining Pages:** With 10 unique pages, your child will have a variety of activities to enjoy, keeping them entertained for hours.

2. **Cute Watermelon Friends:** Say hello to adorable watermelon characters that will capture your child's imagination and make learning a blast!

3. **Color the Pictures:** Let your child's artistic abilities shine as they fill the pages with beautiful, bright colors. Coloring is not only fun but also enhances fine motor skills.

4. **Cut and Paste Activities:** Foster critical thinking and creativity with cut-and-paste exercises that help improve your child's hand-eye coordination.

5. **Designed for Preschoolers:** We've carefully crafted these printables with preschoolers in mind, ensuring they're age-appropriate and engaging.

**Educational Benefits:**

- **Language Development:** The playful storylines and characters in our Click Clack Quackity Quack printables help improve language skills and encourage storytelling.

- **Fine Motor Skills:** Coloring and cut-and-paste activities refine your child's hand control and dexterity.

- **Problem Solving:** The interactive activities challenge your child's problem-solving abilities in a fun and supportive way.

- **Creativity:** These printables encourage your child's creative expression through coloring and crafting.

Get ready for hours of educational fun that your child will cherish. Purchase our Click Clack Quackity Quack Companion Printables today and watch your child's imagination soar!

Order now to unlock the world of watermelons, coloring adventures, and creativity for your preschooler. Your child's learning journey starts here!
Please note: This is a digital product. No physical items will be shipped. After purchase, you will receive a link to download your printable pack.
Contact us
Crystal & Co.
P O Box 55263
Hurst, Texas 76054
crystalandcomp@yahoo.com
Sign up to our mailing list