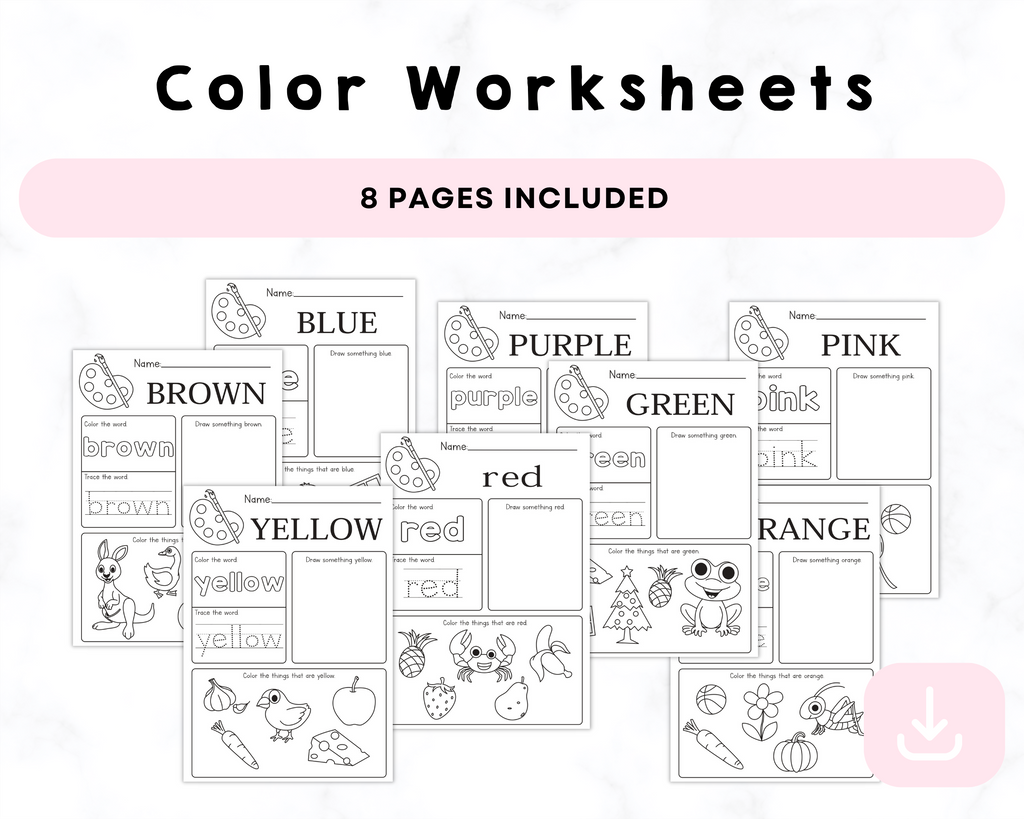 Color Worksheet Printable
Color Worksheet Printable
description
Introducing our vibrant and engaging 8-page Color Worksheet Printable, designed to ignite the creative spark in your preschooler! This educational and fun-filled set of worksheets is perfect for parents and educators looking to make learning about colors an enjoyable experience for the little ones.

**Key Features:**

1. **Colorful Learning Adventure:** Dive into a world of colors with eight beautifully designed pages that showcase a variety of hues, helping your preschooler learn and identify colors in a playful and interactive way.

2. **Interactive and Educational:** Each page is thoughtfully crafted to engage young minds with entertaining illustrations and activities. From coloring and matching to identifying colors, these worksheets ensure a dynamic learning journey.

3. **Preschooler-Friendly Design:** The worksheets are designed with simplicity in mind, making it easy for young learners to follow along and grasp the fundamental concepts of colors effortlessly.

4. **Boost Creativity:** Encourage creativity and fine motor skills as your little one brings these pages to life with their favorite colors. Watch their confidence and artistic expression grow with each stroke of the crayon.

5. **Perfect Learning Resource:** Whether at home or in a classroom setting, these worksheets serve as an excellent supplementary learning tool to reinforce color recognition and vocabulary acquisition.

6. **Printable Convenience:** Download and print the worksheets from the comfort of your home, allowing your child to embark on a colorful learning adventure at any time that suits your schedule.

7. **Parent-Approved and Teacher-Recommended:** Join countless parents and educators who trust our educational resources to nurture young minds and enhance early learning experiences.

Make learning about colors a delightful and enriching adventure for your preschooler. Grab our 8-page Color Worksheet Printable today and watch as your child's understanding of colors blooms and grows!
Please note: This is a digital product. No physical items will be shipped. After purchase, you will receive a link to download your printable pack.
Contact us
Crystal & Co.
P O Box 55263
Hurst, Texas 76054
crystalandcomp@yahoo.com
Sign up to our mailing list