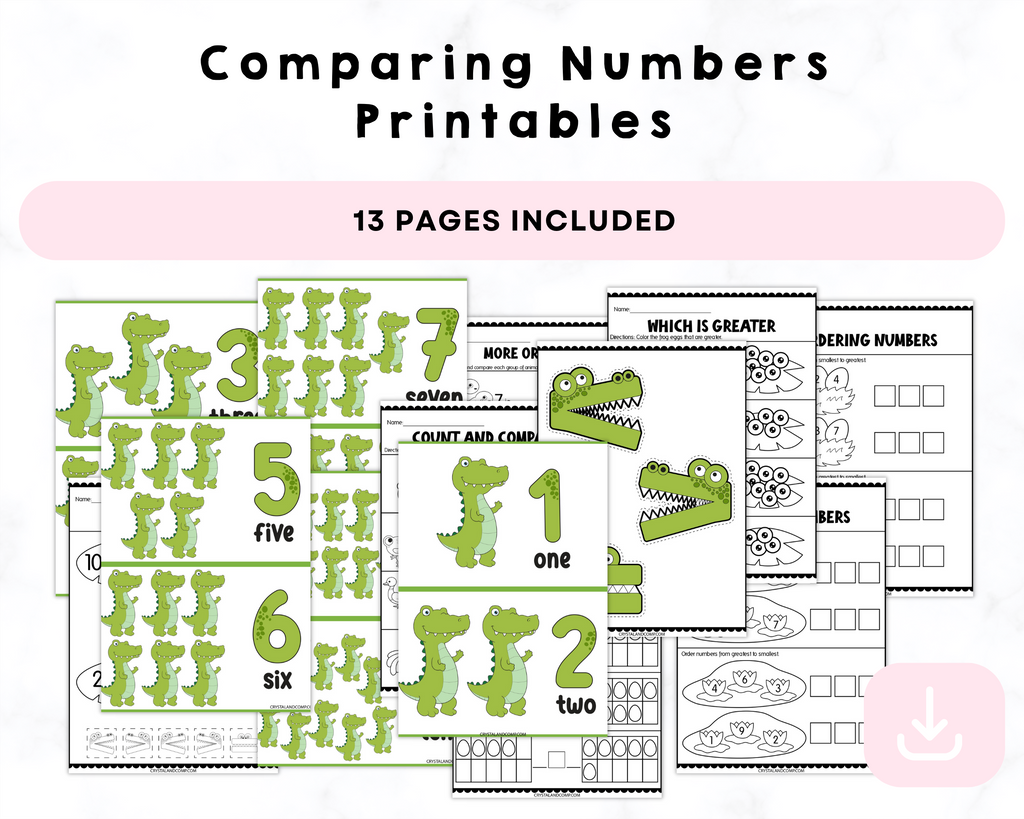 Comparing Numbers Printables
Comparing Numbers Printables
description
Introducing our 13-Page Comparing Numbers Printables for Preschoolers!

Help your little learners grasp the fundamentals of numbers and numerical relationships with our carefully crafted 13-Page Comparing Numbers Printables. Designed with preschoolers in mind, this engaging and educational resource will ignite a love for numbers and set the stage for mathematical success.

Key Features:
1. **Interactive Learning**: These printables are packed with interactive activities that make learning about numbers a delightful experience for young minds.

2. **Colorful and Engaging**: Vibrant colors and captivating visuals are used to keep your child engaged while they learn and explore the world of numbers.

3. **Comparing Numbers**: Our printables guide preschoolers through the foundational concept of comparing numbers, fostering their ability to identify which numbers are greater, smaller, or equal.

4. **Hands-On Activities**: Each page is thoughtfully designed to incorporate hands-on activities that encourage fine motor skills development alongside numerical comprehension.

5. **Progressive Learning**: The pages are arranged in a progressive manner, allowing for a step-by-step understanding of comparing numbers, ensuring that your child builds confidence and proficiency as they progress.

6. **Print and Play**: Easily printable, these pages are perfect for at-home learning, classroom activities, or on-the-go education. Simply print and let the learning adventure begin!

7. **Parent Involvement**: These printables also encourage parent-child interaction, creating opportunities for bonding while reinforcing essential early math skills.

Help your preschooler build a strong foundation in mathematics with our 13-Page Comparing Numbers Printables. Order now and embark on an exciting numerical journey with your little one!
Please note: This is a digital product. No physical items will be shipped. After purchase, you will receive a link to download your printable pack.
Contact us
Crystal & Co.
P O Box 55263
Hurst, Texas 76054
crystalandcomp@yahoo.com
Sign up to our mailing list