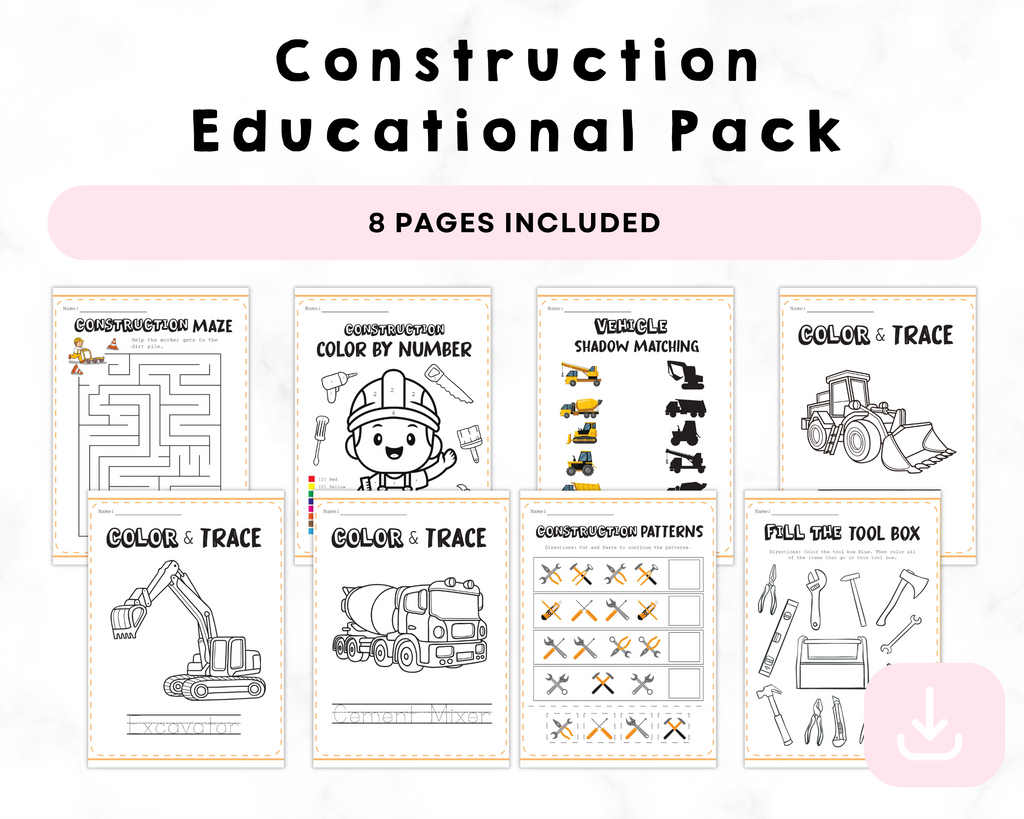 Construction Educational Pack Printables
Construction Educational Pack Printables
description
🚧🔧 Immerse in Construction Fun with Our 8-Page Construction Educational Pack Printables! Explore, Learn, and Play with Engaging Construction-Themed Activities! 🌟🚜
Dive into the world of construction with our comprehensive 8-Page Construction Educational Pack Printables! Designed to spark curiosity and learning, this pack offers a range of entertaining activities centered around construction vehicles and tools.
🔍 What's Inside?
Explore 8 thoughtfully crafted pages featuring an array of construction-themed activities. From vehicle shadow matching to toolbox filling, coloring tools, color by numbers, and a construction maze, these printables offer an exciting journey through various educational tasks.
🚚🎨 Educational Adventures:
Vehicle Shadow Matching: Engage in cognitive development by matching construction vehicles to their corresponding shadows.

Fill the Toolbox: Foster fine motor skills by arranging tools in a toolbox, promoting hand-eye coordination and organization.

Coloring Tools: Encourage artistic expression and color recognition with engaging tool coloring pages.

Color by Numbers: Introduce numerical understanding and coordination through construction-themed color by numbers activities.

Construction Maze: Navigate through a maze, stimulating problem-solving skills within a construction setting.
📥 Instant Download:
No waiting, just educational fun! Instantly download your printables and embark on an engaging exploration of construction-themed activities.
🛒 Add to Cart Now and Let the Construction Adventures Begin! 🏗️🚧🖍️

Please note: This is a digital product. No physical items will be shipped. After purchase, you will receive a link to download your printable pack.

Contact us
Crystal & Co.
P O Box 55263
Hurst, Texas 76054
crystalandcomp@yahoo.com
Sign up to our mailing list